Chers habitués et nouveaux venus,
aujourd'hui c'est un VIDEOTHON un peu différent que je vous propose,
puisque ce montage en deux parties à été réalisé pour la "Nuit du Cinéma Bis"
en partenariat avec le Festival "Les Intergalactiques",
et diffusé au "Festival du Film Court de Villeurbanne 2021".
Le thème était les films "Déviants". Cette fois ci il n'y a donc pas que des bandes annonces,
mais aussi des extraits, des pubs,des clips et autres documents rares.
Les deux parties: "Déviance Douce" et "Déviance Dure" sont à télécharger un peu plus bas.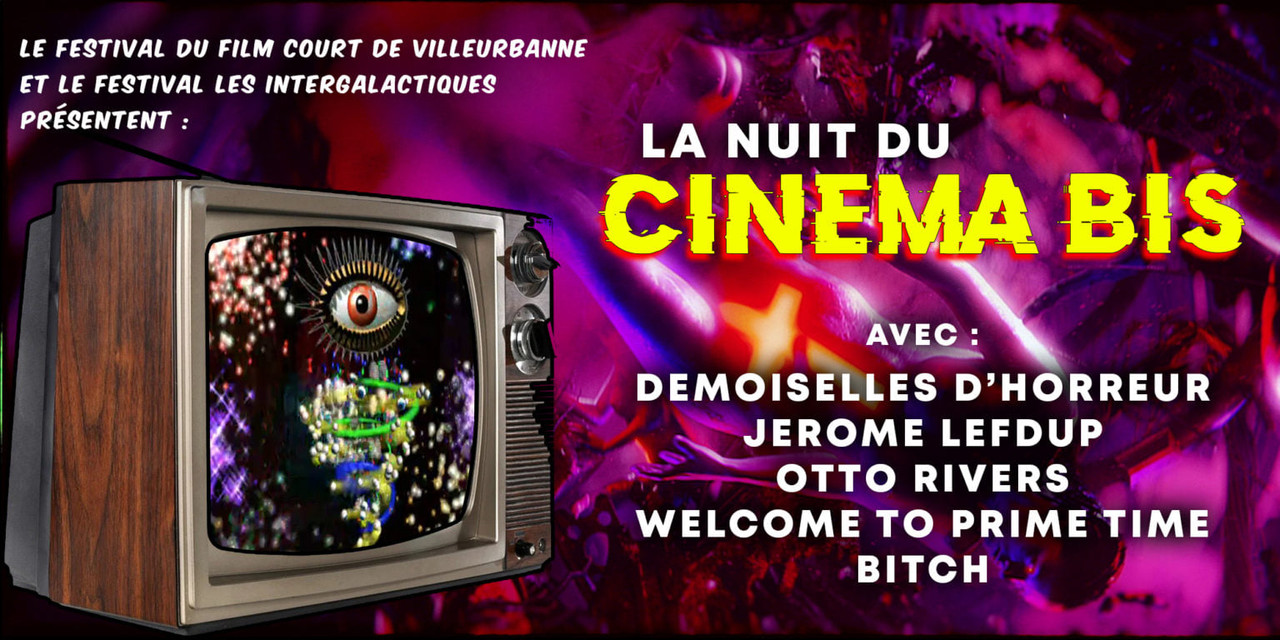 Comme vous pouvez le voir, dans les invités de cette nuit du Bis en plus de moi même
et des deux demoiselles youtubeuses, il y avait l'un de mes maîtres vidéo:
Jérome Lefdup, un des concepteurs de l'émission "L'Oeil du Cyclone"
que j'enregistrais religieusement sur Canal plus le samedi,
de la fin des années quatre vingt, jusqu'à la fin des années quatre vingt dix.
Si vous ne connaissez pas allez faire un tour sur Vimeo, elles y sont presque toutes.
Un réel plaisir donc de le rencontrer.
Ci dessous, voici les invités durant la table ronde sur l'évolution des films de genre.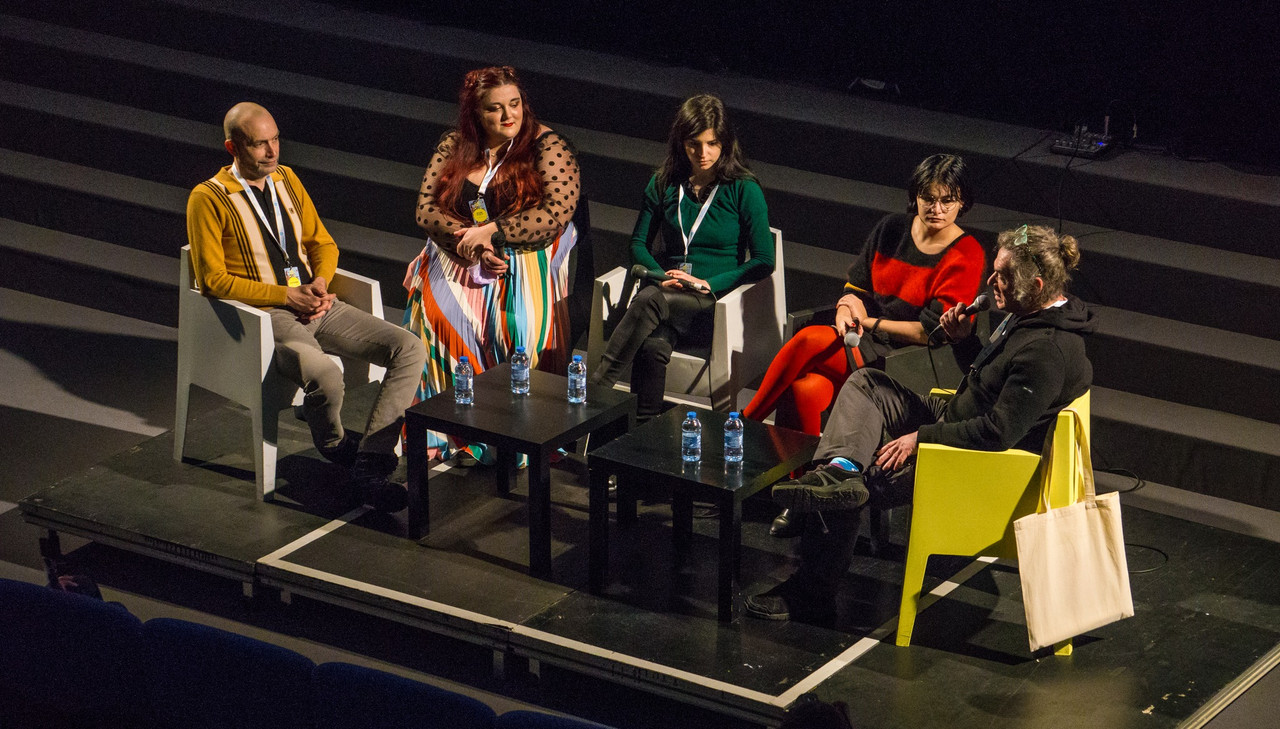 Cette soirée ayant été annulée trois fois à cause d'un certain virus de merde,
les montages étaient prêts depuis longtemps, et maintenant qu'ils ont été diffusés,
je vous les donne en offrande.
Ceci dit un autre VIDEOTHON (le n°40) est également presque prêt,
vous n'aurez donc pas à attendre très longtemps avant le prochain.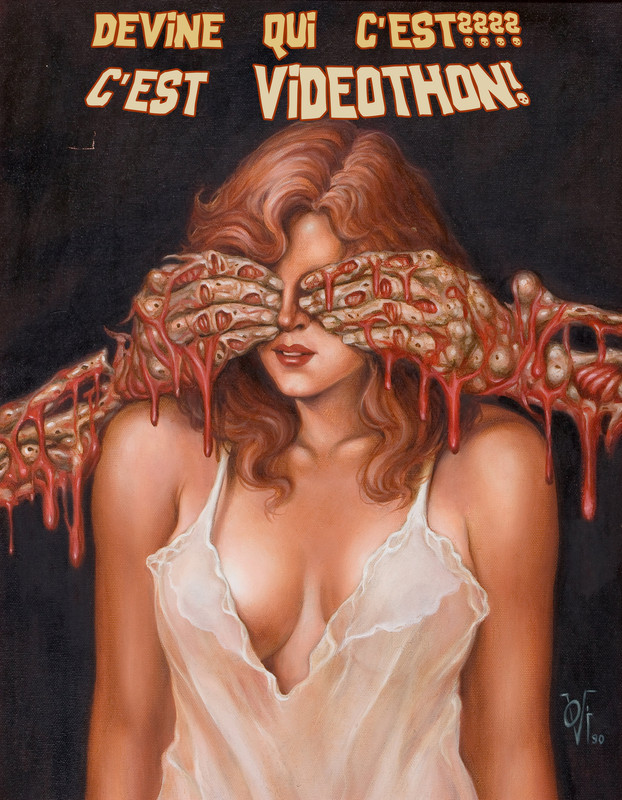 Je vous mets en fin d'article la liste des bandes annonces contenues dans cet opus,
mais sachez qu'il y a plein d'autres choses à l'intérieur que je ne détaille pas et que je vous laisse découvrir.
Pour les habitués, vous retrouverez pas mal de bandes annonces des précédents numéros
dans la première partie, le reste étant inédit.
Vu que c'est gratuit, vous n'avez rien à perdre.

Une couverture alternative façon Comics.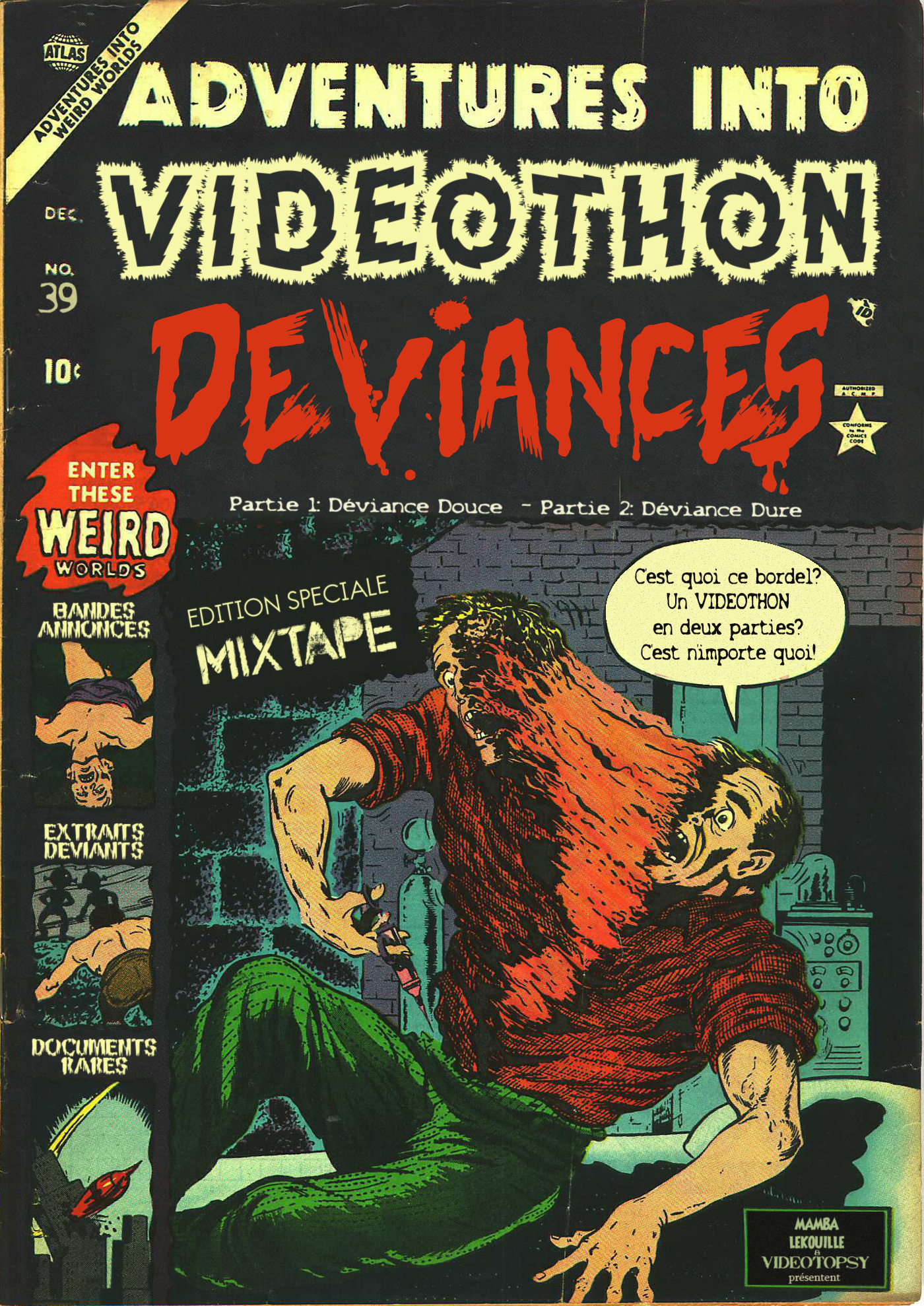 La première partie étant diffusée à 23h00, elle est plus soft,
contrairement à la seconde diffusée elle, à 3h30 du matin
et qui est donc interdite au moins de 16 ans.
Je vous conseille bien sûr de prendre les deux,
en 1280x720p avec au choix:
versions light de 2 gigas chacune
ou les originales de 8 gigas environ chaque.
En fonction de votre connexion et de la taille de vos écrans.

ATTENTION:
Comme son titre l'indique,
ce programme comporte des scènes pouvant choquer
toute personne croyant vivre dans un conte de Disney.
Allez c'est parti, c'est par ici que ça se passe:

Pour la version light, cliquez sur l'image.
La version lourde est juste en dessous.

TELECHARGEMENT:
"Déviance Douce"- Partie 1
1,83 gig- H264-mkv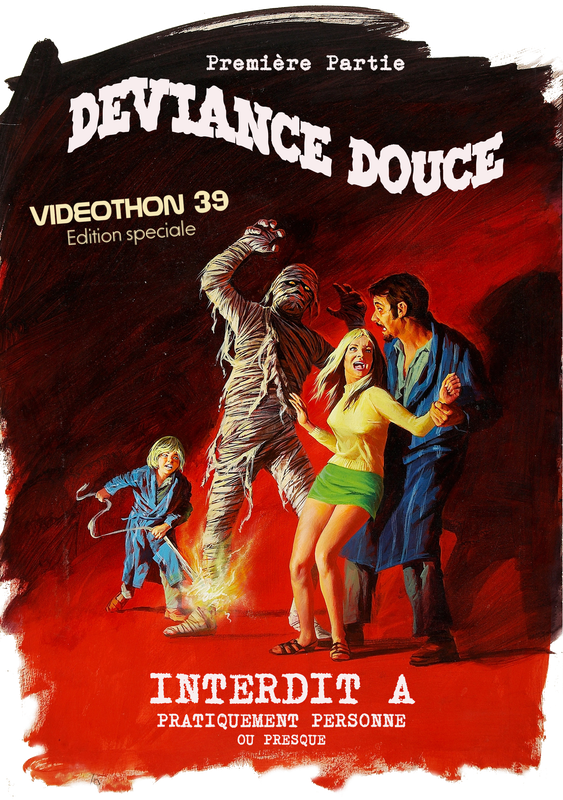 "Déviance Dure"- Partie 2
1,93 gig- H264-mkv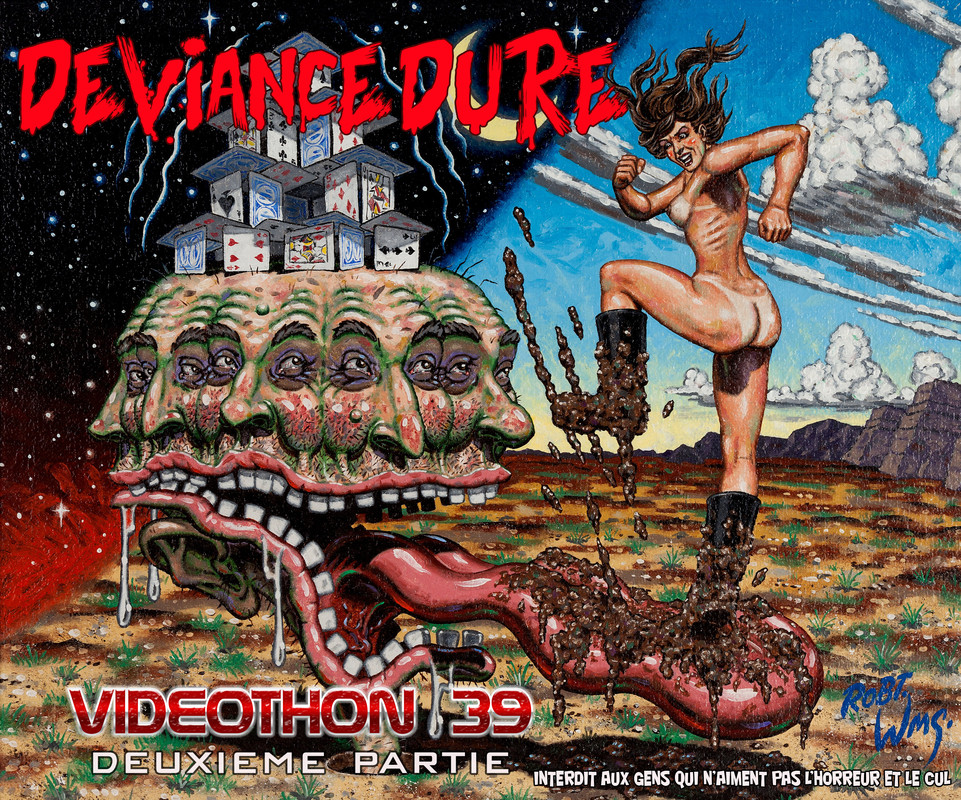 Pas de posters aujourd'hui car je pense que l'effet de surprise est préférable.
Je mets la liste uniquement des titres des BA
afin que vous l'ayez sous la main malgré tout.
VIDEOTHON 39: Déviances
Listing: Partie 1- Déviance Douce
-Mankillers/ Tueuses d'hommes.
-Mad Foxes
- Igor & the Lunatics
-The Manson Massacre
- L'Amérique en Folie
- Hysterical
-La France Interdite
- Le Bon Fils (Nouveau repack 1080p)
- Les Tueurs de l'éclipse
- Class 1999
- Amin: The Rise and Fall vostfr
- Kenny
- Mr No Legs vostfr
- Les Monstres du Kung Fu
- Miami Connection (Trailer US)
La BA française sera dans le prochain numéro.
Listing: Partie 2- Déviance Dure

-Viol
- Les Diables vostfr Ken Russel
- Snuff vostfr
- Trois filles pour le boucher/Three on a Meathook vostfr
-Splatter: the Architects of Fear
- Salo
- The xxxorcist
- Space Nuts
- The Incredible Torture Show vostfr

Voila, j'espère que ce programme vous plaira.
Bientôt donc le volume 40, plus classique,
avec des bandes annonces en VF, dont certaines vraiment cools
et inédites comme toujours. Il y aura du lourd pour fêter ce numéro 40 assez improbable puisqu'au départ je ne pensais faire qu'un seul numéro et nous voici aujourd'hui avec plusieurs milliers de bandes annonces.
Merci à ceux qui suivent ces aventures et aux amis qui me donnent de quoi continuer avec panache.