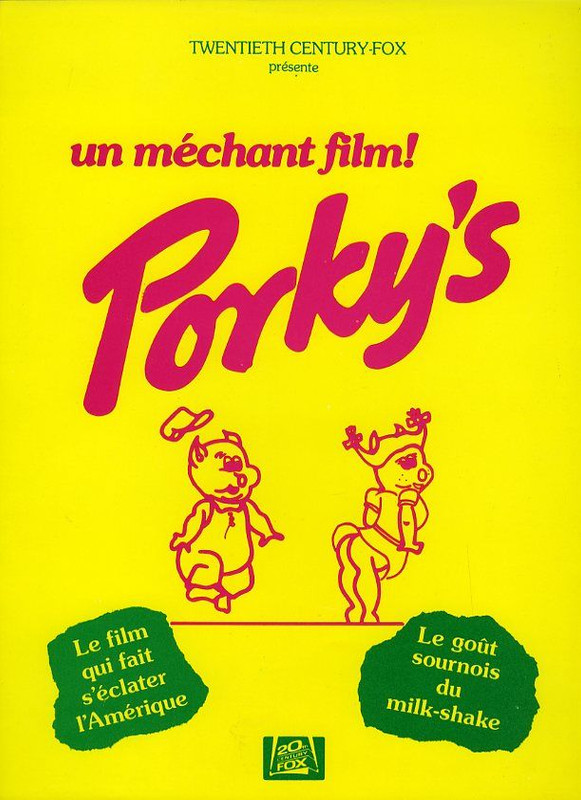 Quelle surprise de constater que le net Français ne semblait donner que très peu d'infos concernant cette trilogie crétinoïde qui pourtant à l'heure ou les "Sex Comedies" ne cessent de croitre, mérite bien d'être reconsidérée, en tant que précurseurs du genre, et qui reste à ce jour le film Canadien ayant rapporté le plus d'argent dans le monde.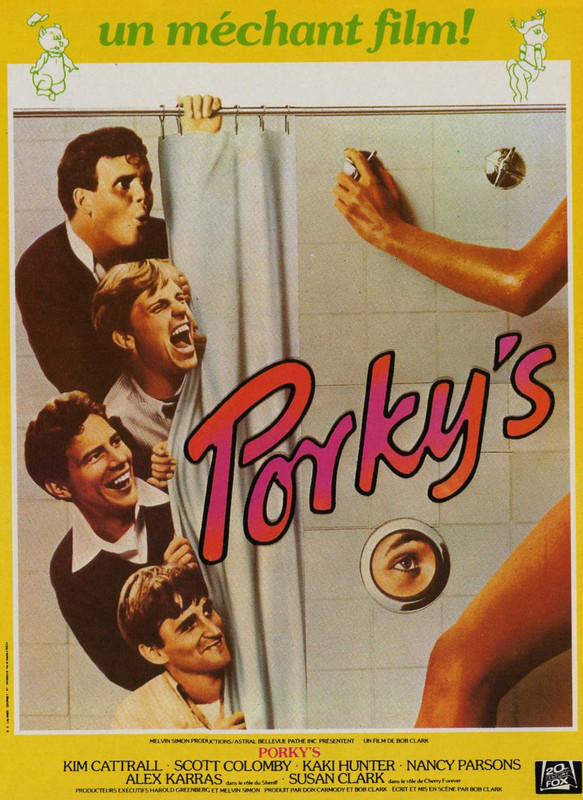 Casting pour les trois films (sauf Cattrall):
Dan Monahan
/Pee Wee,
Wyatt Knight
/Tommy,
Roger Wilson
/Mickey Jarvis,
Tony Ganios
/La Trompe (Meat),
Kaki Hunter
/Wendy,
Art Hindle
/Ted Jarvis,
Nancy Parsons
/Melle Briseburnes (ballbricker),
Chuck Mitchell
/ Porky,
Kim Cattrall
/Miss honeywell.
Synopsis
des trois films:
Dans les années cinquante il fait bon vivre à Angel Beach, pour une bande jeunes qui ne pensent qu'à forniquer et à se jouer des tours pendables (à base de sexe rassurez vous).Tout n'est pourtant pas rose, et ils devront avoir à faire à Porky, l'énorme patron d'une boite de strip tease, au Klu klux Klan, à des intégristes religieux, des politiciens véreux, et surtout à Mlle Briseburne leur prof de Gym Sadique, qui a jurée leur perte.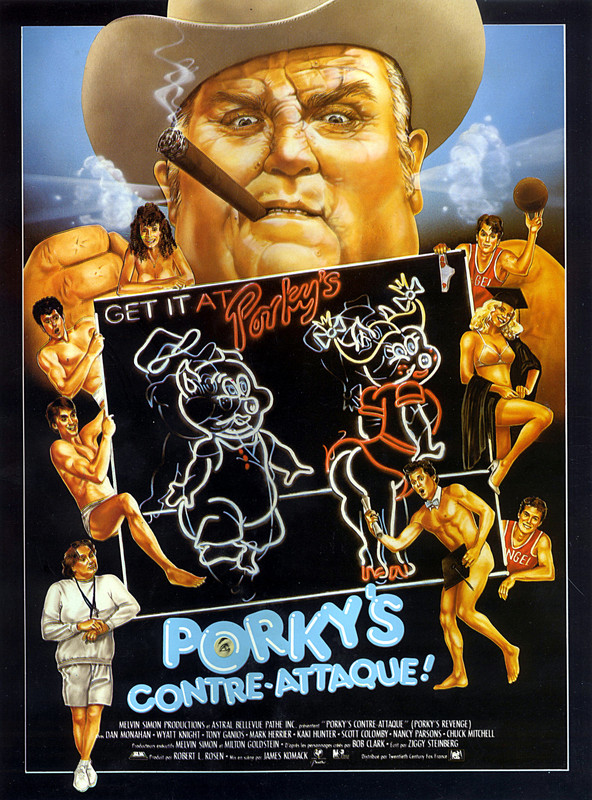 Films:
Les trois films ont un synopsis similaire, comme bien souvent dans le genre, et repose surtout sur une galerie de personnages truculents (je l'ai casé au bon endroit celui la), et des situations burlesques ou le sexe est omniprésent. La comédie pour adolescents était à l'époque un genre très en vogue, depuis le succès du génial
American college/
Animal House
(1978) de john Landis
,
avec john Belushi qui avait surpris tout le monde. Un film qui avait couté si peu pouvait donc rapporter autant?
Ni une ni deux, les titres ont commencés à fleurir à vitesse grand V, mais la plupart se contentaient d'enfiler (ça va, hein!) des situations de plus en plus provocs, ou d'employer les mêmes acteurs, en oubliant d'être drôle. Quelque titres plus ou moins réussis:
Les Branchés du Bahut/
Up the Creek
(1984)
,
Fast Times at Ridgemont High
(1982), la quadrilogie
Les Tronches/
Revenge of the Nerds
(1984-1994),
A fond la Fac/Back to School
(1986),
The Last American Virgin
(1982) ,
Attention Délire
/
The Wild Life
(1984), les autres pays ne sont pas restés en reste, avec des comédies similaires qui font tout pour avoir l'air Américain, comme la série Israelienne des
Lemon popsicle
/
Shifshuf Naim
(1981)en VF
"Le Tombeur, le Frimeur et l'emmerdeuse"
, tout un programme. Le premier Porky's n'a pas eu de mal à se hisser en tête du box office, car il possède plusieurs atouts à son arc (ça ne veut rien dire , c'est de la poésie). Tout d'abord l'époque des années cinquante est toujours attrayante, avec ses voitures qui ont de la gueule et ses musiques indémodables, ensuite il y a les personnages qui ne sont pas trop stéréotypés, à l'exception de Pee Wee, le puceau gaffeur, et de "La Trompe", dont le surnom se passe de commentaire, et qui est interprété par Tony Ganios, un habitué des fifties, déja dans le génial
Les Seigneurs/
The Wanderers
(1979).
Sous des dehors déconneur, les films abordent tous les sujets, racisme, religion, éducation, relations parentale et n'oubliera pas ses personnages en route avec quelques légères touches de drame . Au fur et à mesure des séquelles, l'humour se fera moins mordant, les personnages plus ternes, la réalisation transparente et le dernier opus se révèlera bien faible. Le film bien qu'employant des acteurs américains, fut produit par le Canada, qui ne s'attendait pas à un tel succès mondial, dont le record de recette reste toujours imbattu. D'autant plus surprenant que le réalisateur Bob Clark, si il avait déjà magné l'humour noir , n'avait tourné que des thrillers et des films d'horreur, dont les excellentissimes
Black Christmas
(1974),
Le Mort Vivant/Dead of Night
(1974)et
Children Shouldn't Play with Dead Things
(1972).
Il reste encore aujourd'hui des scènes grandioses de connerie potache, comme: le pénis glissé dans un trou du mur des douches des filles provoquant une réaction violente de Mlle Briseburne, la blague de la prostitué au mari armé d'une machette qui débarque en pleine orgie, la circoncision des membres du KKK, le Mort Vivant bourré, et bien d'autres infamies encore. On trouve dans le premier une jeune Kim Cattrall dans un rôle prophétique de prof de gym à l'air virginal, surnommée "Lassie", mais pourquoi "Lassie", je vous laisse le découvrir. En tout cas moi ça me fait toujours marrer, et ravive tout un tas de souvenirs par la même occasion, ou nous nous réunissions pour se taper (je sais, c'est bon) Porky's pour la 15ème fois afin de citer tous les dialogues en choeur. C'est bon parfois d'être con.
Disponibilité:
Les deux premiers sont disponibles en DVD zone 2 avec piste VO, VF dans des copies respectables en 1.85, mais pas extraordinaires non plus. Le troisième n'est pas sortit en France excepté en VHS sous le titre :"Porky's contre attaque". Il existe un coffret US avec les trois films, et une version spécial "Toutes tailles" pour le premier (en référence au gag de la capote géante) avec commentaire de Bob Clark. Je ne sait pas si la qualité est meilleure, j'en doute fort.
Addendum: Depuis cet article les films sont sortis en Blu-ray.
Bandes Annonces:
Porky's 1
Porky's 2
Porky's 3
Porky's: The College Years
(2009)
de
Brian Trenchard-Smith
Suite/remake initialisé par l'animateur de Radio Howard Stern, qui depuis n'a plus rien à voir avec la production, dont le tournage vient de se terminer et qui est destiné au marché de la video. Ce qui n'augure rien de bon, les quelques photos sur le blog du réalisateur font plutôt peur, et le casting de belles gueules de séries TV ne fait rien qu'à confirmer cette inquiétude. Et la présence de Brian Trenchard Smith à la réalisation , ne rassure pas non plus, puisqu'après avoir tourné les sympathiques
Les Traqué de l'An 2000/Turkey Shoot
(1982)et
Le Drive In de l'Enfer/
Dead-End Drive In
(1986, il s'est ensuite tourné vers des DTV et des séries TV de facture déplorable. Petit topo du casting peu excitant:
Devant le succès du film et de ses suites, on a retitré certains films afin d'en vendre un peu plus. On les a donc Porkysés. Bien entendu ils n'ont rien à voir avec la série originale si ce n'est que ce sont des comédies ou des films sexy. Quelques exemples:
Cuidado con Porky's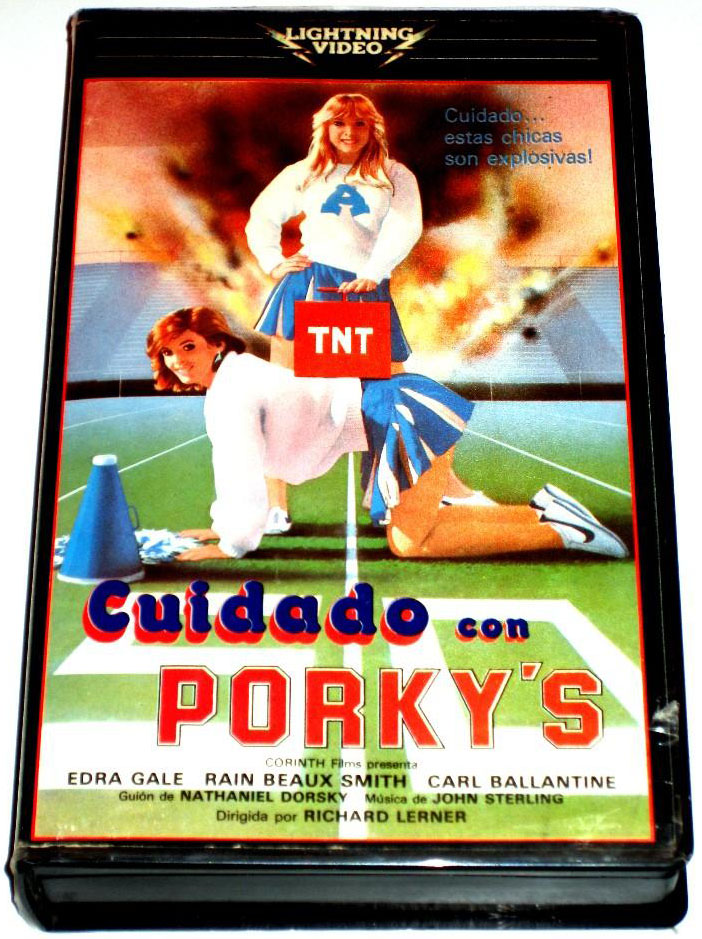 Fausse suite de PORKY's en Espagne qui cache en fait:
"The revenge of the Cheerleaders" (1976)
Porky's 4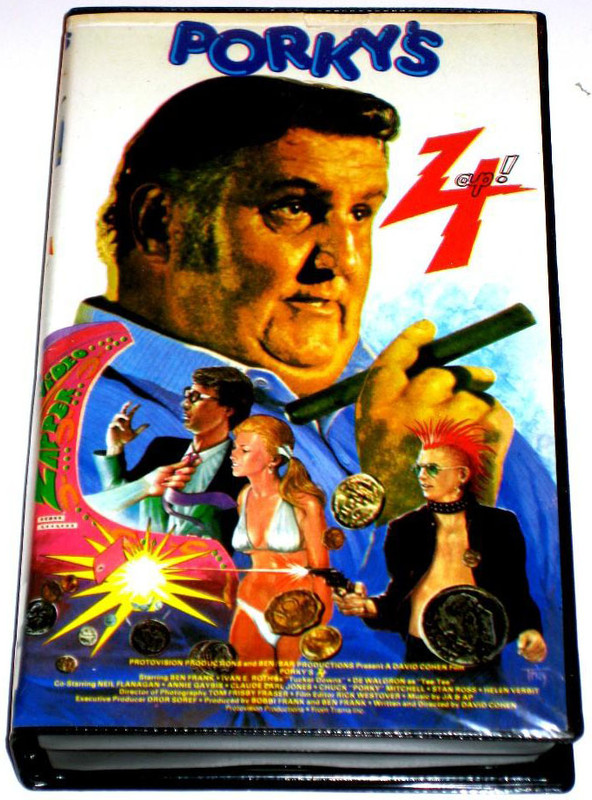 N'existe pas bien sûr, ce film de 1986 est "Hollywood Zap" distribué par Troma.
Chuck Mitchell l'acteur qui incarne Porky Wallace dans la série originale y fait une courte apparition, donc on en profite.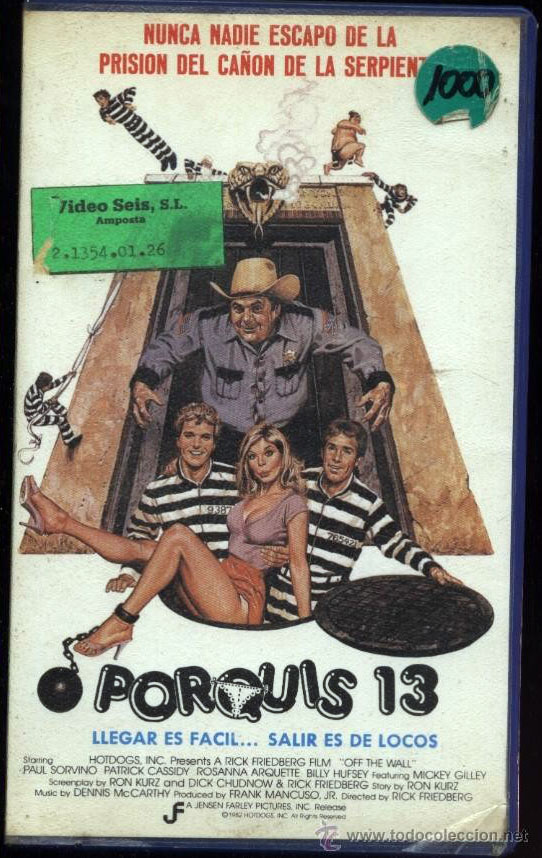 On passe directement au numéro 13, ça porte bonheur et en plus on change l'orthographe.
Le véritable film date de 1983 et se nomme "Off the wall" il est sorti chez nous en VHS sous le titre: "Canyon Prison" chez pas mal d'éditeurs.
Le pire pour la fin:
Porky's 13 en Vietnam