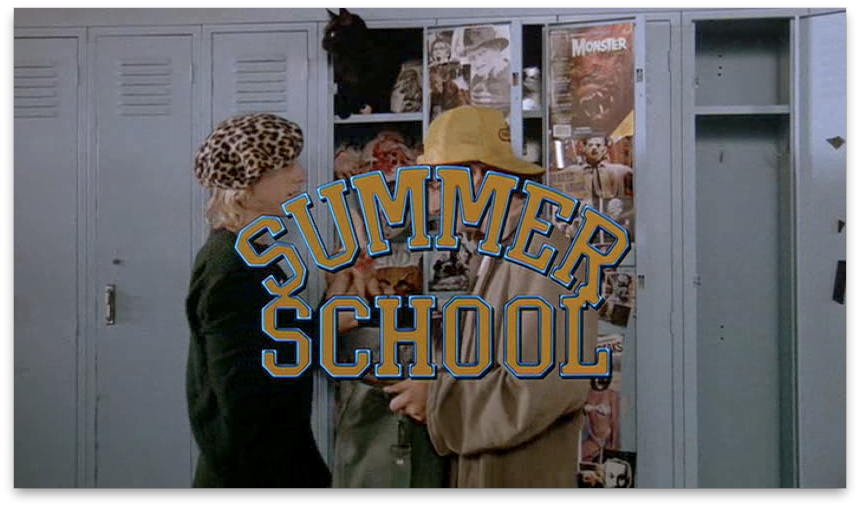 Synopsis:
Freddy Shoop est un prof de gym très zen,
jusqu'au jour ou il apprend qu'il doit enseigner tout l'été
à une classe d'étudiants difficiles.
L'été sera chaud et les conneries commencent.
Le Film:
Ce n'est certes pas dans l'histoire de base de cette petite comédie typique des eighties que se trouve l'intérêt du cinéphage, mais plutôt dans ses personnages. En effet le coup du prof qui doit dompter des élèves facétieux et qui finira par en apprendre autant d'eux que eux de lui, a été vu et revu. Cependant deux des personnages dénommés Dave et Chainsaw ("la tronçonneuse" en VF) sont là pour mettre un peu de piment rouge dans cette production. Ils sont fans de Gore et passeront le plus clair de leur temps à faire des tours pendables à base de latex et de faux sang, et leur attitude survoltée est l'attraction principale du film.
En gros si vous aimez les "Teen comedies" des années 80 et le gore, voici un bon moyen d'allier les deux. Le casting est sympa et se donne à fond, certains gags sont vraiment drôles et on passe un bon moment. Tous les acteurs sont bien connus et vous rappelleront soit une série TV, soit un petit film d'horreur, la plus célèbre étant désormais
Shawnee Smith
depuis son incursion dans la franchise
Saw
.
Carl Reiner
n'est pas un nouveau venu dans la réalisation, et bien qu'il soit assez inégal, il nous as donné de grands moments de fou rire avec entre autres les films avec
Steve Martin
:
The Jerk/Un vrai shnock,
Dead Men Don't Wear Plaid
/Les cadavres ne portent pas de costards
et
The Man with Two Brains
/
L'homme aux deux cerveaux.
Depuis et surtout grace à de multiples diffusions TV, "Summer School" a gagné son petit statut de film culte pour toute une génération. Attention, non pas qu'il soit vraiment géniallissime, mais son bon esprit et son refus de tomber dans la niaiserie, lui a tout simplement permis de franchir le cap des années et d'être un peu réévalué.
Si vous n'avez rien à foutre un dimanche après midi pluvieux ou si vous voulez initier vos gosses aux joies du liquide vermeille, celui ci sera un un compagnon idéal.
Disponibilité:
Uniquement en VHS en France apparemment. Vous en trouverez une à 150€ sur priceminister, mais si vous n'êtes pas masos, vous préférerez un superbe DVD zone 1 anamorphique, qui contient carrément une bande son française pour moins de 10€.
Il est également diffusé de temps à autre sur le sat.
Attention il y a 3 éditions DVD aux US et une seule ne contient pas de piste Française.
Donc achetez celle de votre choix,
SAUF CELLE CI.
Bon c'est pas tout ça, mais depuis le temps que je ne l'ai pas vu,
je crois que je vais le me le refaire. Bon film.