The AMERICAN SCREAM
(1988)
de
Mitchell Linden
Cast:
Pons Maar
,
Jennifer Darling
,
Matthew Borlenghi
,
Riley Weston
,
George 'Buck' Flower
,
Blackie Dammett
,
Edy Williams
.
Synopsis:
La famille Benziguer a gagné un séjour à la montagne et profite de cette occasion pour partir avec leur deux enfants et leur amis. Aller à Wilson Creek est une tradition, mais les quatre jeunes commencent à s'apercevoir que les habitants ont des comportements bien étranges.
Les cadavres s'empilent et devant l'incrédulité des parents, le quatuor pré pubère va devoir trouver
un moyen pour survivre à cette communauté qui ne voit dans les enfants,
que la perspective d'un bon diner.
Le Film:
Voila bien un titre dont je n'avais jamais entendu parler avant,
tombé dans les oubliettes du septième art et qui pourtant possède ce quelque chose
qui le place au dessus d'un simple film minable de plus.
Si l'intention de départ semble avoir été de faire une comédie, le film part dans tous les sens,
avec des moments sérieux et légèrement malsains (pour une comédie),
certains plans étranges et réussis perdus dans un montage anarchique
et une histoire aux péripéties parfois incompréhensibles.
Au final, certains gags fonctionnent, mais le résultat ne peut vraiment pas être considéré comme hilarant. On se demande ce qu'aurait pu donner tout ça avec quelqu'un de censé aux manettes.
En l'état actuel, il nous reste un objet zarbi qui ravira les amateurs qui en ont assez de voir
toujours la même chose, à condition d'être indulgent et prêt à toutes les excentricités.
Les scènes de meurtres ou de cannibalisme, si elles ne sont pas gores,
sont toujours très sérieusement mises en scène et créent un décalage avec le reste du ton du film.
Un couple dans une voiture éclate son bébé contre le pare brise dés le début.
Les filles les surprendront plus tard en train de fricoter tout en s'enfilant un délicieux barbecue.
Un type qui sort d'on ne sait ou est décapité par une batte de baseball
et sa tête atterrit sur les piques d'une barrière, le tout dans joli ralentit.
Quelques cauchemars nous font croire que le film dérive vers le fantastique,
mais bon il faut dire que ça marche mieux la première fois
et que le reste est surtout destiné à caser des idées plutôt qu'à surprendre le spectateur.
Oubliez toute logique vous qui voyez ce film.
Oui, il vaut mieux. Malgré les meurtres dont ils sont témoins,
les ados ne semblent pas vraiment effrayés et vaquent à leur occupations,
après avoir brièvement tenté de parler à leur parents.
Une fois convaincus de l'appétit des autochtones à leur égard,
ils ne trouvent rien de mieux que de se déguiser en "adultes".
Et ça marche (plus ou moins).
Le final hallucinant vous laissera franchement sur le cul, en essayant de faire le point sur tout ça,
et de trouver le message qui est censé être délivré (s'il y en a un).
Conseil pour se déguiser en adulte: (gauche à droite)
Pretre, Cowgirl, Espagnole et Mexicain (astucieux non?)
Après tout combien y a t'il de fans de
David Lynch
,
qui peuvent se targuer d'avoir compris tous ses films? (Menteurs!).
Film d'auteur? Comédie noire? Film d'horreur? Gros navet? A chacun de décider.
85 minutes toujours mieux employées que de se taper
Independence Day
,
et en plus c'est deux fois moins long.
Un mot tout de même sur le casting, qui au vu des noms ne dira peut être pas grand chose
à la plupart, mais qui contient des acteurs qui ont été très actifs dans le genre,
et certains le sont toujours.
Pons Maar
, marionnettiste et acteur que l'on a vu avec du maquillage
(donc pas trop vu finalement) dans
Dead Heat
/Flic ou Zombie
,
Masters of the Universe
(oui avec
Dolph Lundgren
)
et un petit rôle dans
The Blob
de 1988.
Si franchement on le reconnait bien dans le rôle de Saurod
des "
Maitres de l'univers
"
George 'Buck' Flower
Plus d'une centaine de titres à son actif entre 1970 et 2004, date de son décès,
rien qu'en tant qu'acteur. Tout le monde l'a forcément vu au moins une fois,
il a tourné dans tout, de la série des
Ilsa
à
Back to the Future
(2 épisodes de chaque)
en passant par 5 films de
John Carpenter
.
Sexploitation, action, nazis, SF, films Z et gros budgets, il est partout.
Souvent abonné aux rôles de clochards ou de beaufs campagnards, il a également écrit et co-produit: Méga RESPECT M'sieur Fleur!!
Matthew Borlenghi
a continué sa carrière en surfant entre séries TV et séries B.
Krocodylus
/Blood Surf
et
A Nightmare on Elm Street: The Dream Child
(Freddy 5 quoi)
pour ne citer que les plus connus (je n'ai pas dit les meilleurs).
Le reste du casting a également œuvré à droite et à gauche,
la mère de famille niaise interprétée par
Jennifer Darling
est surtout renommée pour ses doublages qui inclus un paquet de dessin animés Disney.
Blackie Dammett
est le pasteur et sa "tronche" fait toujours autant d'effet.
On l'a notamment vu dans
Class Reunion
/American Class
ou il jouait un tueur coiffé d'un sac en papier.
De son vrai nom John Kiedis, il est le père d'
Anthony Kiedis
,
chanteur des "Red Hot Chili Peppers". Rien que ça.
Enfin et non des moindres, une apparition d'
Edy Williams
dans le rôle d'une strip teaseuse de bar. Star du film pour adulte des seventies,
dont le rôle inoubliable d'Ashley St Ives dans
Beyond the Valley of the Dolls
de Russ Meyer,
restera à jamais gravé dans ma mémoire comme la garce la plus désirable de la galaxie.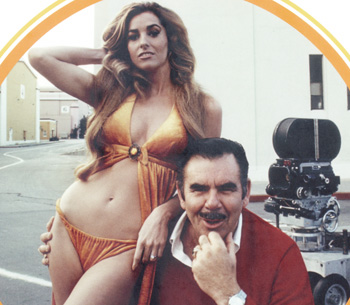 Disponibilité:
Une VHS Américaine chez
"21st Genesis Home VI" et c'est tout.