Un petit tour du coté des
Gialli
avec des
scans
de posters.
Cliquez
pour l'image
XXL
.
ENJOY
Hi

res

scans

.

Click

for full

size

.
(695 x 1090)
Giorni

d'Amore

su'll

filo

de

una

Lama
Love and

Death

on

the

edge

of

the

razor
Pas vraiment un
giallo
au sens propre. Un film vraiment faible qui n'a rien à voir avec cette jaquette, pas de rasoir ni de meurtres sanglants.
Ok
, il y a
Erika
Blanc, mais c'est bien le seul intérêt.

(1061 x 1550)
Assassinio

al

Cimitero

Etrusco

(1982)
Crime au cimetière étrusque
Scorpion

with

Two

Tails
Réalisé pour la
TV
, les 5 heures furent réduites à la taille d'un film pour l'exploitation à
l'étranger
. Résultat, on ne comprend pas grand chose et je ne pense pas que la version longue soit plus supportable. Un beau bordel mais une belle affiche.
Jaquette Espagnole
(1089 x 1580)
L'Uomo

piu

velenoso

del

Cobra
(1971)
Human

Cobras
Plus venimeux que le Cobra
Plutôt un thriller qu'un réel
giallo
, point de tueur ganté ici. Pas franchement dans les meilleurs, mais une distribution sympa d'habitués du genre, dont la merveilleuse
Erika
Blanc.
(

Ti

amo

Erika

)
.
Affiche Espagnole et Française.
(697 x 876)
(693 x 1554)
Rivelazioni

di

un

maniaco

sessuale


al

capo

della

squadra

mobile
So
Sweet
so
Dead
(1971)
The
Slasher
is
the
Sex
Maniac
Penetration
(X version)
La Peur au Ventre
(VHS
Fr
)
C'est peut être pas du
Argento
, mais on retrouve ici un assassin bien sadique qui tue des filles légères (ce qui veut dire souvent nues) à l'arme blanche et de bonnes prises de vues par endroits. Que demande le peuple? Une version avec des "
inserts
"
hardcores
? Elle est sortie aux USA.
(698 x 1110)
NIGHTMARE
BEACH
(1988)
la

spiaggia

del

terrore
Welcome

to

Spring

Break
Fou a Lier
(VHS
Fr
)
Des allures de
slasher
pour le film de
Umberto
Lenzi
,
avec son tueur casqué et sa moto au siège électrifié.
Débile,
gore
et bien
fun
avec des ados à l'américaine (oui très cons c'est ça!).
Jaquette Hollandaise.
(701 x 1924)
L'ETRUSCO
UCCIDE
ANCORA
(1972)
The
Etruscan
Kills
Again
The

Dead

are

Alive
Overtime
(VHS
Fr
)
Un bon petit délire basé sur une histoire
d'Edgar
Wallace
. Les meurtres sont ils l'œuvre d'un tueur ou bien les morts sont ils revenus à la vie pour se venger de ceux qui ont troublé leur repos. Tous les éléments
giallesques
sont réunis pour passer un bon moment. Ce film
d'Armando
Crispino
est bien meilleur que celui de
Martino
(voir plus haut) sur le même sujet des
Etrusques
. Jaquette Espagnole.
(1060 x 1558)
JACK

EL

DESTRIPADOR

DE

LONDRES
7

MURDERS

FOR

SCOTLAND

YARD
(1971)
Encore une
co-production
Italo
/Espagnole,mais cette fois avec un réalisateur et un
casting
plus ibérique qu'à
l'accoutumée
. Le grand
Paul

Naschy
en tête, suspecté d'être l'éventreur de
Londres
qui vole des morceaux de ses victimes. Est il le celui qui comme le célèbre "Jack" découpe toutes ces prostitués (faut lui donner le mode d'emploi, il y a pleins d'autres trucs à faire)? Une autre bonne surprise que celui ci. La révélation finale est
satisfaisante
, les meurtres violents et les filles sont belles. Dommage que les récents
DVD
aient omis les scènes de nu que contenait
originellement
le film. VHS no es
Muerta
!
Poster Espagnol et Jaquette Italienne.
(1557 x 2442)
(699 x 1426)
Passi

di

danza

su

una

lama

di

rasoio
Death

Carries

a Cane
Un essai
sympatoche
avec toutes les conventions du genre, qui se laisse regarder d'un œil distrait. Pas le pire, juste un film moyen, mais qui n'est pas chiant, c'est déjà ça.
Susan
Scott
m'a toujours été agréable à suivre et c'est également le cas ici.
(697 x 1158)
L'ASSASSINO
E'ANCORA
TRA
NOI
The

Killer

Is

Still

Among

Us
(1986)
Assurément l'un des plus violent et sadique du genre, avec
L'Eventreur

de

New

York
et
Giallo

a

Venezia
. Basé sur les agissement du vrai Tueur de Florence, et sortit peu de temps après, ce qui a causé un scandale en
Italie
. Une scène est restée célèbre, montrant le tueur qui découpe le pubis de sa victime. La fin bien étrange est plutôt surprenante et reste originale. Dommage que la plupart du métrage soit tourné comme un téléfilm, et que seules certaines séquences semblent avoir motivées
Camillo
Teti
. A voir absolument en tout cas, mais très dur à trouver.
(697 x 1044)
La Morte

cammina

con i

tacchi

alti
Death

Walks

on

High

Heels
(1971)
On retrouve encore
Susan
Scott
alias
Nieves
Navarro
, qui a du changer de nom à cause de Roger
Hannin
, ce qui n'est pas surprenant puisqu'elle était mariée à
Luciano
Ercoli
le réalisateur. Un
giallo
classique avec de jolis plans et une bonne musique de
Stelvio
Cipriani
.
Trouvable dans l'excellent coffret
DVD
de chez "NO
SHAME
".
Affiche Espagnole.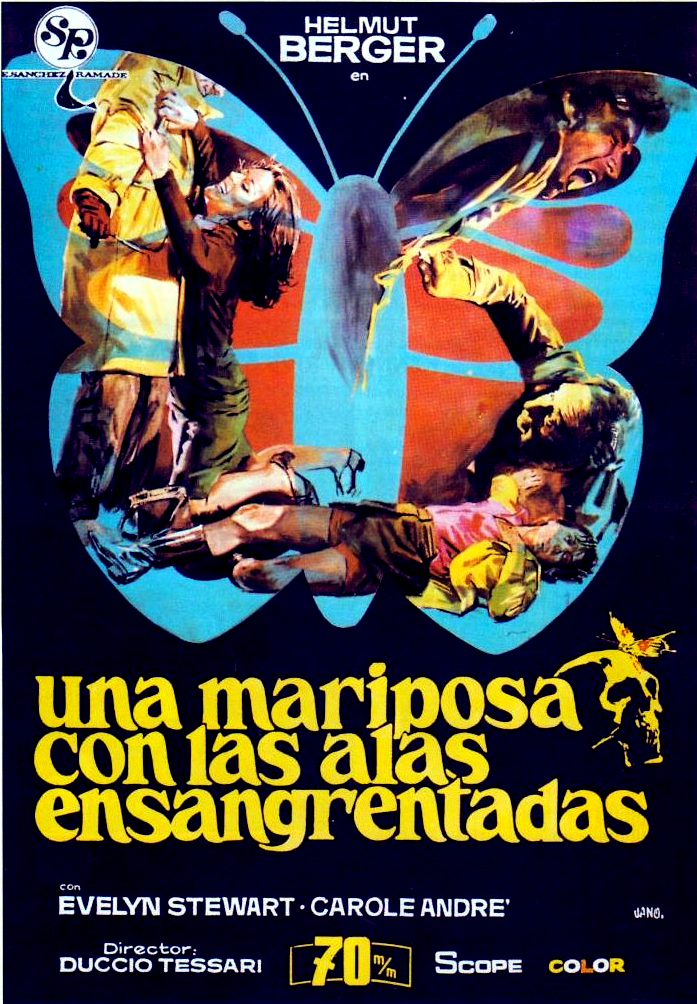 (697 x 1004)
Una

Farfalla

con le

ali

Insanguinate
The
Bloodstained
Butterfly
(1971)
Cran d'arrêt
(VHS
Fr
)
Très bon exemple que ce film qui possède toutes les qualités nécessaires:
cinématographie
, musique, histoire, acteurs et éléments chocs tels que pédophilie, viols et autres. Il n'est pourtant pas vraiment graphique dans la violence, mais son histoire est prenante et le rythme soutenu.
Un des classiques
incontournables
.
Affiche Espagnole.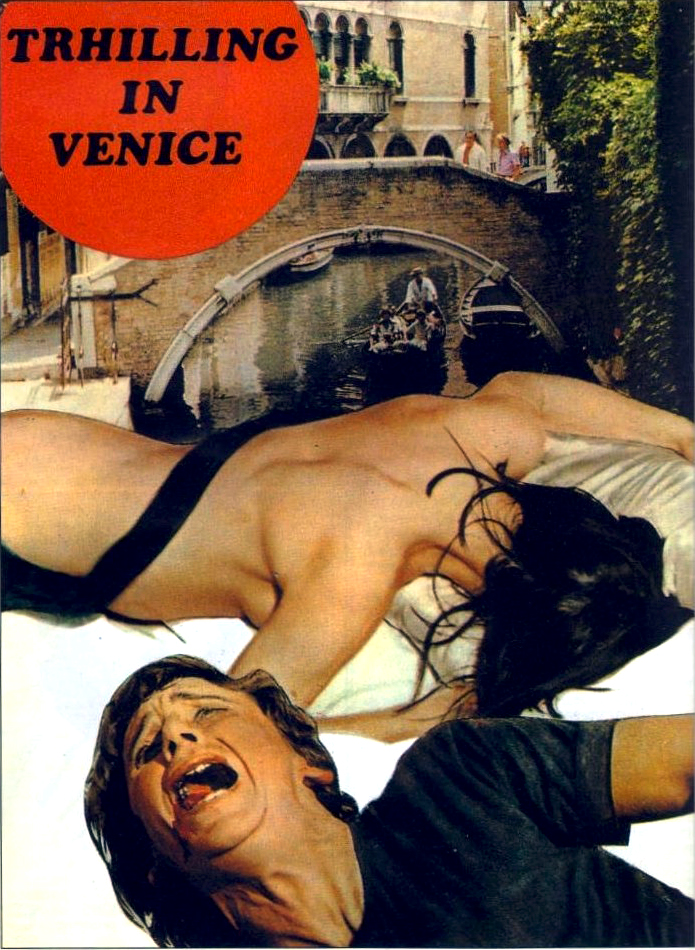 (695 x 950)
Giallo
A
Venezia
(1979)
Gore

in

Venice
Hou le méchant
Mario
Landi
!! Il a truffé son film de sexe et de
gore
bien crado.
Mais bon allez on ne lui en veut pas, au contraire. Coups de couteau dans le vagin, jambe découpée à la scie et autres joyeusetés font passer la pilule d'une enquête plutôt routinière.
Hélas n'étant trouvable que dans de très mauvaises copies VHS, il est difficile de juger le travail sur l'image, mais là ne semble pas être le but de l'auteur. Du sang et du sexe, voila ce qui fait vendre. Si seulement on pouvait se le procurer plus facilement. A voir pour le croire, si on aime son
giallo
bien saignant et malsain.
La version Brésilienne contient encore plus de sexe,
avec des scènes inédites.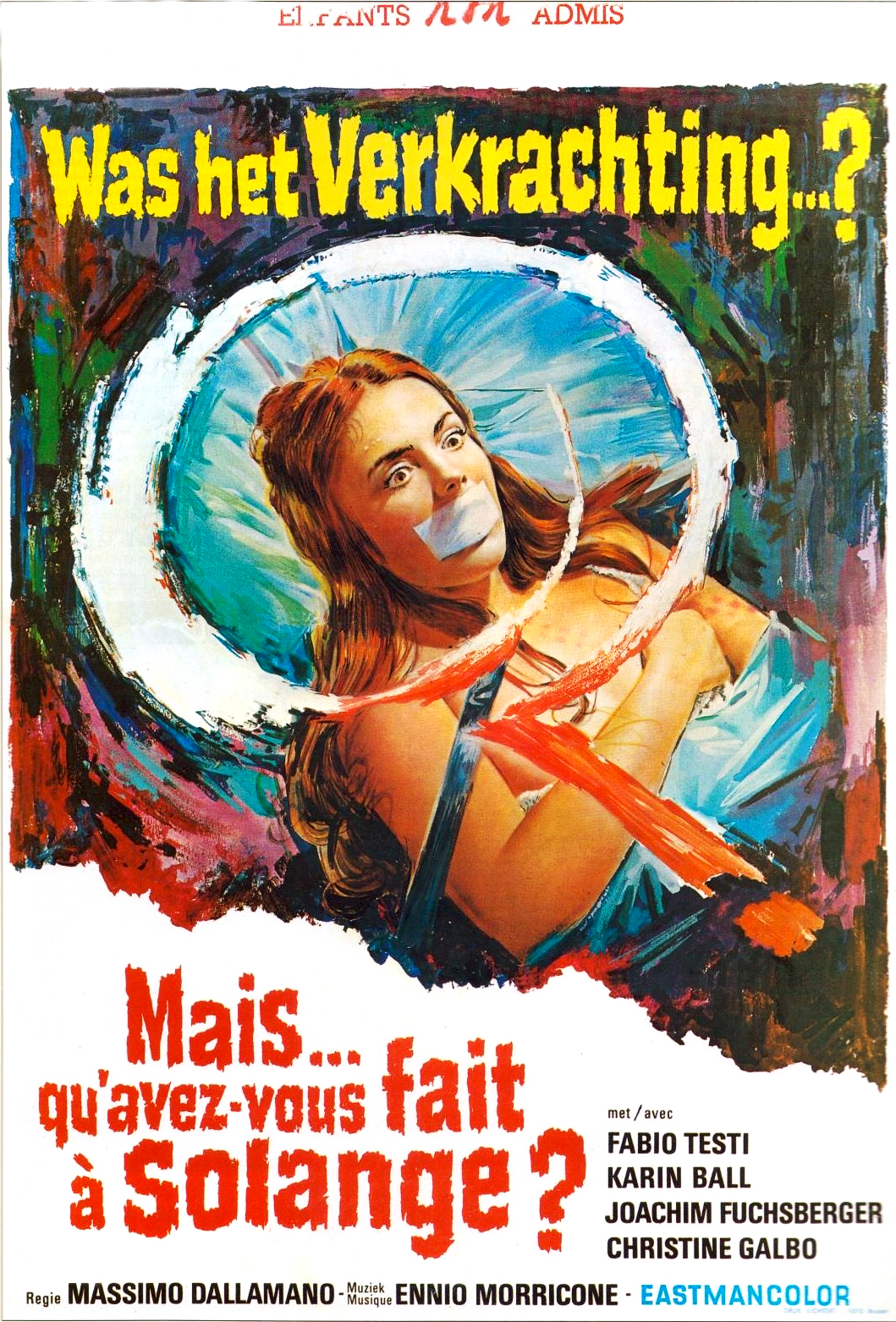 (1059 x 1562)
Cosa

ave

fatto

a

Solange

?
What

Have

You

Done

to

Solange

?
Mais qu'avez vous fait à

Solange

?
Sauvage
(VHS
Fr
)
L'un des titres les plus connu, et pour cause, l'un des meilleurs.
Je ne m'étendrais pas sur son cas.
DVD
dispo
en France chez
Neopublishing
.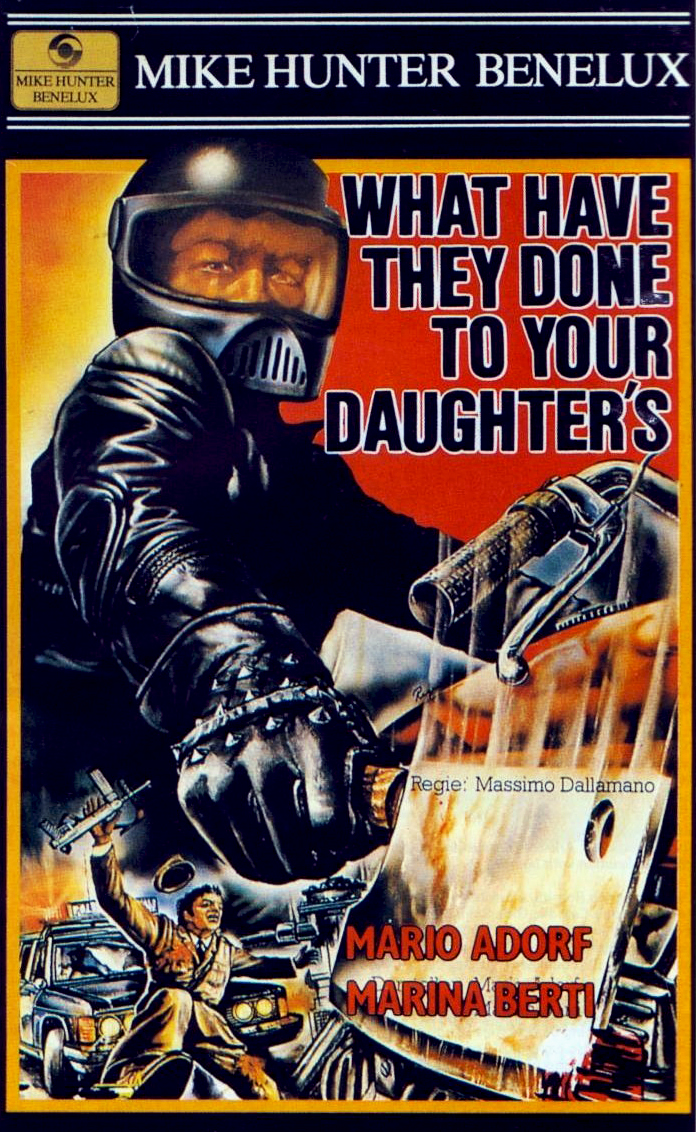 (696 x 1132)
La
Polizia
Chiede
Aiuto
(1974)
What

Have

They

Done

to

Your

Daughters

?
Un autre film de
Massimo
Dallamano
sur un sujet similaire au précédent: Les écolières.
Bien sanglant et haletant, avec une flopée d'acteurs aux trognes que l'on aime retrouver à chaque production. Un immanquable, à moins que vous soyez allergique aux jeunes filles qui se prostituent pour le plaisir... Hum?
C'est bien ce que je pensais.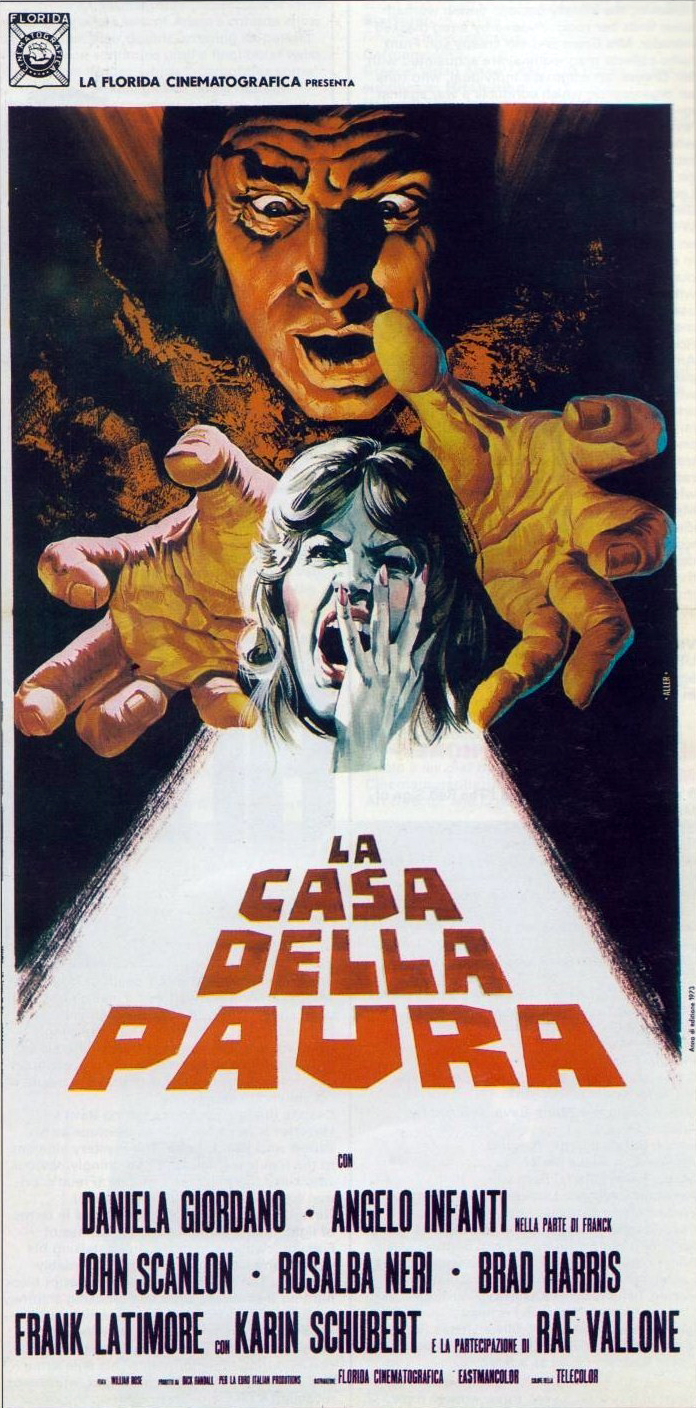 (696 x 1408)
La Casa

della

Paura
(1973)
Girl in

Room

2 A
Réalisé par
William Rose
, un américain, celui ci manque un peu de folie Italienne, mais n'en est pas moins distrayant. Une histoire différente à base de secte capturant et torturant de jeunes donzelles
fraichement
sorties de taule. Les principaux atouts de ce petit film oublié sont, hormis quelques séquences sanglantes, la présence de
Rosalba
Neri
et
Karin
Schubert
, ainsi que d'un tueur au look de cardinal bourreau du plus bel effet.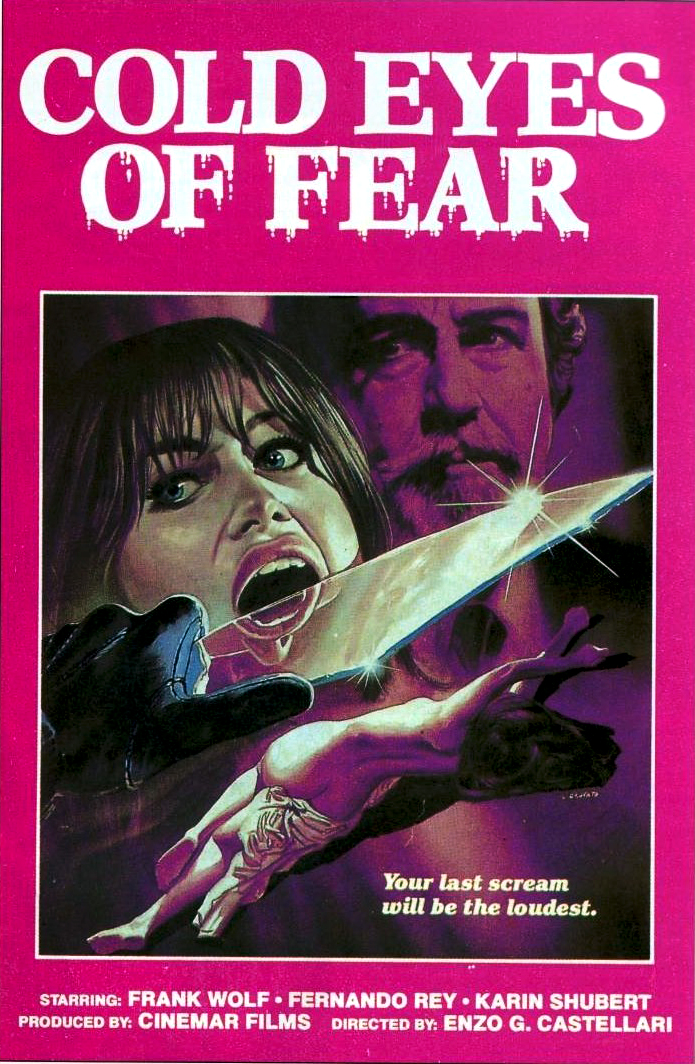 (695 x 1064)
Gli
Occhi
freddi
della
paura
Cold
Eyes
of
Fear
Un bon suspense et une tension palpable dans cette histoire de "Home Invasion" avec un kidnapping qui réserve bien sur de nombreuses surprises. Plus proche du thriller que
Enzo G. Castellari
affectionne habituellement que des péripéties Giallesques. Une bonne distribution (Haaaa,
Karin Schubert
) et de fréquents "twists" (mais non ils ne dansent pas) rendent cette œuvre mineure attachante.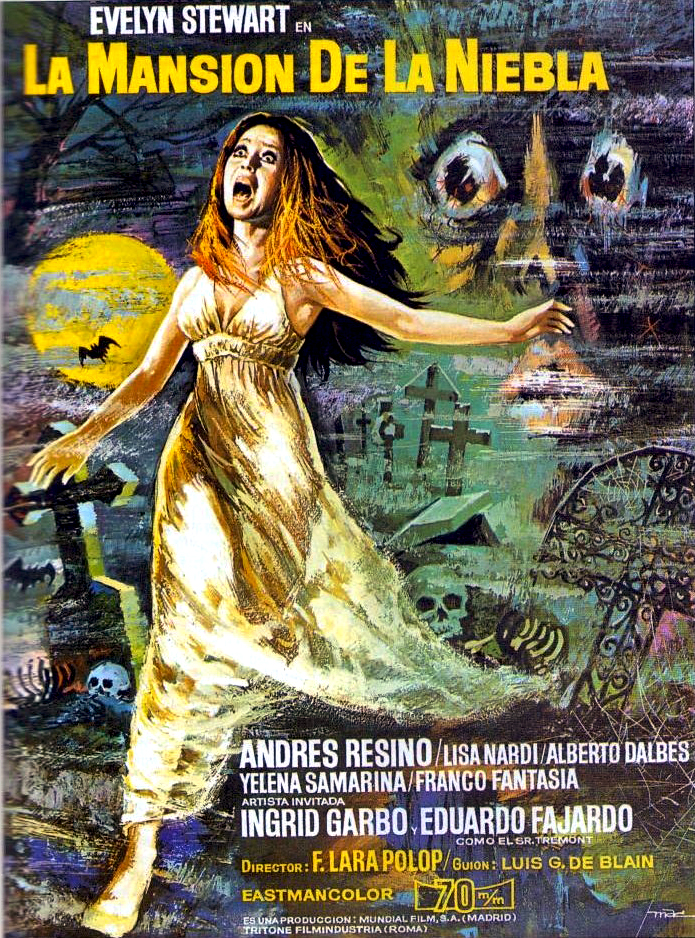 (695 x 938)
La Mansion De La Niebla
(1972)
Murder Mansion
Un croisement singulier entre Giallo, film de spectre gothique et Scooby Doo. Magnifiquement filmé, toujours entouré de brume et extrêmement jouissif, malgré l'absence de gore et de nudité. Un groupe se retrouve coincé dans un manoir et doit faire la lumière sur les disparitions successives dont ils pourraient bien être les victimes à leur tour.
Pas vraiment original mais agréable, surtout si on dégotte le DVD espagnol en scope.
Et si la cause était surnaturelle?
Et si l'auteur du script n'en savait rien?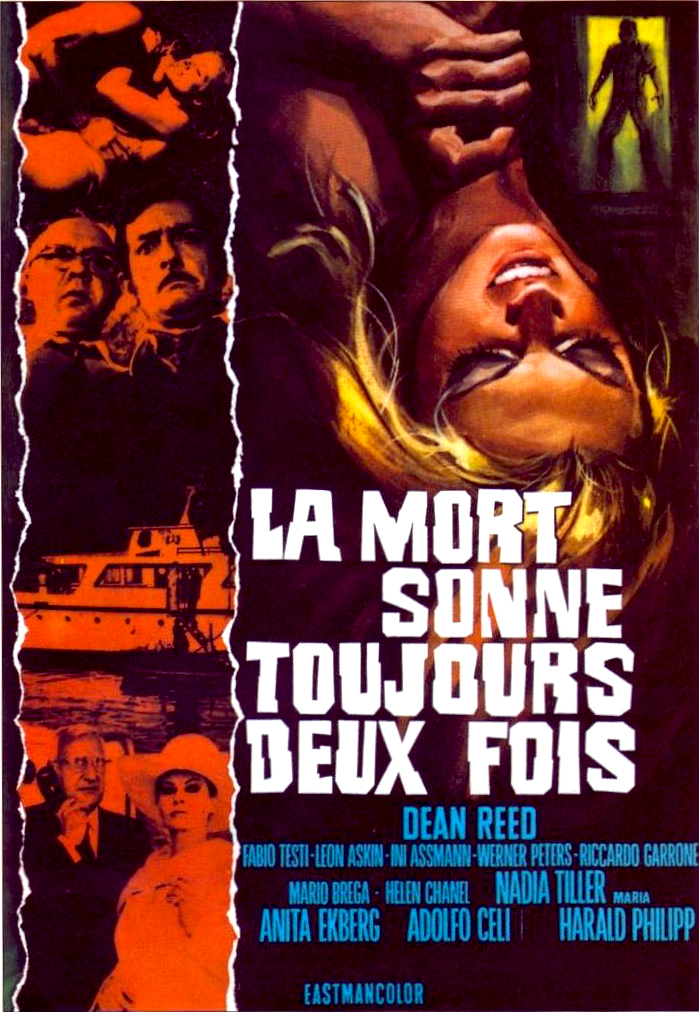 (699 x 1012)
La Morte bussa due volte
Blonde Köder für den Mörder
Death Knocks Twice
La mort sonne deux fois
(VHS Fr sans le "toujours")
Tout comme la plupart de ses confrères de la première heure, point d'assassinats stylisés et de musique grandiloquente. Juste un script à tiroirs et une ribambelle de célébrités.
Un flic tente de démasquer un serial killer par tous les moyens. Mais les choses ne sont pas aussi simples qu'elles semblent (sans dec?).
Pour amateurs chevronnés mais pas indispensable.