Le royaume cinématographique est jalonné
de centaines de genres et sous genres,
mais qui aurait cru qu'un jour on vit un nouveau courant émerger
dans le monde du film érotique:
la TYROLSPLOITATION ou les
Lederhosenfilms
.
Des couples flirtant et copulant en costumes folkloriques
dans les montagnes et les prés fleuris de cette belle région
Autricho-Italienne des Alpes, le tout saupoudré de gags bien gras
comme des saucisses et d'une fixation sur les mamelles de jeunes fermières,
voila ce que vous proposent ces productions germa-niquent.
Un peu l'équivalent allemand des sexy comédies italiennes de l'époque,
ce qui vous donnera une idée du niveau intellectuel de l'ensemble
qui reste pourtant éminemment drôle et kitsch
justement à cause de son jusqu'au-boutisme dans l'excès et le ridicule.
Voici quelques exemples de ces films rigolards issus d'une
brève période (70 à 80) ou le sexe et l'humour n'était pas incompatibles.
Certains sortirent en France sous divers titres souvent bien différents.
(cliquez pour agrandir les images)
Les réalisateurs de ces films qui ont connu des suites de carrières variées
étaient entre autres:
Franz Marischka
,
Franz Antel
,
Alois Brummer
,
Jürgen Enz
,
Franz Josef Gottlieb
,
Siggi Götz
et
Gunter Otto
.
La série des Lederhose!
Lederhose, littéralement "pantalons de cuir" (ou "leather fesses")
est le nom du petit short brodé à bretelles que revêt le tyrolien chic.
Liebesgrüße aus der Lederhose
(1973)
Trad: "
Salutations des shorts de cuir
"
de
Franz Marischka
Film étalon du genre, il connu un énorme succès
et possède tous les ingrédients de base (cités plus haut)
qui seront utilisés ensuite par ses successeurs.
La présence de l'acteur confirmé
Peter Steiner
dans le rôle principal
n'a fait qu'accroitre la popularité de ce dernier et de la série.
La popularité du film à même permis un essor incroyable du tourisme
dans la région Autrichienne de
Pfronten
ou il fût tourné.
et ses suites:
Liebesgrüße aus der Lederhose 2:
Zwei Kumpel auf der Alm
(1974)
2 copains dans les Alpes
(Trad)
Liebesgrüße aus der Lederhose 3:
Sexexpress aus Oberbayern
(1977)
Liebesgrüße aus der Lederhose 4:
Die versaute Hochzeitsnacht
(1978)
-Nuit de noces explosive
(Canada )
Le train du plaisir

(France)
*Les jaquettes des DVD sont particulièrement horribles,
surtout en comparaison des affiches originales plutôt bon enfant .
Liebesgrüße aus der Lederhose, 5.
Teil: Die Bruchpiloten vom Königssee
(1978)
Les pilotes déglingués du
Königssee
(Trad)
L'œil aguerri du filmovore pourra reconnaitre au long des films
quelques visages d'acteurs français tels que
Philippe Gasté
,
Jean Droze,
Max Montavon
et également
Michel Modo
dans cet opus, qui en fait des tonnes en attendant
de retourner à la série qui a fait sa gloire l'année suivante dans
Le gendarme et les extra-terrestres
.
Ce sera également l'épisode ou les tenues folkloriques
commenceront à se faire plus rares
en conservant les scènes champêtres.
Quelle tristesse.
Liebesgrüße aus der Lederhose 6:
Eine Mutter namens Waldemar
(1982)
-Une mère du nom de Waldemar
(Trad)
Les polissonnes en folie
L'hotel en délire
(VHS-VF)
Liebesgrüße aus der Lederhose 7 -
Kokosnüsse und Bananen
(1992)
Noix de coco et bananes
(Trad)
Attention, celui ci ne comporte aucune scène tyrolienne
mais possède tout de même un plan de vache lors d'un moment campagnard.
Les deux derniers de la série comportent des personnages différends
et
Peter Steiner
n'y apparait pas.
Attention cependant à ne pas mélanger cette série avec celle des
Laß jucken, Kumpel!
(1972) (
"ça démange mon pote
")
avec laquelle parfois certains titres sont confondus d'un pays à l'autre,
et sur laquelle les mêmes réalisateurs et acteurs ont travaillé.
Ce qui ne simplifie pas les recherches.
Seul le 4ème opus se déroule en Bavière,
et il est une sorte de croisement des 2 séries.
Il n'existe donc pas à proprement parlé de
Laß jucken, Kumpel 4.
Le deuxième opus est sortit chez nous sous le joli titre de
Les minettes font la queue
Quelques autres titres en pagaille,
certains avec le mot Lederhose dans le titre,
bien qu'ils ne fassent pas partie de la série officielle.
_________________
Zwei Däninnen in Lederhosen
(1979)
Petites filles précoces
(France)
"
Deux danoises en short
" (Trad)
Ce film tout comme le suivant offre un rôle à
Peter Steiner
continuant ainsi ses frasques bavaroises.
La locanda dall'allegra mutanda
-affiche Italienne
--------------------------------------------------
Drei Lederhosen in St. Tropez
(1980)
3 Bavarois en short à St Tropez
(Trad)
Afin de rebondir sur le succès en Allemagne de la série des "
gendarmes
",
on envoie la petite troupe yodler à Saint Tropez
ou ils croiseront un sosie de
DeFunès
(
Jacques Herlin
)
---------------------------------------------------------------------
Beim Jodeln juckt die Lederhose
(1974)
ça me démange le slip quand je yodle!
(Trad)
Ob Dirndl oder Lederhose
- gejodelt wird ganz wild drauflos
(1974)
En jupe ou en slip Bavarois- ça yodle toujours à fond
(Trad)
Liebesgrüße aus dem Lederhöschen
- Wo der Wildbach durchs Höschen rauscht
(1974)
-Là où le torrent fait du bruit par le slip
(Trad)
ou
Wo der Wildbach durch das Höschen rauscht - Witwen-Report
----------------------------------------
Der Bumsladen-Boß
(1973)
plus connu sous le titre
"
Orgien in der Lederhose
"
-------------------------------------------------------------
A droite, l'affiche suédoise.
Gaudi in der Lederhose
(1977)
Du plaisir pour tous
(France)
______________________________
Der Ostfriesen-Report
(1974)
Sorry, wrong bedroom
(USA)
et sa suite
Die Rache der Ostfriesen
(1975)
_____________________________________________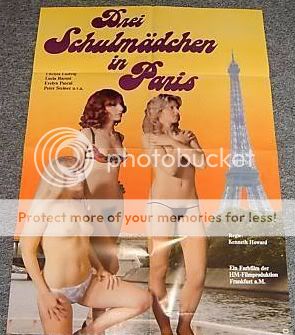 Drei Dirndl in Paris
(1981)
-Drei Schulmädchen in Paris
-Trois Tyroliennes à Paris
----------------------------------------------------------------------------
Das Wirtshaus der sündigen Töchter
(1978)
Auberge des pécheresses
(France)
______________________________
--------------------------------------------------------------------
Das Love-Hotel in Tirol
(1980)
__________________________________
Drei Bayern in Bangkok
(1976)
3 bavarois à Bangkok
Ding Dong
(USA)
_________________________________________________
____________________________________
Drei Schwedinnen in Oberbayern
(1977)
3 suédoises en haute-Bavière
Danemark
Zwei Kumpel in Tirol
(1978)
2 copains au Tyrol
(Trad)
Alois Brummer
ne se casse pas le cul et remonte
plusieurs morceaux de ses films afin d'en faire un nouveau.
Du coup l'incohérence règne.
_________________________________________________
Geh, zieh dein Dirndl aus
(1973)
Love Bavarian Style
Va, retire ton costume bavarois
(Trad)
-------------------------------
Kursaison im Dirndlhöschen
(1981)
Cure en short Bavarois
(Trad)
---------------------------------------------------
Jagdrevier der scharfen Gemsen
(1977)
Has Anybody Seen My Pants?
Chasse gardée des chamois avisés
(trad)
____________________________________
Auf ins blaukarierte Himmelbett
(1974)
Hey Marie, I Need More Sleep
Dans un lit à carreaux bleu ciel
(Trad)
__________________________________________
Beichte einer Liebestollen
(1971)
-Alpenröschen im Dirndlhöschen
(Allemagne de l'ouest)
Petits rhododendrons dans un slip bavarois
(trad)
-Hay country Swingers
(USA)
-Lèvres chaudes
(Belgique)
Comme pour le précédent, l'affiche est assez mensongère
car si les films se déroulent bien dans les alpes, point de tyroliens en vue.
Juste quelques campagnards obsédés.
Pour une fois l'affiche américaine est beaucoup plus proche de la réalité.
----------------------------------------------------------
---------------------------------------------------
Blutjunge Biester... zu allem bereit
(1984)
Jeunettes bestiales prêtes à tout
(Trad)
-Auf der Alm da juckt die Lederhose
(DVD)
________________________________________________
Hurra - Die Schwedinnen sind da
(1978)
Hourra - les Suédoises sont là
(Trad)
------------------------------------------------------------
HEIDI
Unterm Dirndl wird gejodelt
(1974)
ça yodle sous les jupes Bavaroises
(Trad)
The Erotic Adventures of Heidi
Le film dont les magnifiques photos promotionnelles ornent ce post:
Les aventures érotiques d'Heidi
.
Il ne fallut pas longtemps pour que la célèbre petite
héroïne suisse
habitant également les alpages ne se joigne aux réjouissances.
Enfin il s'agit plutôt de sa version éponyme adulte et dévergondée
mais peu importe, depuis le temps qu'on se demandait ce qu'elle était devenue,
voila quelques réponses plausibles avec ce film et quelques autres qui suivirent.
Heidi arrive à Francfort
(pays de la saucisse)
C'est sans doute là que tout à commencé.
Y a pas à dire:
On savait rire à l'époque dans les montagnes!
Heidi, Heida 1
(1994)
et sa suite
Heidi, Heida 2
(1996)
Même ce brave Dracula a été faire une virée en haute Bavière dans:
Graf Dracula beißt jetzt in Oberbayern
(1979)
Maintenant, le comte Dracula mord en Haute-Bavière
(Trad)
Dracula Blows His Cool
Il succhione
(Italie)
N'espérez pas voir le comte en short dans cette comédie sexy sympatoche.
Il y en a encore bien d'autres mais voici déjà de quoi
calmer vos pulsions fétichistes teutonnes pour un moment.
auf Wiedersehen
!
Et ça c'est cadeau!