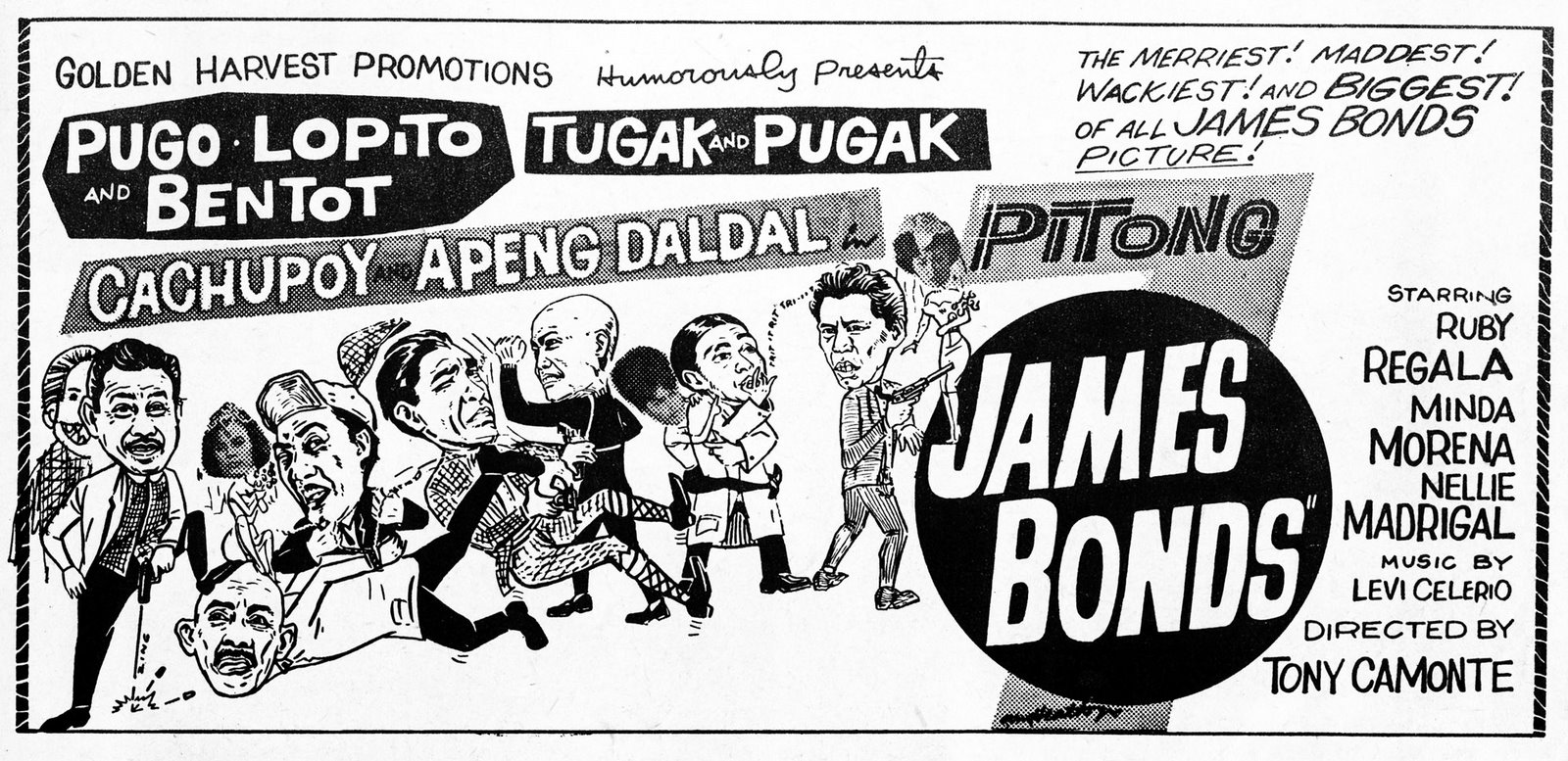 7 James Bonds
(1966)
(1600px × 777px)
Bon on va changer de sujet un petit peu, car je viens de m'apercevoir que l'on parle beaucoup de sexe sur ce blog tout de même. On va finir par croire que ça m'intéresse. Alors que moi je me creuse la tête à vous dégottez des trucs absurdes pour égayer vos journées, et ce au risque d'y perdre ma santé (mentale y compris). Ne craigniez rien je ne vais pas tomber dans la culture extrême non plus (quoi qu'un de ces jours je vais finir par parler d'un machin "Art house", il y en a des biens aussi), mais d'un personnage bien connu:
JAMES BOND 007
Il était évident qu'un succès pareil allait générer des copies un peu partout, plus ou moins réussies et plus ou moins moins proches de l'original. Certains Pays faisant fi des lois de copyright, vu que de toute façons leur production n'était destinée qu'à une exploitation locale, elle ne risquait pas de faire grand bruit auprès des ayants droits. Qui aux USA connaissait à l'époque ne serait ce qu'un seul film Thaï ou Philippin? Et ce même dans les milieux du cinéma. Ils auraient donc eu tort de se gratter, et qui plus est les succès Américains n'étant diffusés que dans les grandes villes, il fallait bien donner au petit peuple son lot de "Bonderie". Ainsi naquirent des bandes aux titres et parfois aux histoires complètement pompées sur les vrais "Bond" du moment, ou bien plus souvent des parodies loufoques prétextes à un humour lourdeau et aux pitreries des stars locales.
Faisons un "Bond" en Arrière:
Commençons par les
Philippines
, le cinéma "
Pinoy
" ou "
tagalog
" comme on l'appelle (selon son langage et son époque) étant un grand pourvoyeur de copies en tout genre, Action, guerre, karaté, fantastique, dans le plus total mépris des droits d'auteurs, mais dans la bonne humeur. Ça compense.
Je ne ferais pas un résumé pour chacun, puisqu'il sont souvent similaires, Voire joués par le même acteur, reprenant les grandes lignes des films Bondiens, avec Agents secrets, gadgets, organisation malfaisante, belles pépés, happy end et un héros qui cabotine à mort, le tout tourné avec quelques pesos
(si je me suis renseigné, y a pas qu'au Mexique, et toc).
J' ai limité les titres à ceux dont la parenté avec le personnage de "Bond" était évidente, ce qui exclu plusieurs centaines de copies carbones qui se cachaient derrière un nom d'Agent et un matricule différent, mais qui étaient toutes aussi coupables.
Beaucoup d'entre eux restent introuvables aujourd'hui, exceptées parfois de rares VHS d'époque.
Philippines
Dr. Yes
Agent 1-2-3
(1965)
de
Luis San Juan
avec
Dolphy
Dolphy, grande star comique de l'époque, plus de 200 films au compteur, incarne l'agent 1.2.3 pour la première fois, il aura d'autres rôles similaires dans diverses productions.
Genghis Bond: Agent 1-2-3
de
Luis San Juan
(1965)
avec
Dolphy
Dolphy est une fois de plus l'
Agent 1.2.3
(vous l'avez deviné son nom de famille est "
Partez
"), rôle qu'il reprendra une bonne demi douzaine de fois. Parfois enchainant 4 films la même année, plus 5 ou 6 autres similaires.
James Batman
de
Artemio Marquez
avec
Dolphy
,
Boy Alano
(1966)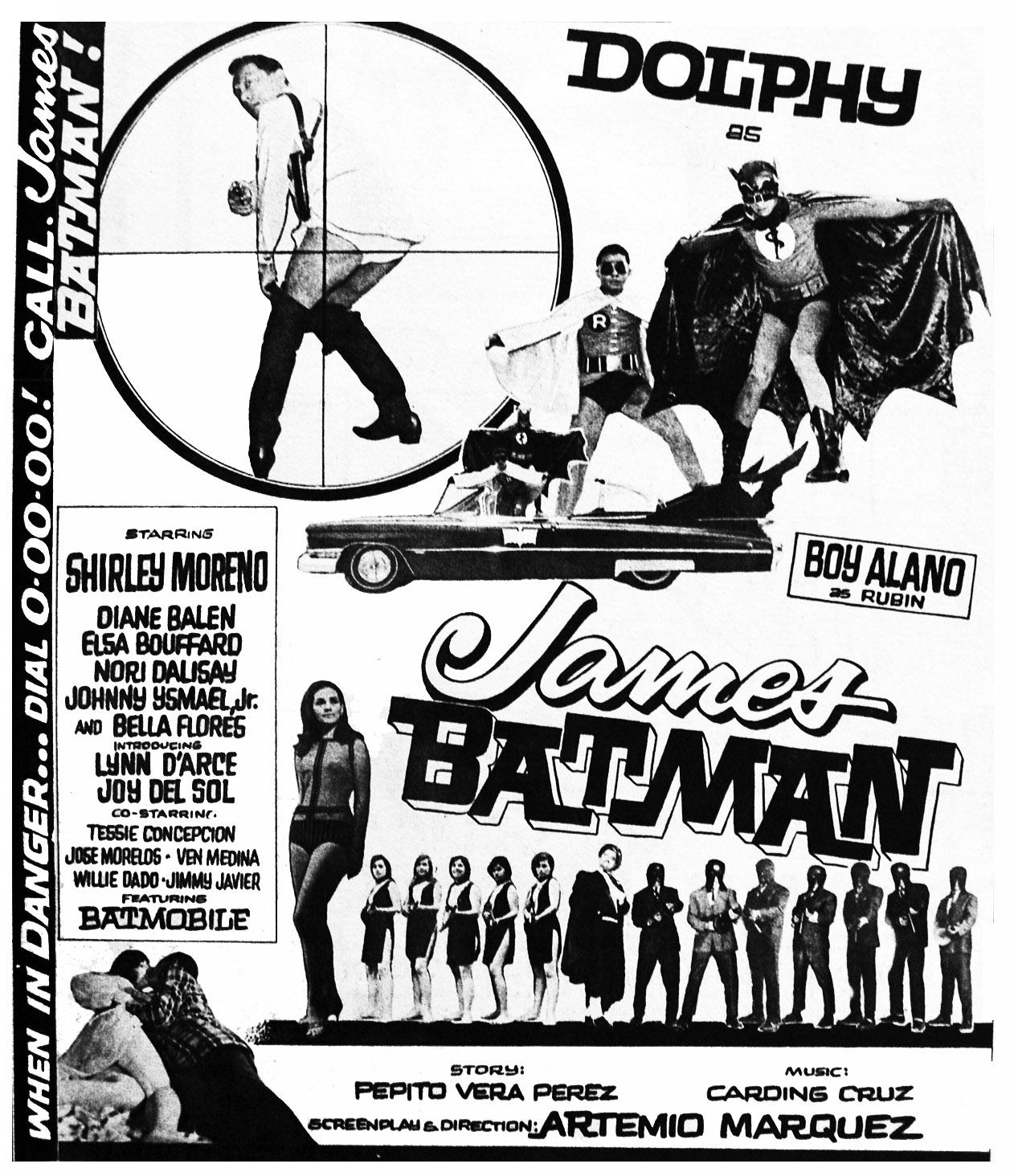 (1257px × 1464px)
En voila un qui mérite que l'on s'y arrête un peu. On sort le grand jeu avec deux parodies du même coup, ce qui offre à
Dolphy
l'occasion de jouer Batman et James Bond
(on n'est jamais si bien servi que par soi même).
Histoire classique: L'organisation CLAW veut balancer des bombes nucléaires si on ne satisfait pas leur exigences, alors il ne faudra pas trop de deux héros pour venir à bout de cette mission. Problème ils ne s'entendent pas vraiment bien (enfin au début). Le reste ne sera que courses poursuites et parlottes (en V.O et bien sur je ne comprends rien au Tagalog, pas même celui de la "Redoute"...).
Slapstick
, quiproquos et vannes vaseuses se succèdent mais peut être du à la présence de 2 héros au lieu d'un, le tout est quand même plus réjouissant qu'à l'accoutumé.
Dolphy
a un talent indéniable et délivre une prestation fort drôle quand il a gag consistant à se mettre sous la dent. On devine aussi certaines improvisations pour meubler des séquences non scriptées, ou il s'en sort fort bien tel un Darry Cowl Pinoy.
En fait ce film était plutôt une grosse entreprise, puisque divers acteurs étaient déjà renommés dans leur pays, comme notre
Rubin
/
Boy Alano
(hé oui il est là aussi, mais avec un "U") au costume identique à l'original, contrairement à celui de Batman dont je cherche encore la signification du sigle sur la poitrine. La musique elle est bien celle de la série Batman des sixties, à une note près cependant, et pour une fois qu'on ne repique pas directement la B.O, je dis chapeau.Toujours est il que le rythme du film soutenu et ses nombreuses bagarres pas si mal chorégraphiées pour l'époque font de ce
James Batman
un "Winner" dans sa catégorie.
quelques autres
Operation Butterball
(1966)
(751px × 1350px)
Dolpinger
(1965)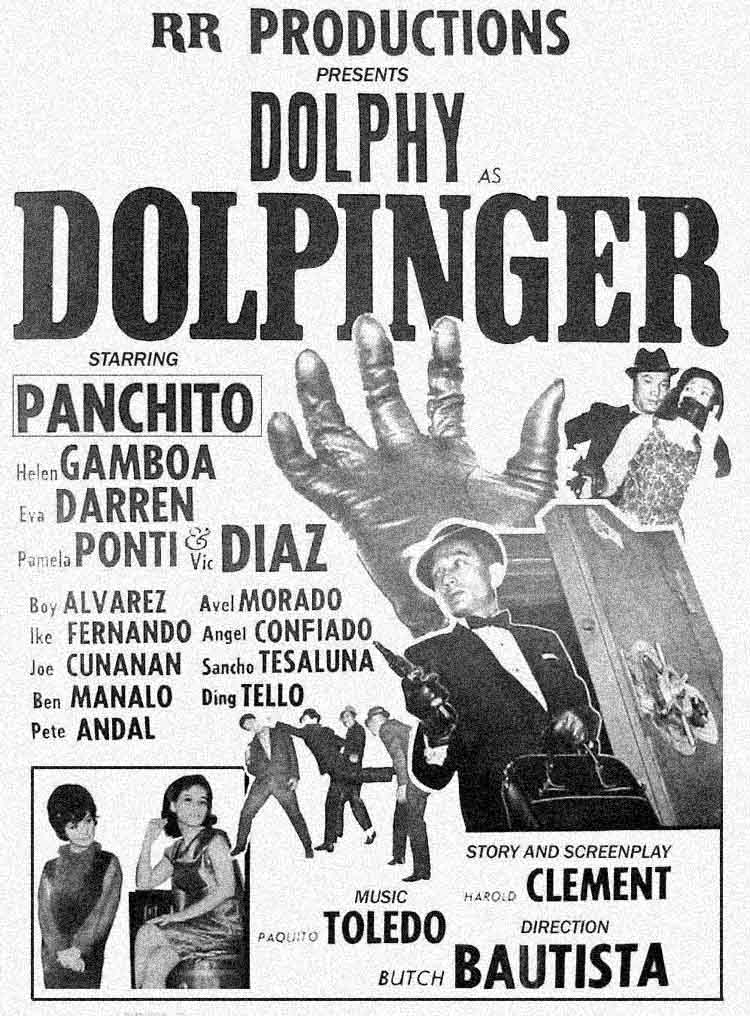 (750px × 1016px)
Le Blog de Dolphy avec la plupart de sa filmographie.
__________________________________________________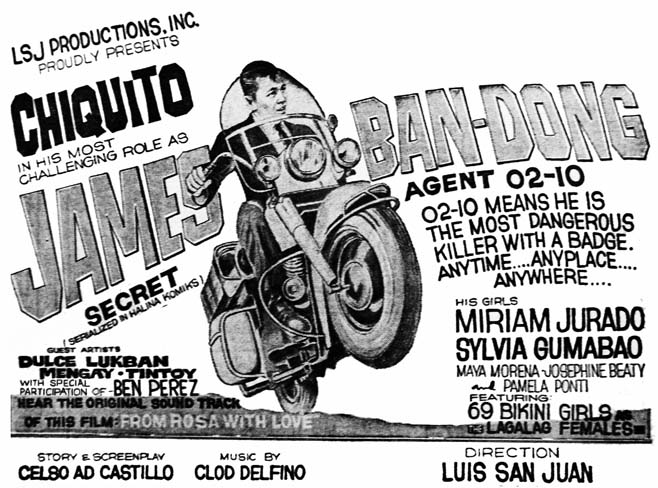 James Ban-dong
de
Luis San Juan
(1964)
avec
Chiquito
(515px × 838px)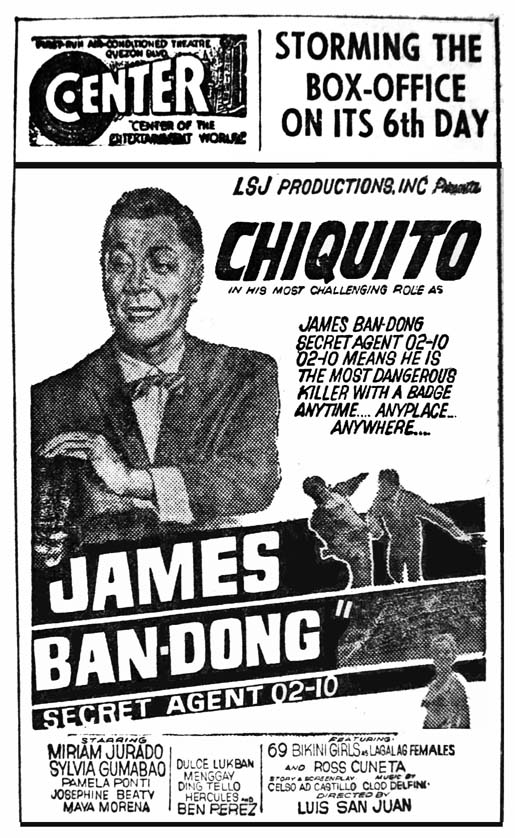 La même chose avec pour vedette
Chiquito
, autre comique Pinoy. Petit changement, lui il incarne l'agent
02-10
, ce qui fait toute la différence. il tournera au cours de sa longue carrière avec notre ami
Dolphy
une bonne dizaine de fois, afin de capitaliser sur les deux noms. Il reviendra dans son rôle de
02-10
avec des titres parodiant ouvertement le héros de Fleming.
Mr. Thunderball
de
Jose 'Pepe' Wenceslao
(1074px × 1416px)
James Bondat
de
Tony Cayado
(1970)
avec
Chiquito
Pas d'infos sur ce film surement perdu, mais qui ne risque pas de changer beaucoup de la formule habituelle. Juste un nom nouveau encore plus proche de l'original.
James Wong
(1973)
de et avec
Chiquito
: Agent 7/ Agent 11 (double rôle)
Réalisateur et deux rôles d'agents (
7
et
11
) pour le même prix. La pratique était assez courante jusque dans les années 90 de jouer plusieurs rôles dans un même film. Le coup des jumeaux était bien pratique sur ce coup la et notre cinéma en a également abusé. Voir un peu plus bas pour un exemple typique.
James Bone
Agent 001
de (1987)
avec
Palito
Encore un Film disparu avec l'acteur
Palito
qui avait fait de sa maigreur son fond de commerce. On le connait pour ses parodies de Rambo:
Rambo Tan-go/ Johnny Tan-Go Rambo Parte III
(1984)et le plus connu
No Blood, No Surrender
(1986).
Nous y reviendrons un autre jour.
Johnny Tan-Go Rambo Parte III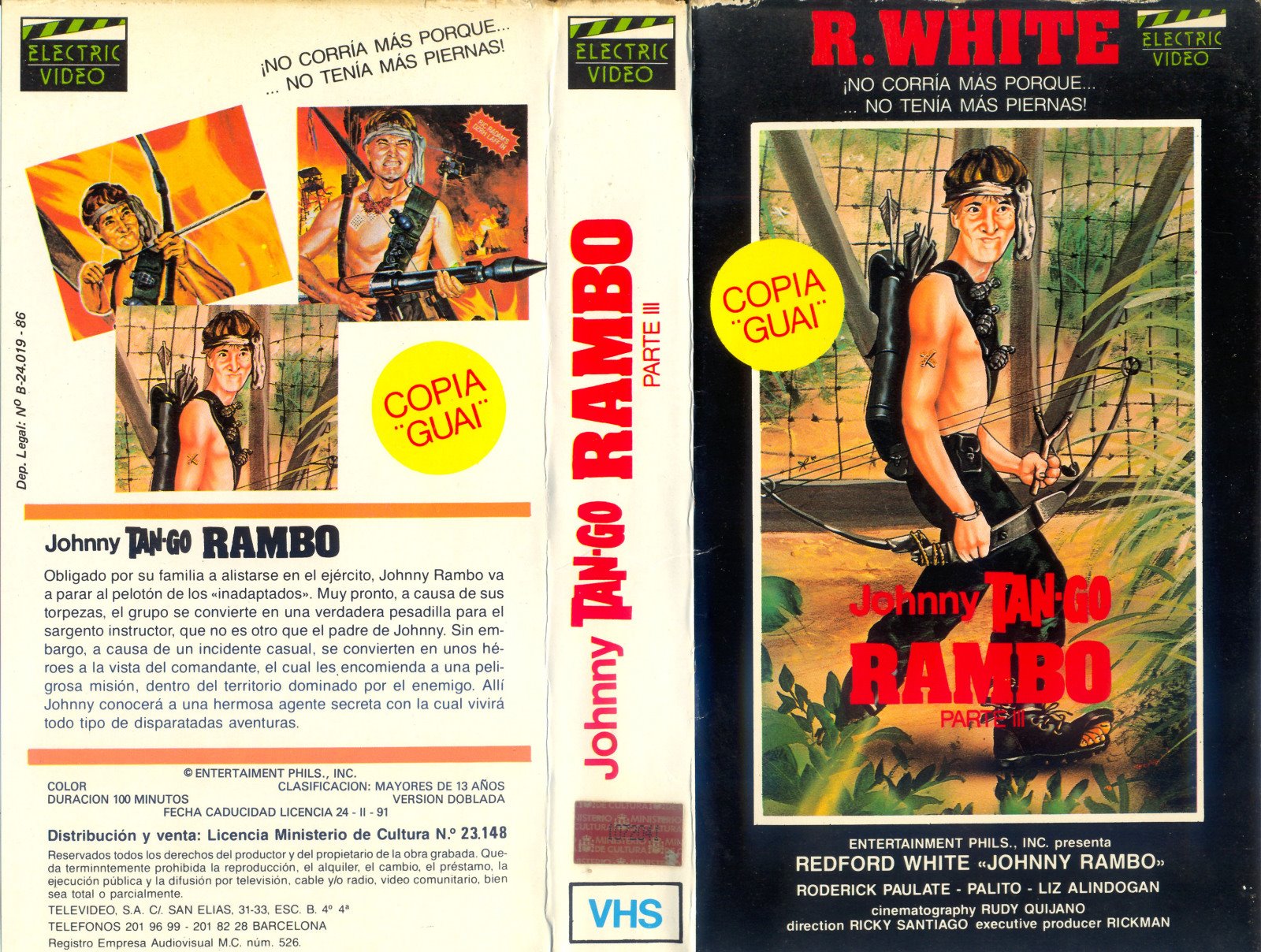 (1600px × 1208px)
We only live wais
(1968)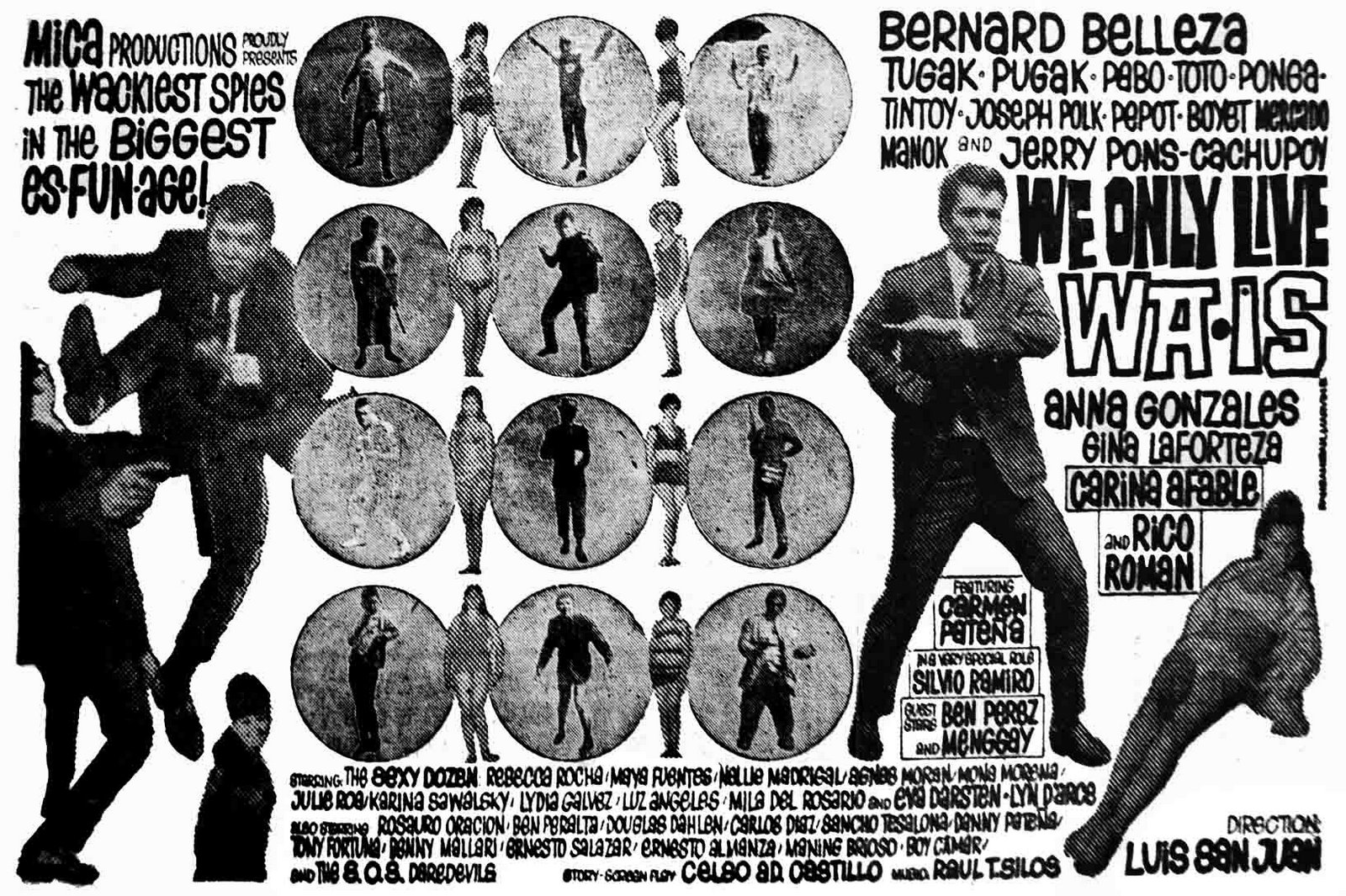 (1600px × 1065px)
On ne peu décemment oublier le représentant le plus singulier de ce cinéma haut en couleur, le célèbre
Weng Weng
. Acteur de moins d'un mètre de haut, qui incarna par 3 fois un agent secret aux gadgets forcément miniaturisés et qui au vu de sa hauteur, tapait plus volontier dans les couilles. Un summum du cinéma de "
Handicapsploitation
" ou on utilise sans vergogne la petite taille du héros dans moult blagues et dont c'est le seul intérêt.
Un must du mauvais gout.
Je ne m'étendrais pas sur le sujet, cliquez sur son nom pour en savoir plus (nanarland), mais il nous a donné de magnifiques parodies Bondiennes en tant qu'
Agent 00
dans:
Agent 00
de
Eddie Nicart
(1981)
(754px × 1600px)
Film pour l'instant perdu des premières aventures du mini Bond, mais quelques lobby cards donnant un avant gout qui semble être dans la droite lignée des deux autres, peut être en plus simple.
Une sorte de répétition.
(cliquez pour agrandir)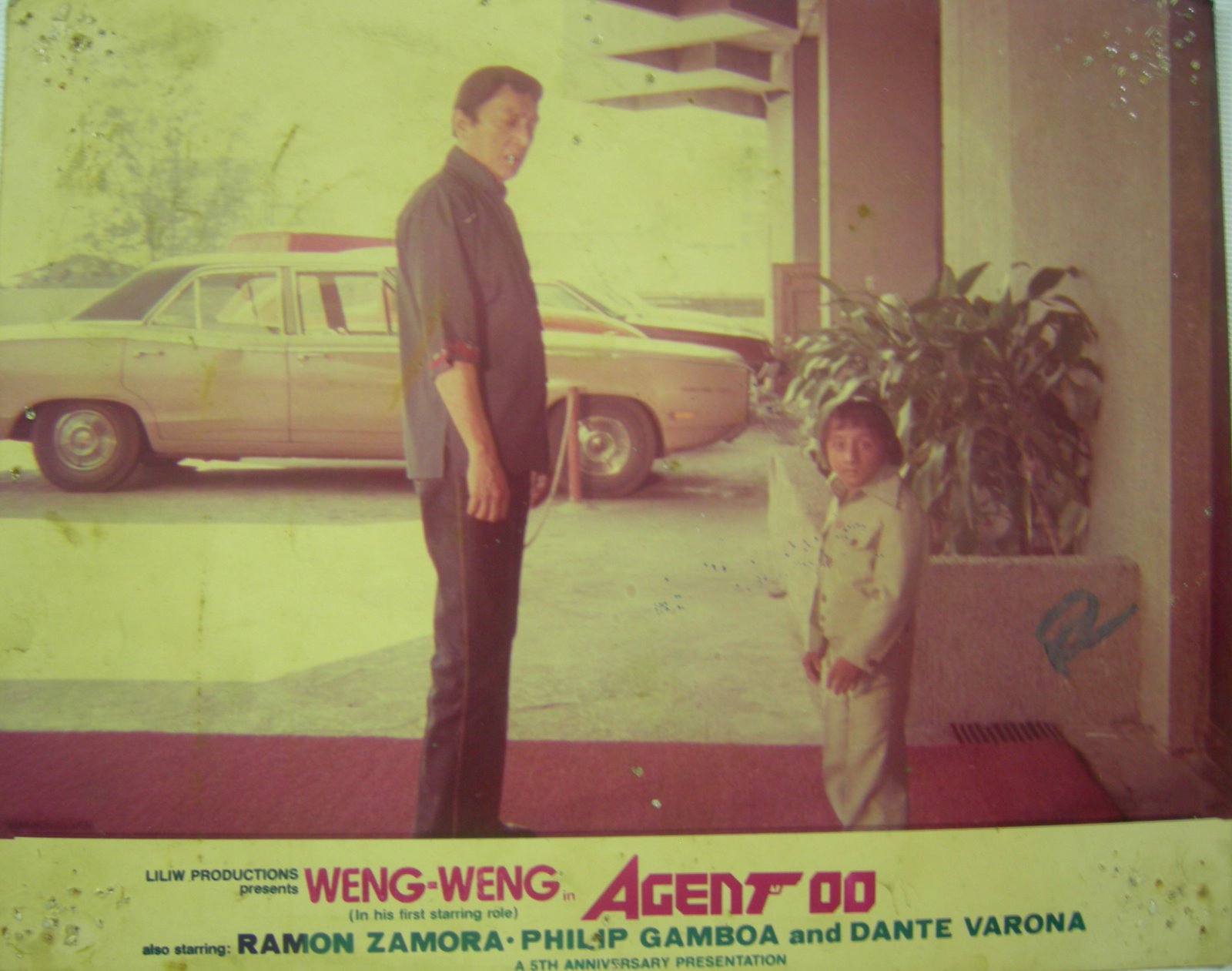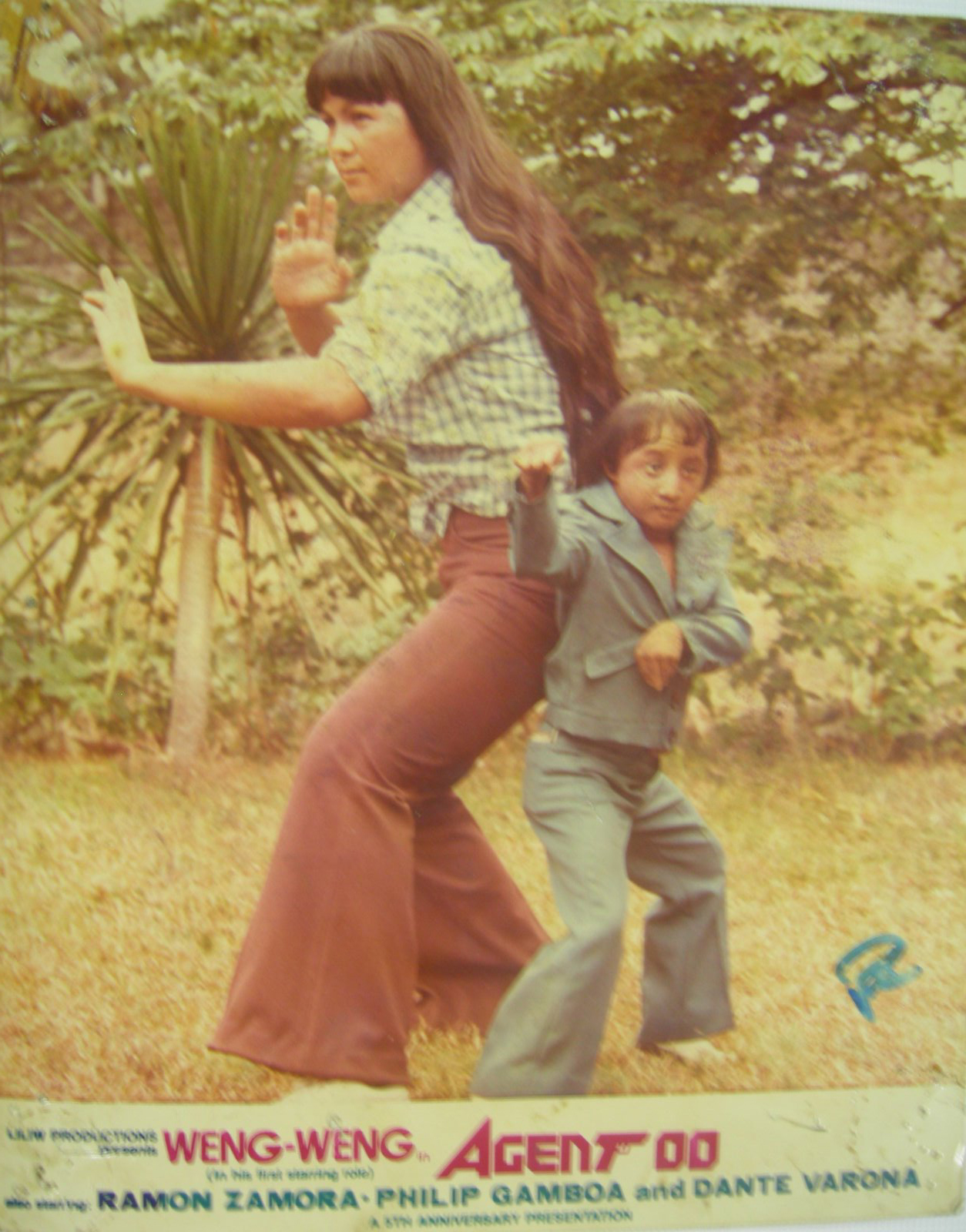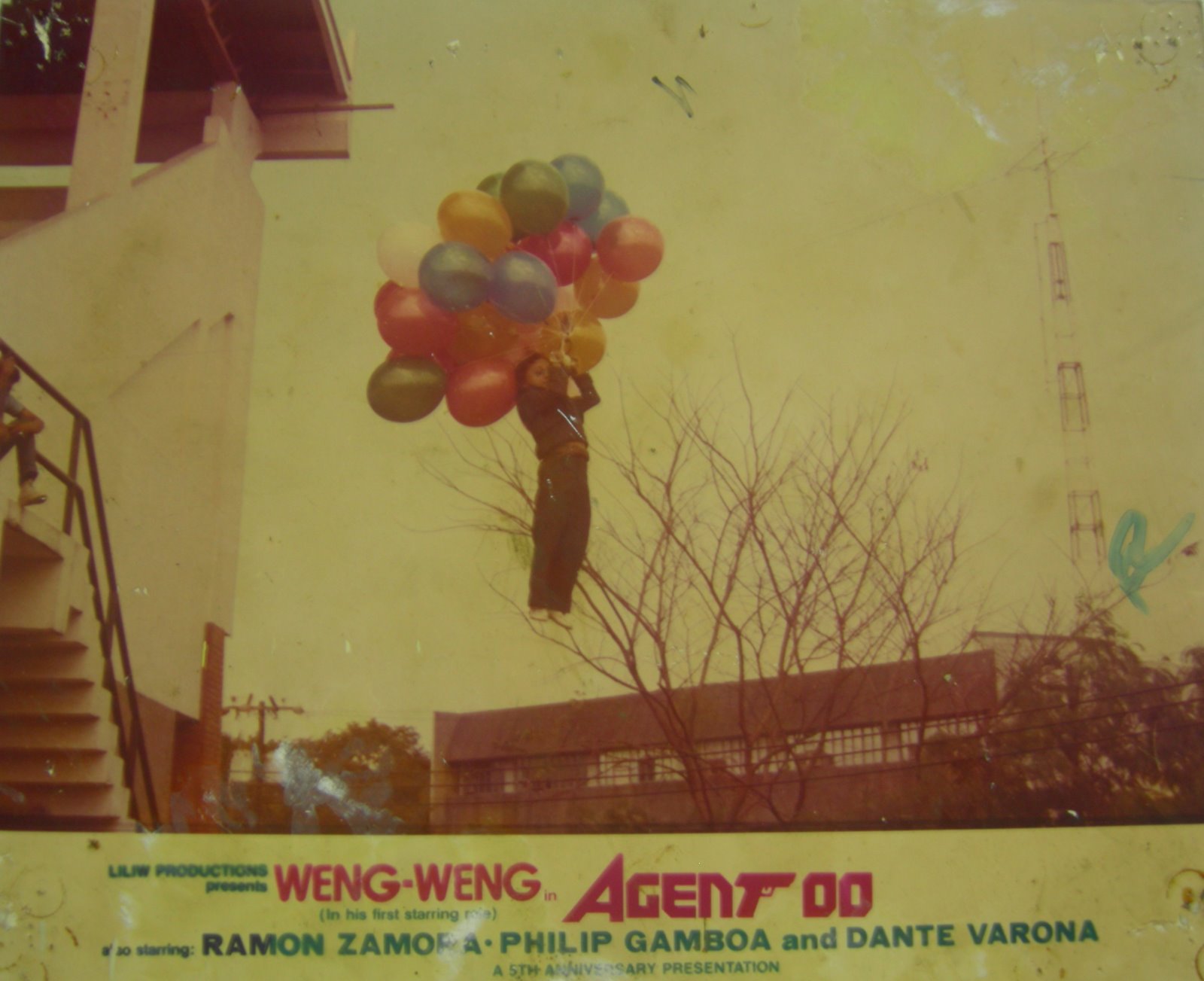 (1600px × 1303px )
For Y'ur Height Only
de
Eddie Nicart
(1981)
Sa suite complètement délirante.
DVD indispensable en Anglais chez
Mondo Macabro
.
The Impossible Kid
(1982)
007 ½ : rien n'est impossible
(
VHS -VF
)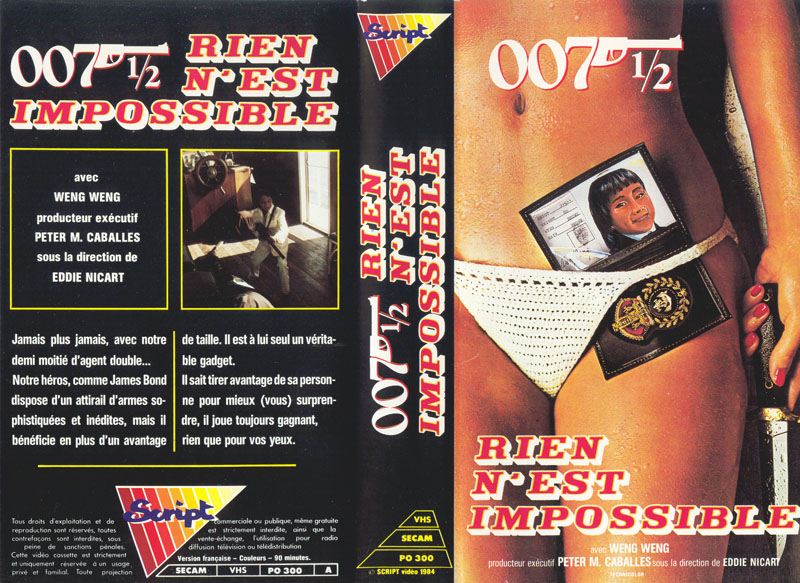 (800px × 583px)
Le film étant tombé dans le domaine public
il est téléchargeable légalement en Anglais
Ici
.
Pour plus de renseignements
et d'autres liens utiles
sur le cinéma Philippin,
l'excellent site d'
Andrew Leavold
.
(en Anglais)
__________________________________________________________
Thailande
Star Wars vs James Bond
James Band 007
de Chai Nimitrchotinai 198(?)
avec
Thep Thien-Chai
Attention on attaque encore du méga lourd, non pas que cette parodie soit meilleure que les autres, mais tout comme
James Batman
elle a un atout de taille: La présence de
C3Po
(6PEO en VF) et de
R2D2
(D2Rd2) du coté des méchants. Oui vous avez bien entendu. Enfin des versions bricolés et ringues mais à la ressemblance évidente.
Le script suit les aventures d'un taxi contraint
d'agir en Agent secret pour sauver le pays.
Si le film est plutôt générique avec quelques vannes rigolotes, le clou du film reste indéniablement la bataille féroce entre les deux robots à la fin qui mettra le feu au laboratoire et un point final à toute cette mascarade. Le tout dans un plan séquence incroyable, enfin... un plan normal quoi. On se demandait qui étaient leur ancêtres, et bien nous voila renseignés.
Ils étaient du coté obscure de la Force et du coté biture d'Asimov.
C3PO vs R2D2
Le film est disponible en
VCD Thaï
pour la modique somme de 5.5$.
__________________________________________________________
Inde
"Bondlywood"
Mr. Bond
de
Raj N. Sippy
(1992)
avec
Akshay Kumar
,
Sheeba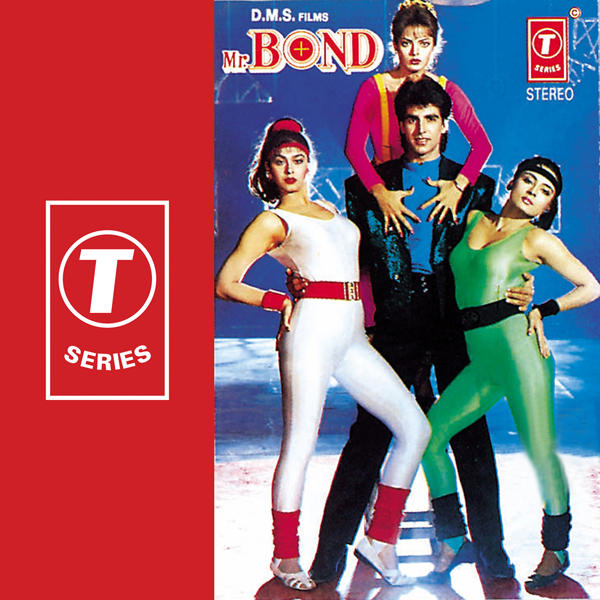 Pas une parodie mais un Bond à la sauce curry, avec chansons, torses velus, danses lascives, érotisme timide et peu d'action. Si vous connaissez le Bollywood style, vous voyez le topo.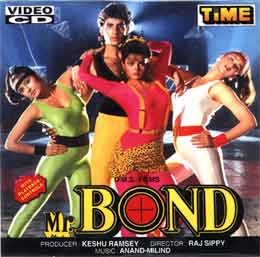 Le film est visible
Ici
"Tollywood"
James Bond 777
de
K.S.R. Doss
(1971)
avec:
Krishna Ghattamaneni
,
Vijaya Lalitha, Jyothi Laxmi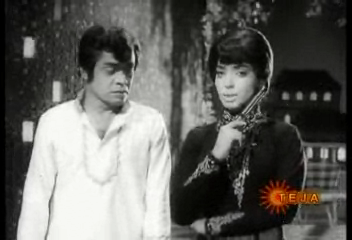 Filmé en langue
Telugu,
une petite bande d'action avec de nombreux combats de nanas girondes, dont un ou l'actrice
Jyothi Laxmi
s'affronte elle même dans un autre double rôle.
Moment rigolo: Une bande de chiens censés être dressés pour tuer, est incarnée par trois toutous fort sympas que le reste du casting s'efforce de faire passer pour des bêtes dangereuses avec un panel de faciès grimaçants du plus bel effet.
un petit montage des combats
Ici
Le film visible
ici
________________________________________________________
Espagne
07 con el 2 delante

(Agente: Jaime Bonet)
Agent 07 avec un 2 devant
/Agent 07 with a 2 in front
de
Ignacio F. Iquino
(1966)
avec
Cassen
(582px × 822px)
Une sorte de version du Grand Blond avec une chaussure noire, ou les dirigeants des services secrets utilisent un serveur abruti, James Bonet (
Cassen
) pour servir d'appât autour d'un ballon de foot renfermant un microfilm. Pas le meilleur du lot. un film pour valoriser sa vedette et ses pitreries comme d'habitude. Enfin je ne peut pas décemment critiquer, car je suis un peu allergique à sa tête de con, alors à vous de voir.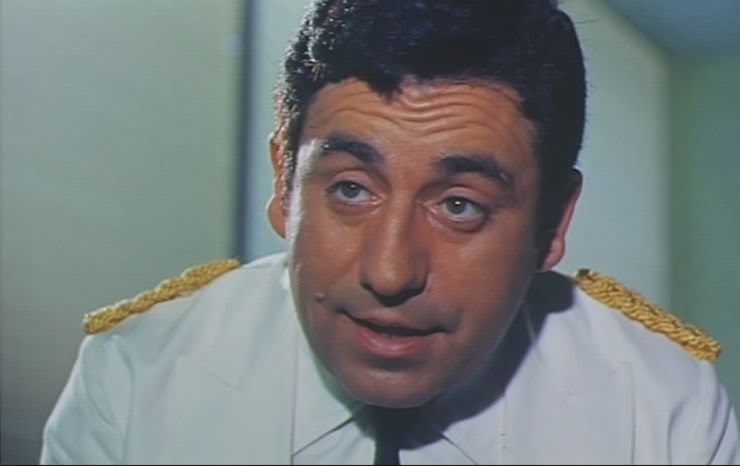 ____________________________________________________
Italie
L'Italie fut très active entre les années 50 et début 90 dans le domaine du plagiat ou disons des inspirations appuyées et le domaine de l'espionnage ne fut pas le dernier.
Souvent en co-production avec la France ou divers pays d'Europe, des dizaines de métrages sur le sujet, parfois sérieux et pas mal de comédies.
James Tont operazione U.N.O.
de
Bruno Corbucci
(1965)
avec
Lando Buzzanca
,
Evi Marandi
.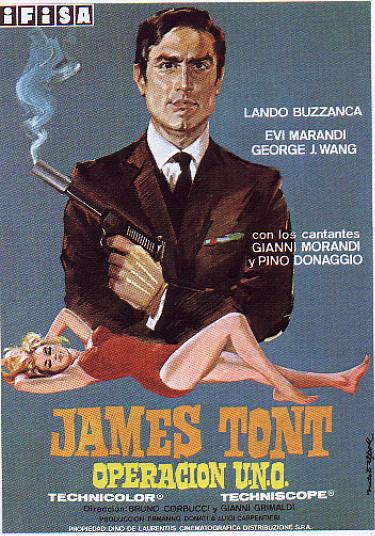 Parodie de Goldfinger qui en respecte la trame à la lettre et
un bon nombre de détails.
Premier d'une longue série de deux films, si vous oubliez lequel est celui ci, c'est facile le premier se nomme "
operation "UN"
" et le deux "
Operation "Deux"
", ça va c'est pas trop compliqué.
James Tont operazione D.U.E.
Operation Goldsinger
de
Bruno Corbucci
(1965)
avec
Lando Buzzanca
,
France Anglade
,
Jacques Dufilho
.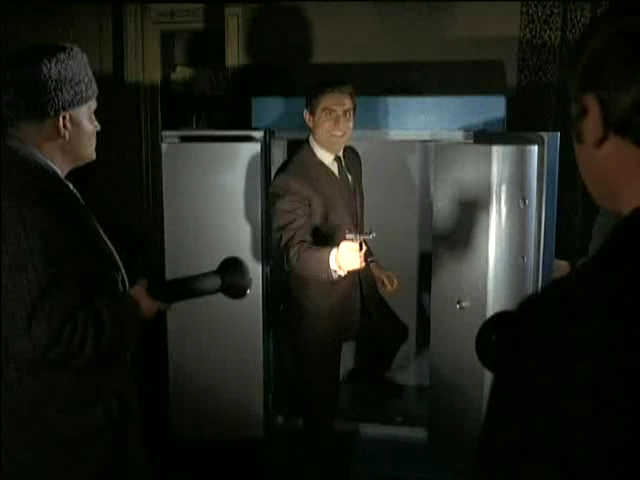 Le retour de James Tont ("Idiot" en Italien), qui doit remplacer le plus grand agent secret (?!) indisponible pour cette mission. Si vous aimez les comédies burlesque Italiennes de cette époque, les vannes sont similaires et comme souvent, au fur et à mesure le rythme s calme et les rires aussi. Quelques grands moment de n'importe quoi, ou Tont se dégonfle (littéralement) pour se faire envoyer par la poste à l'intérieur de son objectif. Fallait y penser.
Si vous avez aimé
Dr. Goldfoot and the Bikini Machine
(1965)ou sa suite
Le spie vengono dal semifreddo
(1966)(l'espion qui venait du surgelé) pour leur couleurs criardes, leur musique rock'n'roll et leur péripéties ubuesques, vous aimerez ceux ci, qui se rapprochent un peu plus du deuxième (le plus nul). Moi ça me fait marrer. Enfin j'aime bien, j'avoue que je ne me marre pas tout le temps,
mais ça vaut bien du
Cauet
.
Chacun sa came.
On retrouve le très bon
Jacques Dufilho
grâce aux miracles
de la co-production dans le rôle de "Y".
OK Connery
Operation Double 007
/
Operation Kid Brother
Opération Frère Cadet
Alberto De Martino
(1967)
avec
Neil Connery
,
Adolfo Celi
,
Bernard Lee
,
Lois Maxwell
.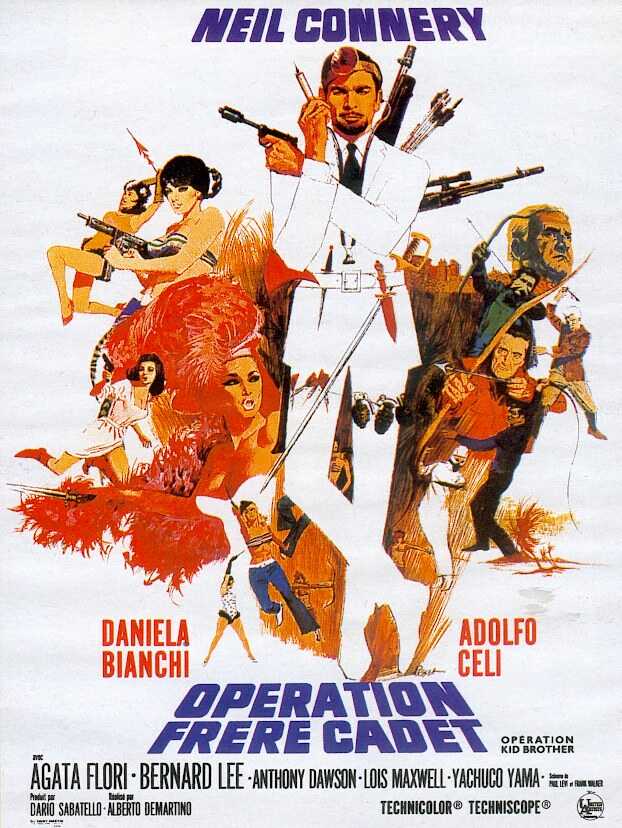 Un must de l'exploitation. On prends le frère de
Sean Connery
, alors plâtrier et plusieurs membres du casting des
james Bond
et hop voila une bonne opération commerciale.
Enfin pas si bonne que ça, puisque le frérot ne fera qu'un autre film et retournera chez lui après avoir essuyé les plâtres
(un comble vu son métier). Moins débile que ses comparses Italiens mais aussi moins drôle,
il en possède néanmoins les autres ingrédients et se révèle distrayant.
______________________________________________________
Allemagne
James Stoned: 0.07 Uhr bei Dr. Njet
de
Jürgen Köllner
(1992)
Allemagne
Du méga archi "Z" ringardos teuton.
La Bande annonce prometteuse
(de somnolence)
Philippe Clair
sévit de nouveau, avec cette histoire de sosies pour changer un peu des jumeaux. Giaccomo rêve qu'il est James Bond et va devoir prendre la place de James un agent secret dont il est le double parfait. Se croyant dans son rêve, il part en mission et s'apercevra bientôt que le vrai James est vivant et homosexuel. S'en suivront des aventures rocambolesques à l'humour gras et facile ou surnage quelques sourires. Surtout il va rencontrer la superbe
Edwige Fenech
, qui a ici parmi ses looks les plus atroces.
Merci l'habilleuse et les coiffeurs.
On peut néanmoins prendre un certain plaisir pervers
à ce nanar à la limite du navet.
(click for 636px × 500px)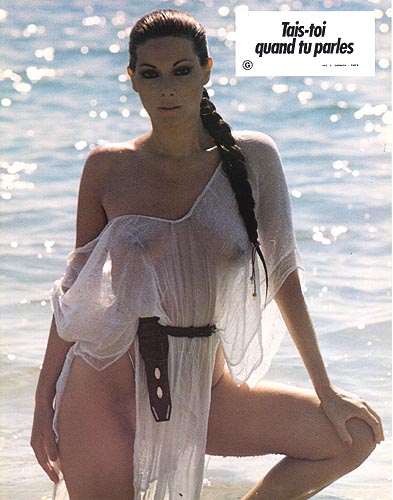 Bons baisers de Hong Kong
From Hong Kong with Love
de
Yvan Chiffre
(1975)
avec: Les Charlots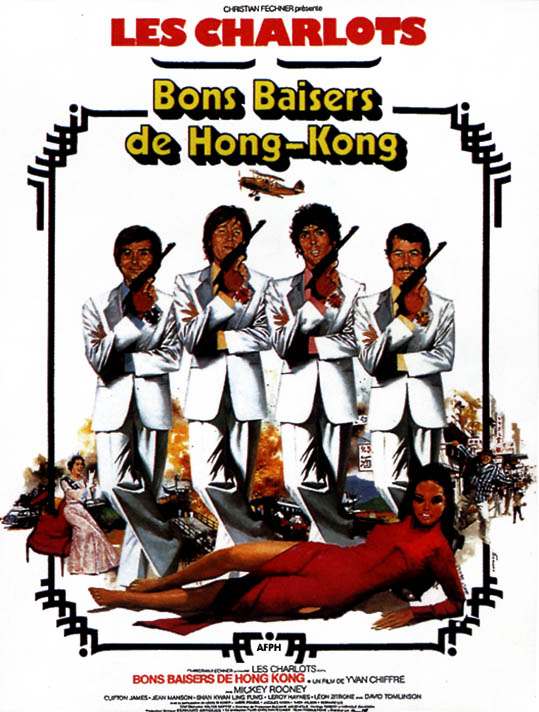 (539px × 712px)
Addendum:
A la suite de centaines d'appels,
je cède à la populace hurlant à tout casser:
"Mais alors il y a pas de cul cette fois?"
Je vous mets donc pour finir cette petite brochette
(comme le mot est bien choisi) de titres des aventures de

Jane Bond
.
Mais n'y revenez pas, hein!
Jane Bond Meets Golden Rod
(1987)
Jane Bond Meets Octopussy
(1986)
Jane Bond Meets Thunderballs
(1986)
Jane Bond Meets Thunderthighs
(1988)
A License to Thrill
(1985)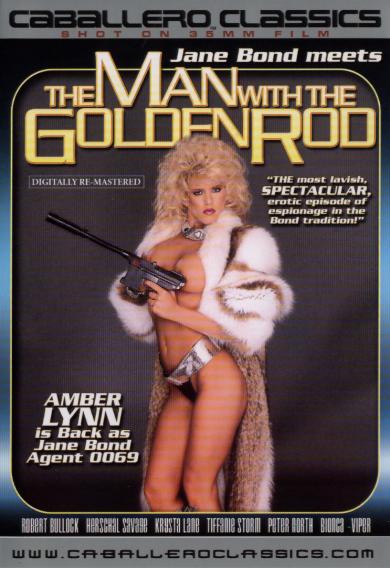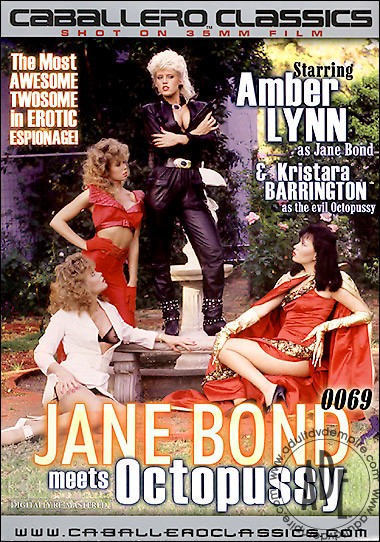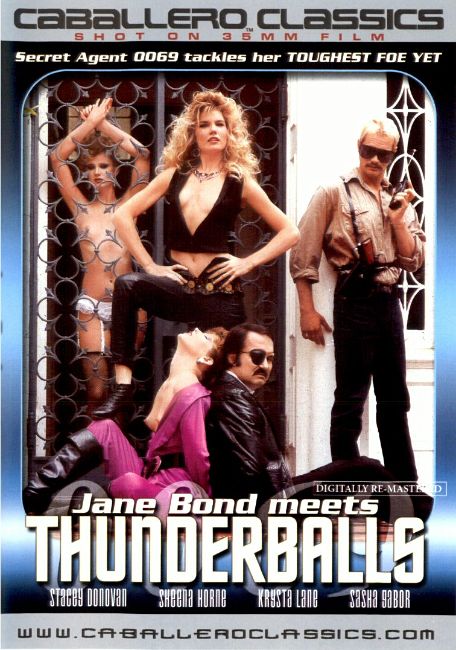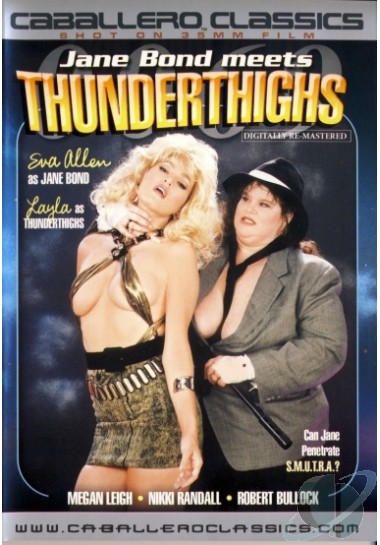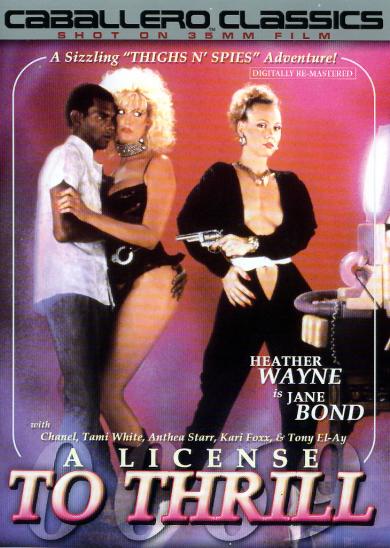 Satisfaits?