INVADERS OF THE LOST GOLD
HORROR SAFARI (1982)


Safari Cannibal
de
Alan Birkinshaw
Casting:
Stuart Whitman
,
Edmund Purdom
,
Laura Gemser
,
Glynis Barber
,
Woody Strode
,
Harold Sakata.
Synopsis:
Une expédition se rend dans la jungle afin de retrouver une cargaison d'or cachée par des soldats japonais durant la seconde guerre mondiale. Mais les morts vont se succéder et ce voyage deviendra un Safari d'horreur (tiens c'est le titre, quel coïncidence).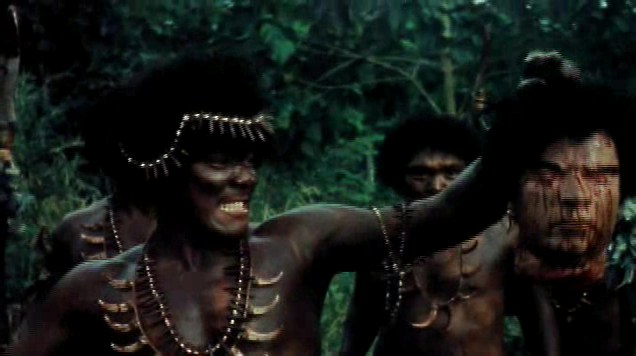 Le Film:
Tout d'abord, quelles sont les bonnes raisons de voir ce film:
1-
C'est une production de Dick Randall
qui nous a donné un paquet de films les plus improbables et barjots de la création. Quelques titres en vrac:
For Y'ur Height Only
(avec Weng Weng),
Mil gritos tiene la noche
/Pieces
(1982),
The Clones of Bruce Lee
(et plein d'autres faux Bruces),
Don't Open 'Til Christmas
(un père Noël slasher),
Slaughter High
(1986) (un slasher sympatoche) et le Giallo débillissimo
Casa d'appuntamento
/Sex French Murders
avec un sosie de Bogart.
2-
Un casting cool d'habitués du Bis
:
Le débonnaire
Stuart Whitman
en aventurier séducteur ivrogne qui les tombe toutes. La crédibilité en prends un sacré coup, car il accusait déjà un sacré coup de vieux et on dirait vraiment qu'il est bourré tout le long du film. C'est peut être ça la méthode Actor's Studio.
Laura Gemser
que l'on ne présente plus. La
Black Emanuelle
qui comme à son habitude sera nue, mais hélas juste quelques instants avant de mourir au milieu du métrage.
Glynis Barber
, plus connue chez nous pour son rôle quelques années plus tard dans la série TV
"Mission Casse Cou/
"Dempsey & Makepeace".
Un fantasme de mon enfance, ça ne regarde que moi, mais je n'étais peut être pas le seul. Si? Non? Bon.
Et les trognes de Purdom, Strode et
Harold Sakata
qui mourut peu de temps après.
3-
Dernière raison et non la moindre
des cannibales
et une intro bien gore ou les japonais sont décapités et les sauvages dégommés à la mitrailleuse et explosés à coup de grenades. Un début prometteur, mais hélas cette séquence semble avoir épuisé la moitié du budget, et la suite ne sera qu'une longue errance pitoyable aux péripéties molles et aux scènes chocs bâclées et incompréhensibles.
Bien heureusement, l'absurdité ,ou plutôt l'absence, du scénario donne lieu à des moments drôles qui ne rattrapent pas ce que le film aurait pu être mais distrairons les amateurs de second degré.
Il faut dire que la grande déception c'est que la tribu du début ne reviendra pas, pourtant on l'attend à chaque plan, dés qu'un buisson se met à frissonner. Hé non, que dalle.
Vous allez me dire il reste pas mal de dangers à affronter dans la Jungle, faune, plantes, insectes, etc... Et bien non, rien de ce coté non plus. Ils marchent tranquillement et la "Jongle" est plutôt accueillante. Ha si un croco bouffe un porteur, mais bon on s'en fout des porteurs. Il y a bien un mort par piqûre de serpent, déposé par une main meurtrière, mais tout cela reste bien (trop) calme.
Mais alors il ne se passe rien bordel?
Si, il y a des morts, plus ou moins étranges, dont certaines resterons inexpliquées ou illogiques, qui se révéleront être l'œuvre de l'enculé de service, ce qui ne surprendra personne, même s'il avait feint la mort. D'ailleurs vu qu'il réapparait peu après, je ne vois pas bien l'intérêt de tout ce cirque, enfin passons.
Le plus fun dans toute cette affaire, c'est la parfaite incohérence des situations qui fait tout pour annihiler le peu d'intérêt qu'aurait pu prendre chaque meurtre ou tentative de suspense. Seuls les grands maitres de la réalisation peuvent arriver à saborder chacun de leur effets systématiquement.
Alan Birkinshaw
est de ceux la. Il l'a prouvé d'ailleurs tout au long de sa carrière, tel un sacerdoce, en ruinant même des adaptations de chefs d'œuvres comme
The House of Usher
ou
Ten Little Indians
. Mon favori étant son plus petit effort:
Killer's Moon
édité en DVD il y a peu, ringard, sanglant et con à souhait.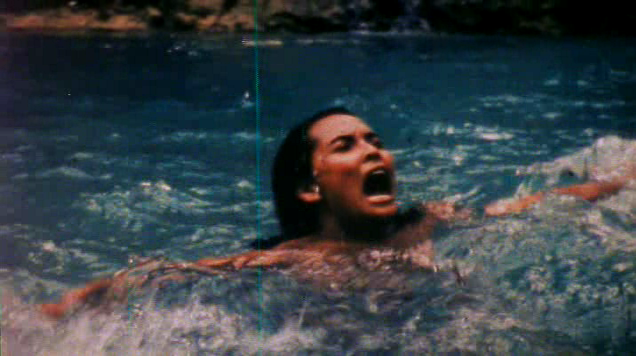 La mort de Laura Gemser est particulièrement minable. Elle se déshabille (ben tiens), va se baigner, crie, gigote et meurt. On ne saura jamais ce qui lui est arrivé. Sans doute assassinée, mais comment? Le tout filmé en deux plans brefs, un peu de ralenti et paf, elle flotte, morte. (?!)
A ce moment là, tout le monde s'interroge sur l'utilité de continuer, puis soudain on laisse tomber et on repart sans plus d'explications. Les morts suivantes ne les feront plus réfléchir et ils continueront la mission même à deux (en couple heureusement) sans plus de chichis.
Du total n'importe quoi, une équipe de branquignols qui ne tiendraient pas une nuit dans la forêt de Fontainebleau, des coupures abruptes toutes les cinq minutes quand on ne sait plus quoi dire, en bref une totale anarchie. Le principal c'est qu'on ne s'ennuie pas après tout. Enfin avec quelques accélérés lors des marches et des balades en bateaux quand même.
Allez je ne résiste pas pour finir à vous narrer la scène la plus conne.
Laura débarque dans sa tente et découvre son mec allongé avec un serpent sur le ventre.
Il lui dit: "Surtout ne bouge pas!"
Sur ces mots, Laura se met à hurler en agitant les bras prise de panique et ruine la tente par la même occasion. Inutile de dire que le type est mort, le serpent étant un peu fâché de se prendre carrément une tente sur la gueule. Un grand moment.
Ce n'est donc pas le film de Jungle ultime, loin de la, ni le meilleur de Randall, mais si on est indulgent et pour toutes les raisons citées plus haut, il mérite au moins une vision.
Disponibilité:
DVD zone 1 Crash Media chez Red Entertainement, ou en VHS en langue anglaise. Je ne connais pas d'édition française.