Quelques exemples de titres improbables
mais qui existent bel et bien:
Les Suceurs de moquette sur-sexués de Mars
de
Michael Paul Girard
(1989)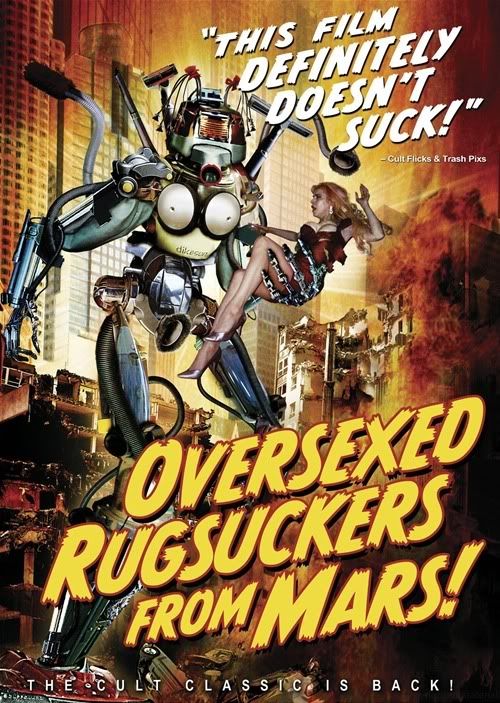 Synopsis:
Quelques Aliens vérifiant le degré d'évolution des terriens, décident pour déconner de croiser un être humain avec un aspirateur. Non seulement ils vont tomber amoureux l'un de l'autre, mais l'aspirateur ayant servi à nettoyer un aphrodisiaque va commencer à violer et tuer les femmes alentour.
Mini budget assez marrant et plein d'idées qui assure au moins si ce n'est plus ce que promet le titre.
Dispo en DVD Z 1 chez Xenon.
Night of the Day of the Dawn of the Son of the Bride of the Return of the Revenge of the Terror of the Attack of the Evil, Mutant, Alien, Flesh Eating, Hellbound, Zombified Living Dead Part 2: In Shocking 2-D
(oui c'est le titre, rien que ça)
de
James Riffel
(1991)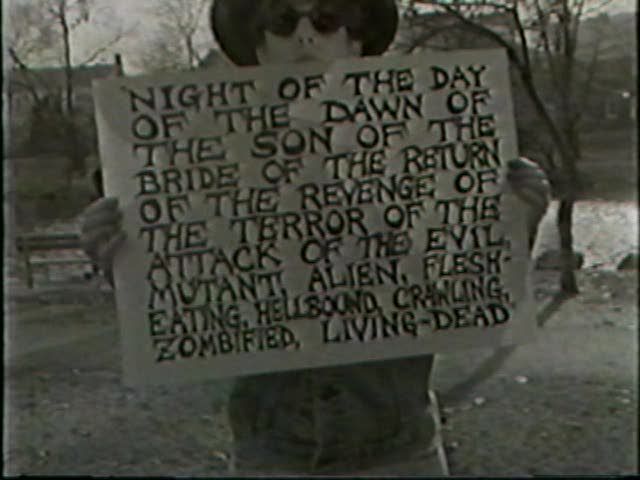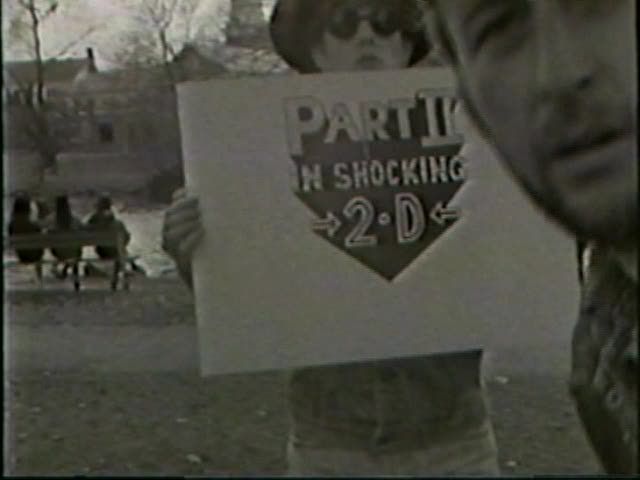 Sous ce très long titre, se cache en fait un doublage comique de "
La Nuit des Morts Vivants
" de Romero. Parfois drôle mais chiant à la longue et les vannes de cul, ça va bien un moment mais on se lasse bien vite.
Disgusting Spaceworms
Eat Everyone!!
Les Vers dégoutants de l'Espace mangent tout le monde!!
de
George Keller
(1989)
Je pense que le titre est assez clair, pas besoin de résumé.
Film obscur et dur à trouver, sympa considérant le budget
qui lui aussi vient de l'espace.
Oh Dad, Poor Dad,
Mama's Hung You in the Closet
and I'm Feeling So Sad
Oh Papa, Pauvre papa,
Maman t'as pendu dans le placard et ça me rend si triste
de
Richard Quine
(1967)
Synopsis:
Une bien étrange famille composée de la mère timbrée et possessive, de son fils puceau de 25 ans et du père mort et empaillé,
voyage de motel en motel et vit de folles aventures.
L'histoire est compté par le défunt père du titre enfermé dans le placard.
Pas aussi délirant que le promet le résumé mais assez étrange
pour intéresser les amateurs de ciné différent.
Une petite comédie macabre.
If You Don't Stop it,
You'll Go Blind!!!
Si tu n'arrêtes pas, tu deviendras aveugle.
(En France on dit sourd, pour la compréhension du titre)
de
Robert Levy
(1975)
et sa suite:
Can I Do It...
'Til I Need Glasses?
Est ce que je peut le faire jusqu'à
ce que j'ai besoin de lunettes?
(ben oui puisque chez les angliches on devient aveugle
quand on se...heu...fait plaisir)
de
Robert Levy
(1977)
Les deux films étant une suite de sketches à tendances érotiques.
Quelques bons gags, pas mal de mauvais, mais une bonne ambiance
des seventies et un esprit bien frappadingue.
A noter l'apparition de Robin Williams dans le deuxième, bien que ce film ne figure que rarement sur sa filmo (voir IMDB par exemple).
Moi, Pierre Rivière,
ayant égorgé ma mère,
ma sœur et mon frère...
(Me, Pierre Riviere, having cut my mother's,
my sister's and my brother's Throat...)
de
René Allio
(1976)
Le
3
juin
1835
, Pierre Rivière, un jeune homme de vingt ans, égorge à coups de serpe sa mère, sa sœur et son petit frère dans un village normand. Il prend la fuite. Capturé et mis en cellule il entreprend de rédiger une véritable autobiographie dans laquelle il expose les raisons de son geste : guidé par Dieu, il voulait délivrer son père des peines que lui faisait subir son épouse. Il sera condamné à mort puis gracié par le roi. Il se pendra dans sa cellule en 1840.
Toute la force de ce film de plus de deux heures, réside dans le choix d'acteurs non professionnels. En effet il eu été impossible de jouer des paysans plus réalistes, parfois on ne comprend carrément rien à leurs accents plus que prononcés. Un film extrêmement réaliste sur un fait divers d'époque.
L'un des acteurs de nos jour.
Un peu notre Robert de Niro à nous.
Il y a également plein de Films Français aux titres improbables et qui sont hélas introuvables aujourd'hui. D'ailleurs je crois que je vais créer un blog uniquement dédié aux perles rares de notre belle contrée. Il fut un temps ou la France aussi était créative et débile. Depuis les producteurs sont devenus frileux et ne courent aucun risques. Les lâches!
Quelques titres pèle mêle pour se remémorer
le con vieux temps:
C'est plus facile de
garder la bouche ouverte.
de
Jacques-Paul Bertrand
(1974)
avec
Femi Benussi
(Rien que ça)
Comme un Pot de Fraise
de
Jean Aurel
avec un casting de rêve:
Jean-Claude Brialy
,
Jean Lefebvre
,
Bernard Menez
,
Bernard Le Coq
,
Evelyne Ker
.
Vous trouverez
ici
la délirante B.O du Film signée Jo Moutet. Avec la chanson titre:
"Haaa, je me la ferais comme un pot de fraise."
"Debout, Assis ou sur une chaise".
Mon Dieu que c'est beau.
Un de mes petit chouchou pour finir
Rodriguez
au Pays des Merguez
de
Philippe Clair
(1980)