Ze Ultimate French Movie Trailer Compilation
Chères clientes et chers clients,
toute l'équipe de Videotopsy et son PDG Otto Rivers,
sont heureux de vous faire part de la naissance du dernier né
de la gamme VIDEOTHON.
Une fois de plus, nos ingénieurs ont dû lutter contre vents et marées,
contre les pannes d'ordinateur et les coupures de minitel
afin de vous livrer ce nouveau prototype
que nous avons nommé: PLASMACHINE.

La persévérance et l'opiniâtreté ont une de fois plus payé et voici donc un opus rempli
de merveilles de bandes annonces à l'ancienne.
Des films de tous styles, Bis, fantastique, horreur, comédie, érotique et j'en passe,
mais que vous n'avez sans doute jamais vus de vos yeux vus.
Ces bandes annonces sont évidemment en version française
(ou sous titrées pour quelques unes), c'est ce qui fait tout le charme.
ATTENTION:
Pour les nouveaux venus,
je dois vous prévenir que la toute fin du programme comporte
des bandes annonces à caractère pornographique,
donc interdites aux moins de 18 ans.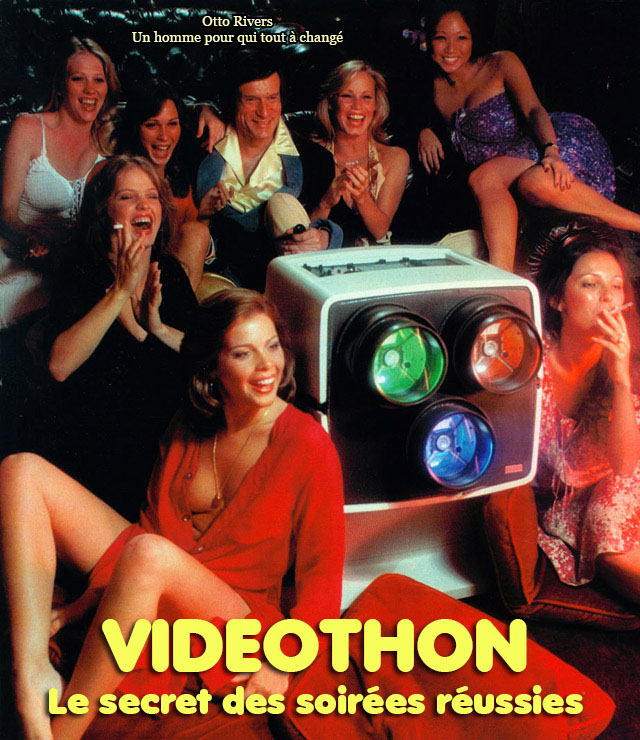 Alors attrapez des gonzesses
et un Martini Gin (n'oubliez pas l'olive)
et plongez-vous dans la projection
de ce qui se faisait de mieux et de pire
dans le domaine du septième art.
Pour vous mesdames,
un macho poilu et un jus de carottes vous attendent.

Pour votre confort visuel,
certaines modifications ont été apportées
mais en respectant le matériel original au maximum.

Notice technique:
Vous verrez donc des repacks ou reconstructions partielles ou totales à partir de la bande annonce en VO, du DVD ou du Bluray des titres suivants:

Les 3 Justiciers/ Les démolisseurs/ Three the Hard Way (1974), Killjoy (2000), Cyborg (1989), Dark Angel (1990), Scanners 2, Poltergeist 3 (1988), Les scouts de Beverly Hills (1989) et
Pulsions/Dressed to Kill de Brian de Palma,
Les 3 fantastiques Supermen/I fantastici 3 $upermen (1967).
Pour cette dernière, la BA française était vraiment très détériorée du point de vue de l'image. J'ai fait un remontage à partir de la B.A en V.O du DVD Italien qui hélas était coupée, j'ai donc utilisé la B.A allemande et des images du DVD pour la compléter. Certaines images ayant été tournées spécialement pour la B.A, elles sont absentes du film. Dans ce cas je préfère garder les images originales, même en moins bon état.
Notez également que pour "Cyborg" et "Le Déclic", ceci est le Teaser et pas la Bande annonce,
que j'avais déjà mises dans un opus précédent.
comme s'il en pleuvait pendant 100 minutes,
un programme de qualité à la portée historique,
une transfusion de bonne humeur cinéphilique
(mais non, pas syphilitique connard!)
,
Voici VIDEOTHON 20: Plasmachine
BANDE ANNONCE
Pour télécharger gratuitement cette compilation,
cliquez sur l'image incarnant la version de votre choix.
Version light MKV X264 = 2 gig

(Mise à jour le 26/04/2021)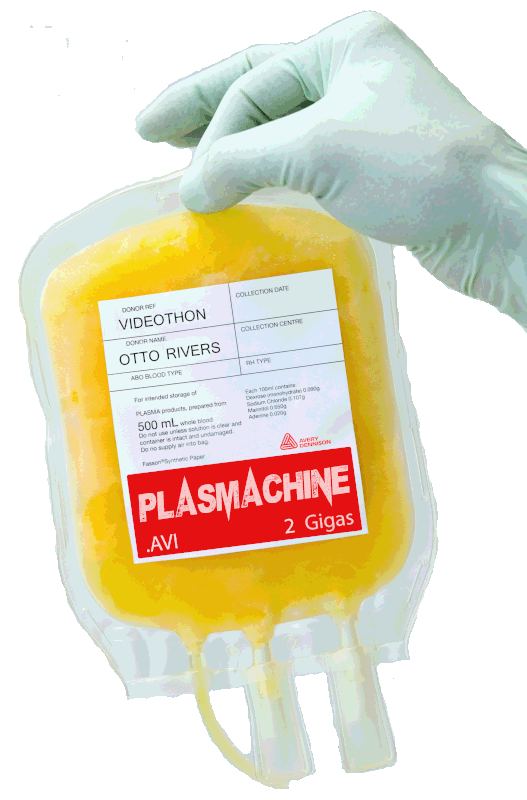 ou
la définition reste 720x576 widescreen mais le bitrate étant extrêmement plus élevé, il y a beaucoup moins de bugs et la qualité s'en trouve améliorée. Je n'ai pas mis ce fichier car il fait 11 gigas environ. N'hésitez à me dire dans les commentaires si vous désirez que je l'upload désormais.
Pour ceux que ça intéresse cliquez sur le lien et servez-vous.

Un aperçu de votre programme dans le désordre le plus total
et la liste complète des bandes annonces et teasers plus bas.
MON ANCIEN HÉBERGEUR(Casimage)
A SUPPRIME LES POSTERS
JE LES REMETTRAIS PLUS TARD.
ET VOILA!
A bientôt car j'en ai encore en réserve.
Merci d'ailleurs à Yoann B et Vincent L qui me fournissent quelques perles en ce moment.
Cool et n'hésitez pas à en faire autant.
VIDEOTHON 20- Plasmachine

-Video Club Nigeria*
- Les 3 Justiciers/ Les démolisseurs/ Three the Hard Way (1974)
- Au sud de Monbasa/ Beyond mombasa (1956)
- Killjoy (2000)
- Video 72 *
- Cyborg (1989) - Teaser JCVD
- A.P.E.X. (1994)
- Dark Angel (1990) - Dolph Lundgren
- Scanners 2: Le nouveau règne (1991)
- Scanners 3: Puissance maximum (1991)
- Ciné Hachette Vidéo*
- Orloff et l'homme invisible/ La vie amoureuse de l'homme invisible (1970) EUROCINE
- Helga, la louve de Stilberg (1978)
- La furie des SS/ Dieci italiani per un tedesco (Via Rasella) (1962)
- Dimension7 Vidéo*
- Abducted Bride/ Dværgen/ The Sinful Dwarf (1973) vostfr
- Londres, la primitive/ Primitive London (1965) Mondo
- Les 3 fantastiques Supermen/I fantastici 3 $upermen (1967)
- Les galettes de Pont-Aven (1975)- Teaser
- Evil Ed (1995)
- Exorcisme Tragique/ Un bianco vestito per Marialé (1972)
- La papesse (1975)
- Poltergeist 3 (1988) - Teaser
- Pulsions/Dressed to Kill- Brian de Palma
- World Vison Home Video*
- High Finance Woman (1990) Joe D'Amato
- Debout les crabes, la mer monte (1983)
- Fotodisk Video*
- The Urge to Kill : The Attack of the killer computer (1989)
- Pub*
- Megabit(1983) Oscar Saporiti
- Hologram Man (1995)
- Emmanuelle 7: au 7ème ciel (1993)- Sylvia Kristel
- Media Blasters Video*
- Blade Runner- Teaser 4/3
- Wild Palms (1993) Oliver Stone
- Made in U.S.A- Godard
- La voie lactée (1969) Luis Bunuel
- Black Moon (1975) Louis Malle
- Zenith Productions Video*
- Moontrap (1989) Bruce Campbell
- Les ailes de la nuit/ The Night Flier (1997) Stephen King
- The awakening: le réveil du maître /Subspecies4: The Awakening (1998)
- Dans les griffes du loup-garou/ La maldición de la bestia (1975)
- Le chien des Baskerville (1959) Lee & Cushing
- Le Chat/The Cat. (1992) - VO
- Pub*
- Les scouts de Beverly Hills (1989)
- The First Turn On. VO- Troma
- Le Déclic -Teaser Ciné
- De Sade: Les infortunes de la vertu (1969) Jess Franco
XXXXXXXXXXXXXXXXXXXXXXXX
- Je brûle de partout
- Les hôtesses du sexe
- Le cristal d'amour/ The New Barbarians. VO
- Collection extase : Anaïs International Video*
- Curse of the Cat Woman. VO