Voici une compilation flambant neuve:
VIDEOTHON 17- Chiante Fiction
avec 47 bandes-annonces de la mort
et autres conneries pour lier le tout,
soit un spectacle total de 107 minutes d'euphorie filmique.
Idéale pour vos soirées de geek en solitaire (pléonasme)
ou pour épater vos amis dans les garden-parties (d'intérieur).
Un mix de genres et de sous-genres,
de bon et de mauvais, de célèbre et d'obscur,
de vedettes et d'inconnus, d'horreur et d'amour,
de magnifique et d'atroce, qui passionnera
autant les connaisseurs que les novices.
Pas mal de raretés à découvrir,
que vous ne trouverez pas sur le net


(enfin tant que je ne les aie pas mises, ensuite elles seront partout).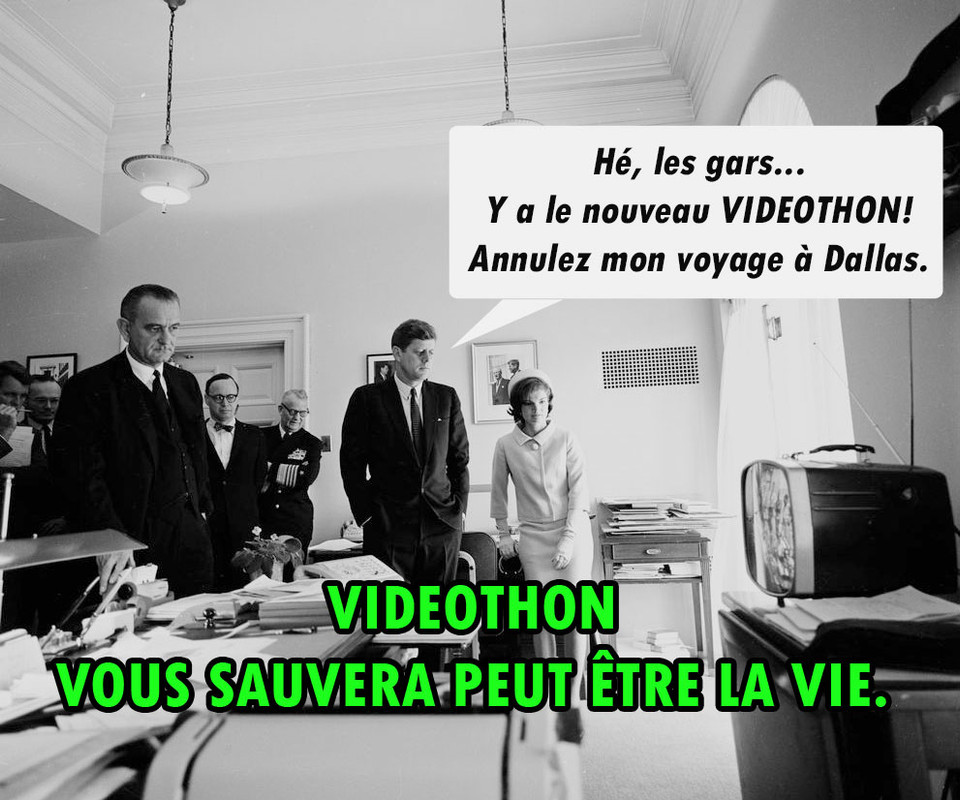 Une petite mise au point:


Même si je l'ai déjà dit, je le répète,
le but est de conserver et de profiter des bandes-annonces originales.
Si parfois je fais des repacks ou des reconstructions,
c'est uniquement pour améliorer la qualité,
mais je respecte au maximum le matériel original.

Certains sites ou comptes Youtube proposent
des montages de bandes-annonces créés de toutes pièces,
parfois avec brio d'ailleurs,
mais ce n'est pas le cas chez Videotopsy.
Le plaisir de visionnage n'en est que plus grand.
Les grands moments de cet épisode:
Des repacks et reconstructions de:
Re-Animator,
Monster in the Closet,

The Creeps,
Street Fighter, Double Dragons,
Ninja Master,
Paranoïaque,
Le jour du Massacre,
Ewoks, la bataille d'Endor,
Dangereuse Alliance,
Soapdish,
House 3,
La Maison de la terreur et
Coca Cola Kid.
La bande-annonce de la compilation de bandes-annonces.
Je vous laisse profiter du programme,
bon visionnage et bonnes vacances!
Version light
x264. mkv_1.2gb

(Mise à jour le 01/02/2021)
AJOUT DE LA VERSION DVD
MPEG2 7,3 Gigas
(mise à jour le 23/07/20)
LIEN UNIQUE SUR 1fichier
REMERCIEMENTS:
Pour certaines des bandes-annonces généreusement données par:
Régis A, Jérome W,
VirDaucalis,
Acromega,
Simon P, Mister Gutsy
et tout récemment
Charles Lee Ray que vous croisez à droite et à gauche dans la blogosphère.
Si je vous ai oublié c'est parce que je suis un enculé.
Comme d'habitude la liste complète de ce volume en fin de post pour les impatients.
Quelques uns des films présentés
MON HEBERGEUR (HostingPics)
AYANT RENDU L'ÂME
JE REPOSTERAIS LES POSTERS AU FUR ET A MESURE.
Une version plus rare d'exploitation ci dessous.
BONUS
Ninja Master qui est en fait une série télé est sorti chez nous en 2 épisodes.
Je repars d'ores et déjà préparer le volume 18,
à la prochaine amigos!!!
VIDEOTHON 17- Chiante Fiction
Monster in the Closet – TROMA
The Washing Machine (1993) - Deodato
The Incredibly Strange Creatures Who Stopped Living and Became Mixed-Up Zombies!!? (1964) VOSTFR
Street Fighter (1994) – JCVD
Ninja Master- L'homme au Katana (1984) TV
Vigilante (1983) –W. Lustig
Le jour du Massacre / Bloody Wednesday
Death by Misadventure: The Mysterious Life of Bruce Lee (1993) Doc
Ewoks, la bataille d'Endor (1985)
Dinosaur from the Deep- Norbert Moutier
Tetsuo 2 –The Iron Man _VOSTFR
Dangereuse Alliance/ The Craft (1996)
L'étincelle- Roger Hanin _BA ciné
Le lion sort ses griffes- Burt Reynolds
La télé lave plus blanc/ Soapdish
Prends l'oseille et tire toi ! Woody Allen_BA ciné
Liés par le sang / The Devlin Connection (1982) TV
Troma's War- TROMA_VOSTFR
La Maison de la terreur / A blade in the dark
4 mouches de velours gris- Argento_ BA VHS
La morte de la tamise_BA ciné
Angle Mort / Blind Side (1993) –Rutger Hauer_ Teaser ciné
Flic et Justicier / Donato de père en fille - C. Bronson
Appel d'urgence / The Miracle Mile (1988)
Jay & Bob contre-attaquent_Teaser ciné
The Big Blue / Le grand bleu_ BA USA
Requiem pour un vampire – Jean Rollin
La prof donne des leçons particulières (1975)- Edwige Fenech
XXXXXXXXXXXXXXXXXXXXXXXXXXXXXXXXXX
Gourmet Video Collection teaser*
Pretty Peaches 2 (1987)
Hard Choc Film France collection:
-Les petites dévergondées
Paris Sud Presse 100% amateur logo*