Partons pour une nouvelle exploration,
celle du merveilleux pays
des ersatz et copies en tous genres.
Aujourd'hui:
La grande famille de Terminator
Je n'ai retenu que les titres comportant Terminator dans le titre,
à quelques exceptions près, car il existe de nombreux bâtards aux similarités troublantes.
Tels que
Annihilator
,
Exterminator
et
consorts
.
Click for large image
Mon titre favori:
TERMINATOR DUNDEE
(2 250px × 1 636px)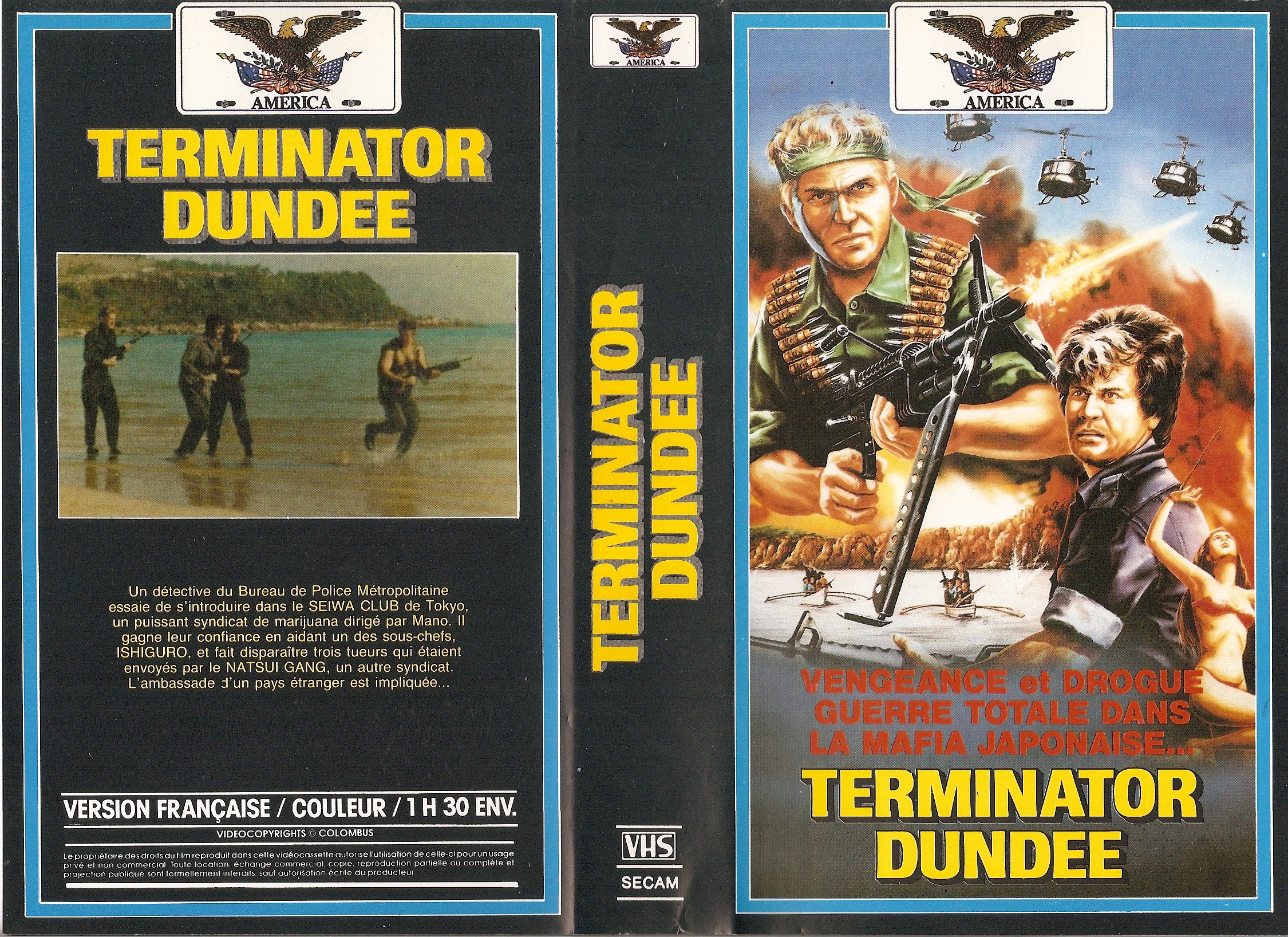 La grande classe car il fait également partie
de la famille de
Crocodile Dundee
.
C'est donc coup double, même si les fans du T-1000
ne sont pas les mêmes que ceux de l'aventurier du bush.
On s'en fout, ça fait un super titre.
Le film quand à lui n'a bien entendu aucun rapport
ni avec l'un ni avec l'autre,
puisque ce titre clinquant cache en fait
un film japonais avec
Sonny Chiba
.
Je ne donnerais pas le titre avec certitude pour l'instant,
mais de mémoire il semblerait que ce soit:
ASSASSIN
(1970)
Yakuza deka: Marifana mitsubai soshiki
pseudo suite tendance comique de
Gangster Cop
(1970)
Yakuza deka
(confirmation bientôt)
En tout cas une bonne opportunité de voir ce film
d'action comique introuvable autrement.
-----------------------------------------------------
NINJA TERMINATOR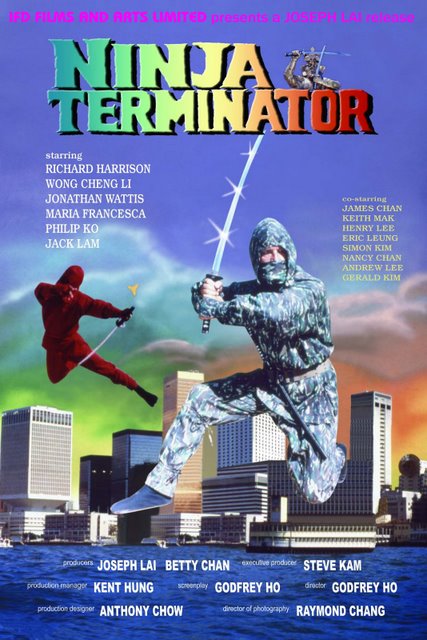 Godfrey Ho
(1985)
Cast:
Richard Harrison
L'un des nombreux méfaits du sieur Godfrey. Cette fois ci c'est bien le titre original et pas une fantaisie de distributeur. Comme souvent chez l'auteur (hum), un nouveau nanar cosmique.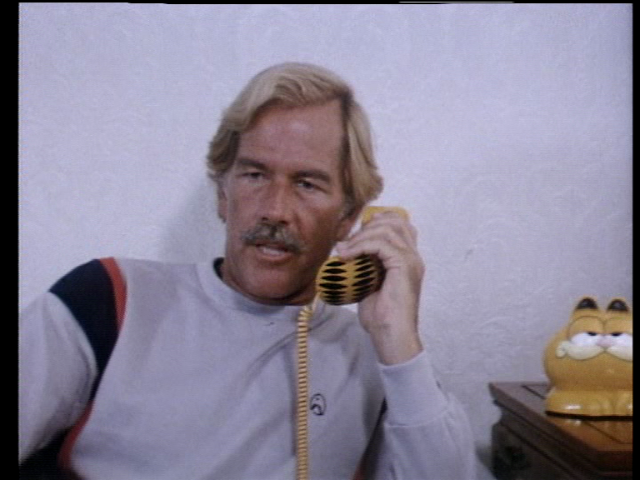 On peut être un Ninja Terminator
et avoir bon gout en déco, ce n'est pas incompatible.
Synopsis:
Trois ninjas à moustaches recherchent une statue en or qui leur conférerait des pouvoirs ultimes. Ils devront affronter des crabes ninjas, des épées qui lancent du feu, des gaz soporifiques, des mini robots et des ninjas bien sur.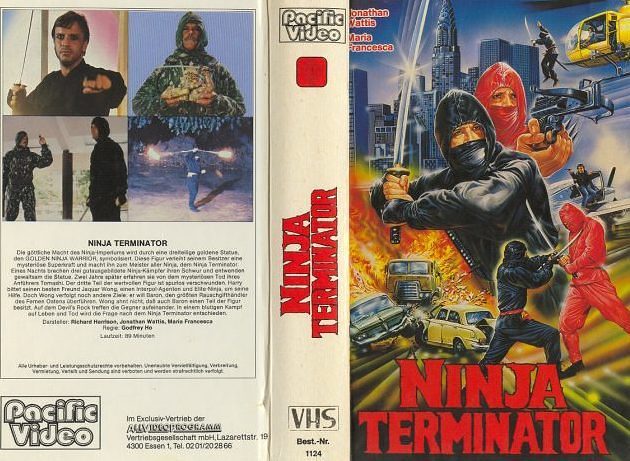 -----------------------------------------------------
American Force 4:Soldier Terminators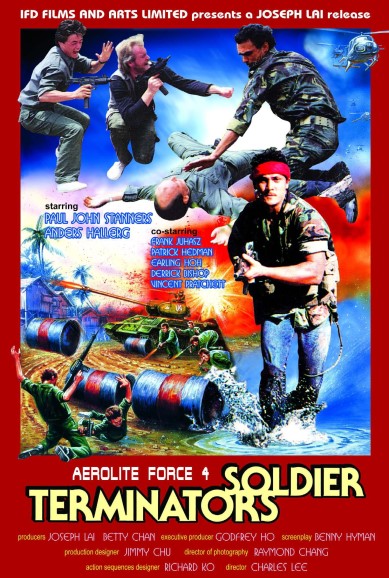 de Godfrey Ho
Comme pour tous les films du sieur
Ho
,
une multitude de titres existent,
mais c'est sous celui ci qu'il est le plus connu.
Deuxième de la série des
American Force
:
American Force 1:The Brave Platoon

American Force 2: The Untouchable Glory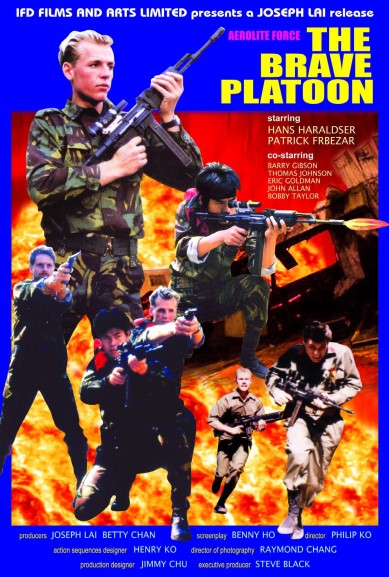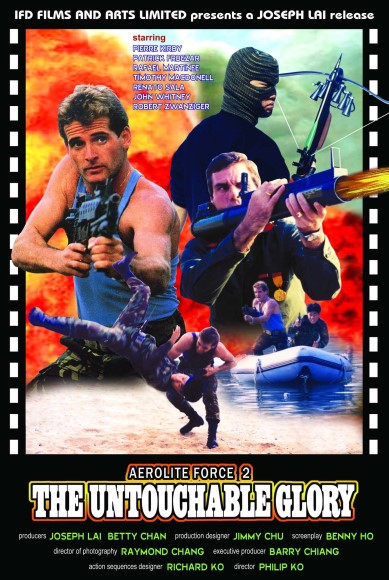 American Force 3:High Sky Mission

American Force 5:Mission Dynamo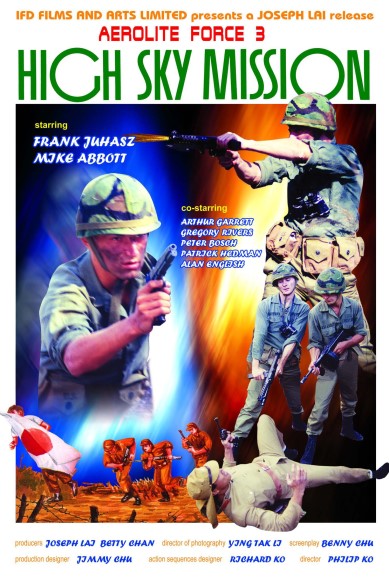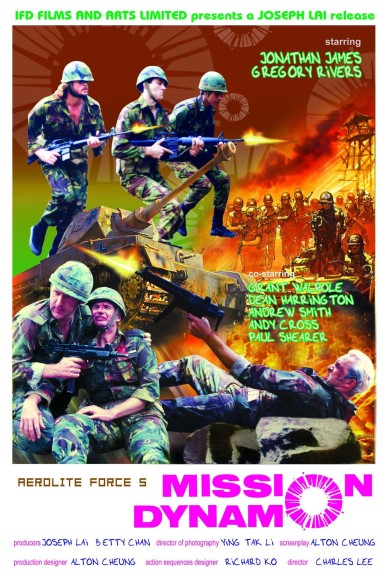 American Force 6:Soldier Champion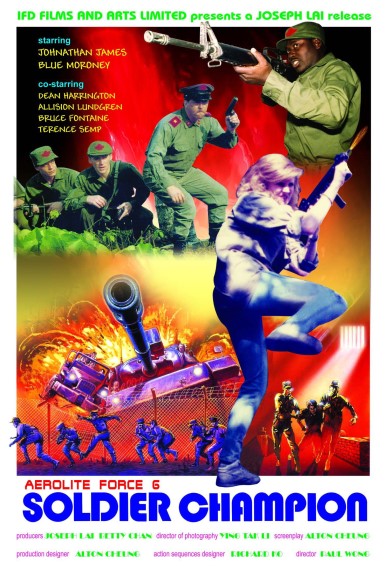 Il est en fait bien difficile de s'y retrouver
dans tout ce mic-mac de titres, car comme toujours,
il s'agit d'images remontées dans tous les sens,
qui au final ressemblent plus à un patchwork de scènes qu'à un véritable film.
Il n'est donc pas étonnant de retrouver des morceaux
de l'un dans un autre, ainsi que des acteurs similaires.
Chez
IFD Films & Arts
, on tourne trois films et on en sort neuf.
Ce ne sont pas les seuls à pratiquer ce subterfuge et
on peut y prendre malgré tout un certain plaisir,
surtout si on aime les fusillades sans fin, les explosions de fumée
et les acteurs aux talents limités.
Le titre fut changé un plus tard en Aerolite Force,
afin de séduire aussi les pays anti-américains.
Sacré
Godfrey Ho
.
Bande Annonce
AF 4: Soldier terminators
-----------------------------------------------------
RUSSIAN TERMINATOR
ou
RUSSIAN NINJA
(ça dépend de l'humeur)
Mats Helge
(1989)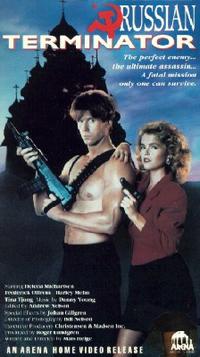 Bien évidement ce Terminator Russe nous vient du Danemark,
c'eut été trop simple. Cette fois plus proche du navet que du nanar,
avec moult
bagarres molles
et
dialogues soporifiques
.
A ne pas confondre avec
Mission Ninja
du même réalisateur.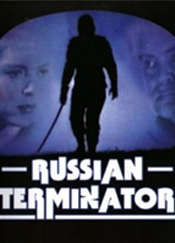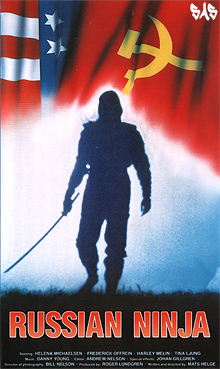 Par contre il est également l'auteur du pas génial
mais sympatoche survival
façon "
La Colline à des yeux
" en
version montagnarde
Blood Tracks
(1985).
Un héros sexy, photographe de mode,
milliardaire et ancien espion. Sans déc?
-----------------------------------------------------
KICKBOX TERMINATOR
Blood Hands
(1990)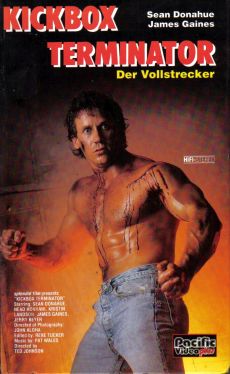 Teddy Page
Cast:
Sean P. Donahue
,
Jim Gaines
,
Ned Hourani
,
Nick Nicholson
.
Tout comme son confrère Godfrey Ho à Hong Kong,
Teddy Page tourne n'importe quoi n'importe comment,
mais aux Philippines.
Ici, une classique vengeance à grand coup de kicks dans la gueule.
Simple et efficace, mais surtout très con.
Dispo chez nous sous son titre original en VHS.
Entrainement intensif en VF.
LA JUSTICE A COUPS DE POINGS
(Québec)
-----------------------------------------------------
Boyong Manalac- Hoodlum Terminator
Eddie Rodriguez
(1991)
Un policier va venger la mort de son fils exécuté par la mafia.
Rien de bien nouveau ici, avec ce flic à la Dirty Harry sauce Pinoy
(des Philippines donc...).
Le film est visible sur le
net en plusieurs parties
,
pour les plus vicieux d'entre vous qui ne seraient pas effrayés par
90 minutes de parlotte émaillée de courts combats rudimentaires.
-----------------------------------------------------
ANGEL TERMINATORS 1 & 2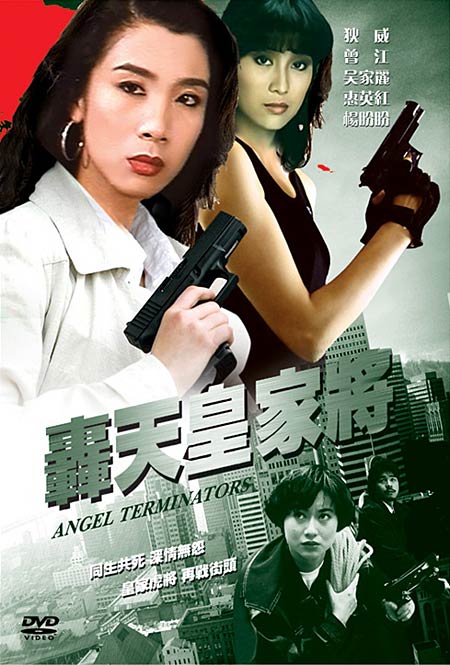 Hong tin huang jia jiang
(1990)
Angel Terminators
de Lit Wai
Huo zhong
(1991)
Angel Terminators II
de Simon Yun Ching
Deux films d'action de Honk Kong issues des nineties.
Ces deux productions sans rapports l'une avec l'autre,
victimes d'un titre international racoleur
sont typiques de leur époque.
Si on y trouve ni femmes robots ni lasers,
le dénominateur commun ici serait plutôt:
Des nanas, des flingues et du karaté!
Le premier concerne un duo de police women
aux prises avec un caïd de la drogue,
tandis que le deuxième se concentre sur deux adolescentes
assistées d'une ex-fliquette, qui tentent de soustraire une amie
à un gang œuvrant dans la prostitution.
Bien que comportant tous deux de très bonnes scènes
d'action et de combats,
Huo zhong
est beaucoup plus vif
et agréable, car il ne verse pas dans le mélodrame,
ce qui plombe assez la vision du premier du nom par moment.
EXTRAIT:
Angel Terminators 2: Combat Sanglant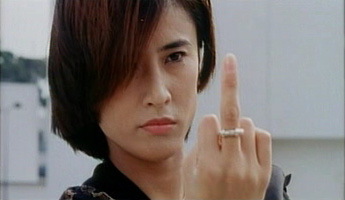 -----------------------------------------------------
Terminator Woman
(1993)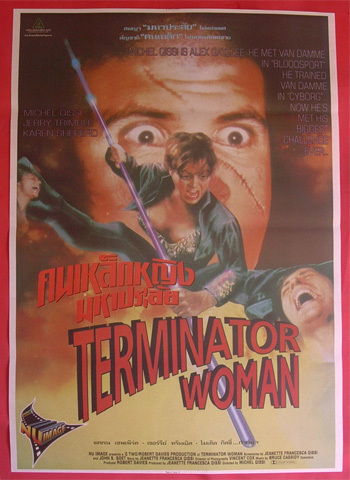 Backlash
(DVD-VF)
de
Michel Qissi
Casting:
Jerry Trimble
,
Karen Sheperd
,
Michel Qissi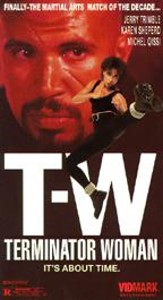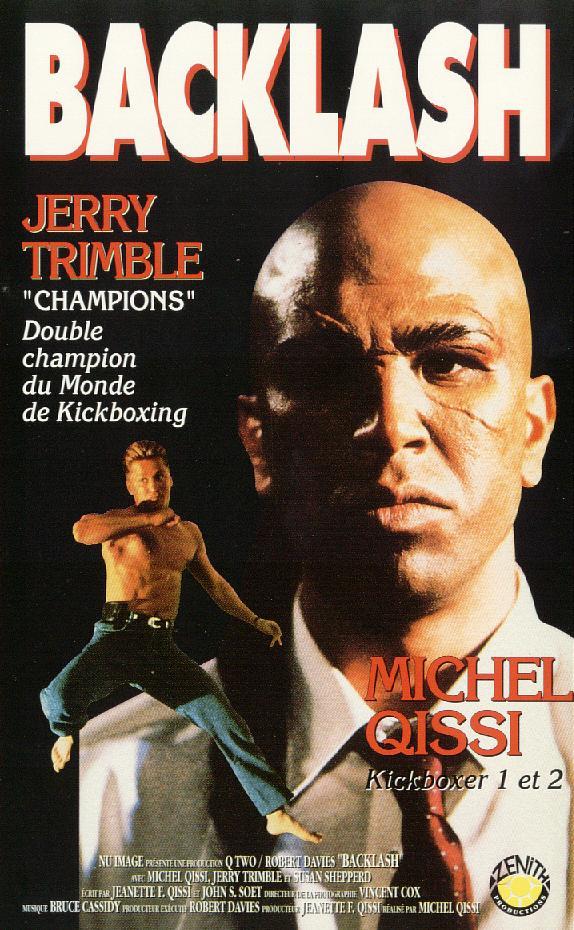 Toujours pas de femme robot à l'horizon mais une kickboxeuse
hyper balèze et son partenaire musculeux qui ne l'est pas moins.
Une autre production
Nu images
remplie de champions de kickboxing,
d'explosions et de cascadounettes, du genre tomber par une fenêtre ou glisser d'une moto.
Un coté nanar indéniable rend l'affaire assez fun à suivre,
même si l'action n'est pas aussi soutenue
que le sous entend la bande annonce
qui nous dévoile tous les morceaux de bravoure jusqu'au final.
A noter que le réalisateur novice
Michel Qissi,
n'est autre que
Tong Po
, le mémorable méchant de
Bloodsport
.
Un rôle qu'il semble aimer, puisqu'il incarne ici une fois de plus
le bad guy de service, tout en grimaces menaçantes.
Vu que le DVD est trouvable un peu partout pour 1 euro maximum,
on aurait tort de bouder ce plaisir.
Décidément, on a pas vraiment le sens de l'humour,
ni du commerce en France, puisque on a préféré un autre titre
en anglais incompréhensible pour sa sortie DVD. Une riche idée.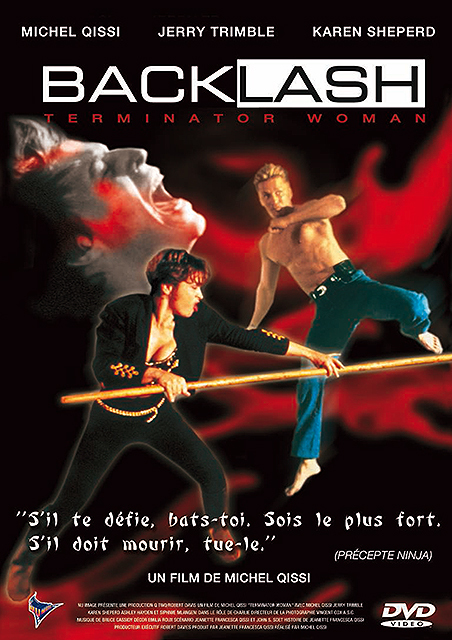 BANDE ANNONCE en V.F
-----------------------------------------------------
Special Terminator CIA
Assassin
(1986)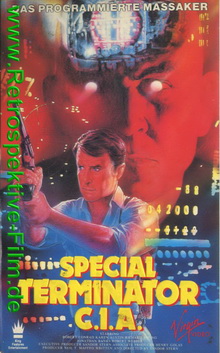 de
Sandor Stern
Casting:
Robert Conrad
,
Karen Austin
,
Richard Young
Alerte...Alerte! Bien que ce titre ne fut utilisé qu'en Allemagne,
pour une fois, on peut trouver ici un rapport
avec le film de James Cameron.
Incroyable non? Jugez vous même.
un ex agent de la C.I.A doit empêcher des assassinats
perpétrés par un robot à visage humain pratiquement indestructible.
Un téléfilm qui plaira aux fans de Steve Austin,
L'homme qui valait 3 milliards
,
qui n'en demandent pas plus pour passer une bonne journée.
Je préfère tout de même
Robert Conrad
dans sa tenue moulante
de cow boy des
Mystères de l'Ouest
,
que dans le petit pull au motif improbable qu'il arbore ici.
Trouvable en V.F en VHS sous son titre original d'
Assassin
,
ou en DVD outre atlantique.
EXTRAIT:
Assassin: Combat Mou.
-----------------------------------------------------
The TERMINATORS
(2009)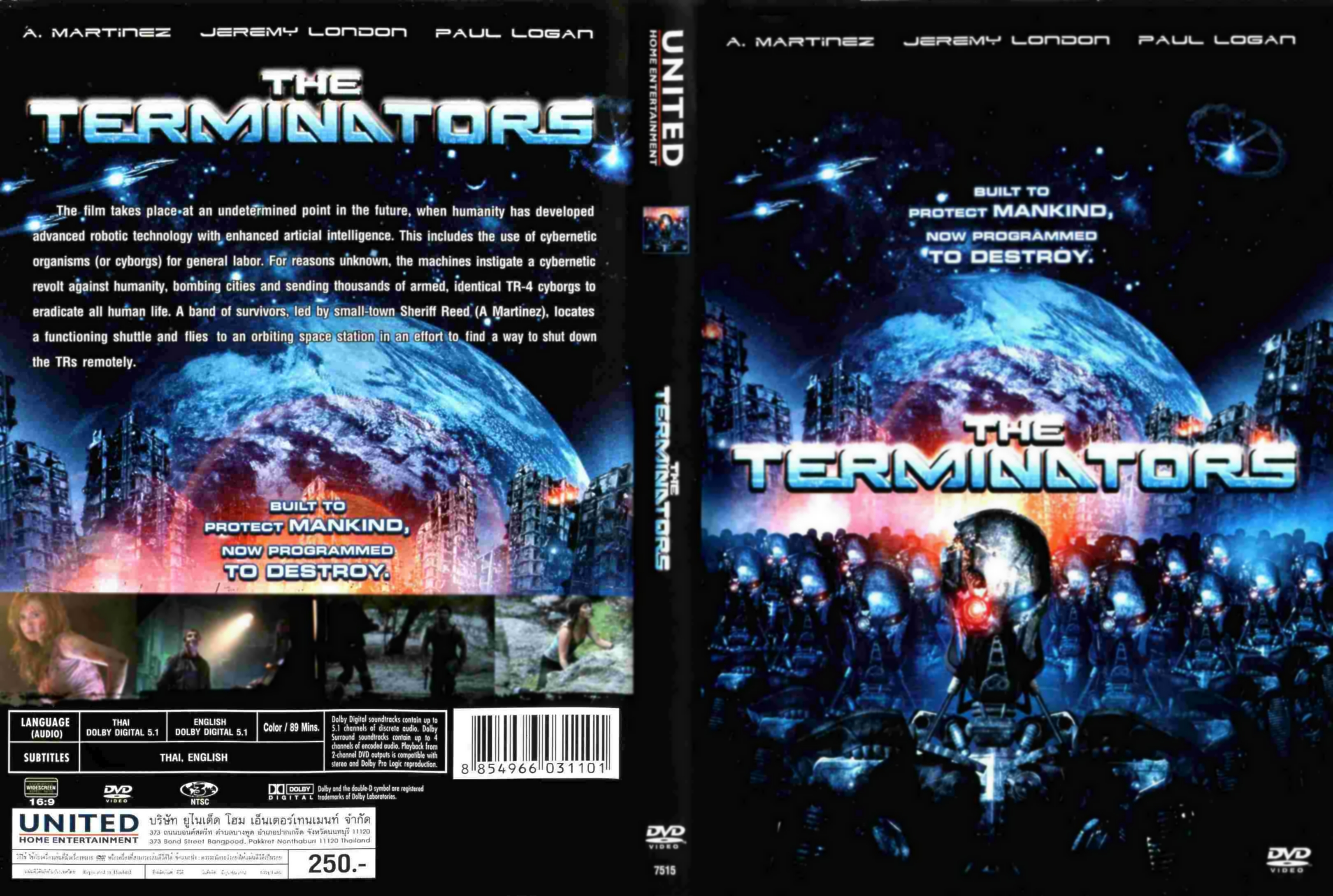 de
Xavier S. Puslowski
The Asylum
, on pompe sans vergogne,
Transmorphers
,
Death Racers
, etc...
Mais cette fois on ne peut être plus clair.
Dans le futur, les androïdes utilisés à diverses taches
se révoltent soudain, tuant tous les humains sur leur passage.
Le shérif Reed Carpenter et une poignée de survivants
vont tenter de faire face.
Fauché mais rigolo, les robots nommés TR4, tous interprétés par
Paul Logan
sont muets, ce qui nous évite des répliques du genre "Je reviendrais". On a même droit a un squelette de métal, comme sur la jaquette, mais un seul, et en images de synthèse façon PS2.
De grands moment signés
Asylum
.
On retrouve
A Martinez
dans le rôle du shérif.
Si on l'a vu dans un nombre incalculable de petites productions
il restera à jamais dans le cœur de votre grand mère pour sa prestation
dans
"Santa Barbara"
en tant que
Cruz Castillo
.
Bande Annonce:
The TERMINATORS
-----------------------------------------------------
FAREWELL TERMINATOR
Shalom La-Mechassel
(1987)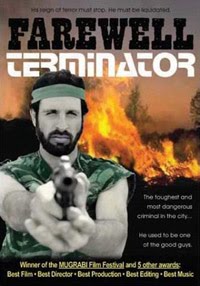 de
Isaac Florentine
Israel dans un futur proche. Les Terminators des forces de police sont chargés d'éliminer un maximum de criminels. Pour ceux qui atteindront les meilleurs scores, ce sera un passeport pour quitter le pays vers la destination de leur choix. L'un d'entre eux va découvrir la vérité et devra tuer encore si il veut survivre.
Premier court (27 minutes) de
Isaac Florentine
tourné dans son Israël natale, avant de partir pour les USA ou il enchainera les films de kickboxing, d'action et quelques séries TV pour
Millennium Films
et
Nu Image Films
. La consécration en quelque sorte.
-----------------------------------------------------
EX TERMINATORS
(2009)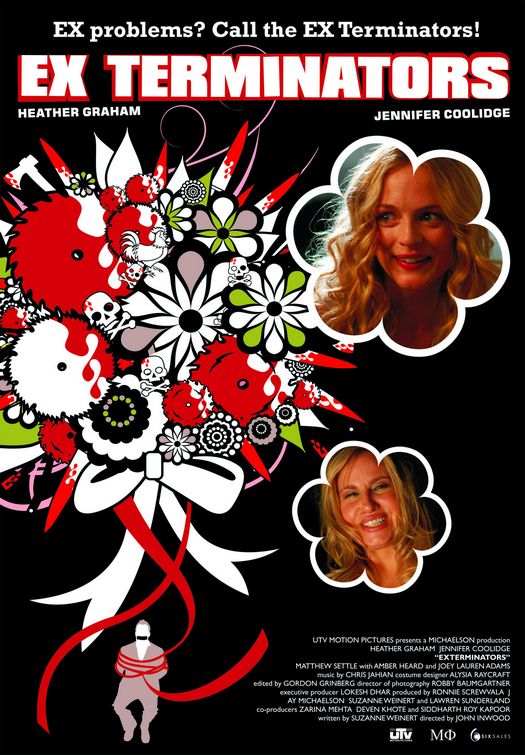 de
John Inwood
Cast:
Heather Graham
,
Jennifer Coolidge
,
Amber Heard
Trois femmes se rencontrent lors d'une thérapie
destinée à calmer leur agressivité face aux hommes.
Elles vont profiter de leur rencontre pour régler leur différents
avec leur ex, de façons définitive.
Un sujet bien macabre qui hélas ne va pas au bout de ses ambitions et reste si fade que l'on s'ennuie très vite.
Reste la prestation des trois actrices souvent caricaturale,
mais bon il faudra s'en contenter.
La présence d'
Amber Heard
, la jolie
Mandy lane
,
en version brune suffira amplement à certains.
BANDE ANNONCE
-----------------------------------------------------
LADY TERMINATOR
(1988)
Pembalasan ratu pantai selatan
Nasty Hunter
(V.F)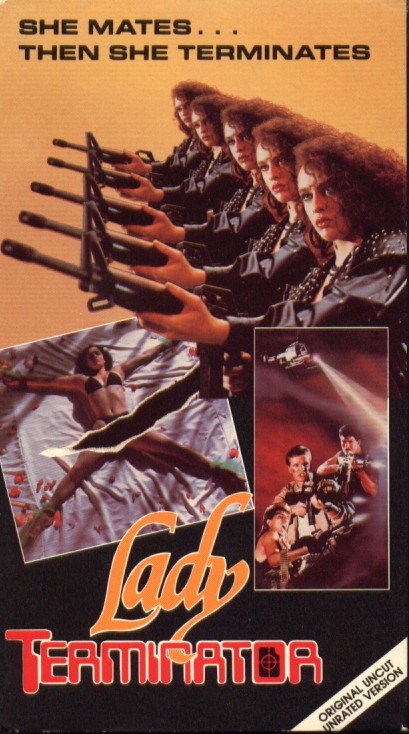 de H. Tjut Djalil
Une jeune anthropologue enquête sur les sources de la légende de la Reine des Mers du Sud en Indonésie. Elle se retrouve soudain possédée par l'esprit de celle ci qui va assouvir sa vengeance sur les mâles en les massacrant tous sur sa route.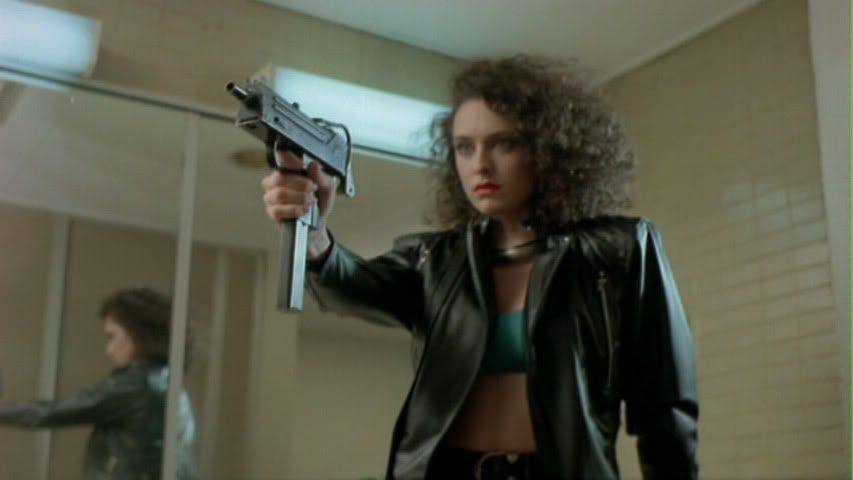 Copie conforme de Terminator, à l'exception que l'on remplace ici
le cyborg par une possession et un culturiste par une bimbo.
Et BINGO!
Ce qui signifie donc que les nichons succèdent aux pectoraux,
je vois que tout le monde suit pour une fois.
Hyper jouissif, ringard, sanglant et sexy,
bref on ne s'ennuie pas une seconde.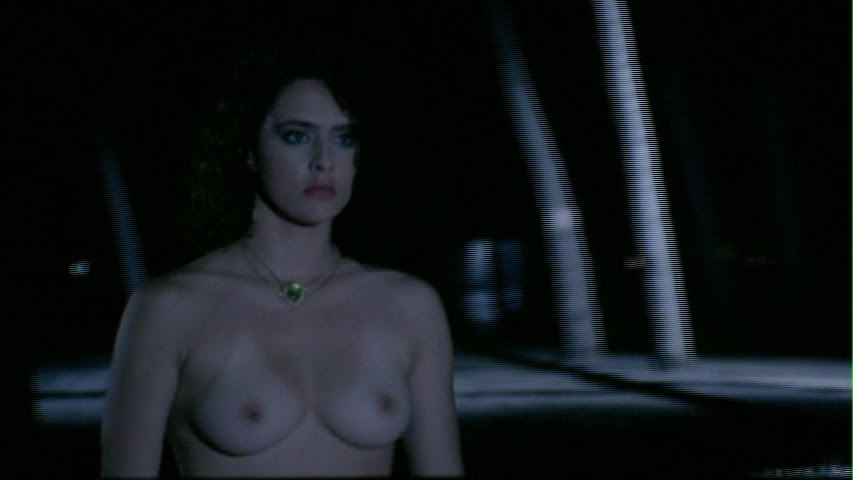 On retrouve toutes les péripéties du film initial:
L'arrivée à poils avec le massacre des loubards,
l'opération chirurgicale de l'œil,
la fusillade au night-club et l'assaut du commissariat.
Bien sûr, point de robot dans le final,
mais un vilain monstre en papier mâché
qui lancent des rayons avec les yeux.
BANDE ANNONCE Japonaise en Anglais
Massacre dans le commissariat.
Quelques autres surprises vous attendent,
alors procurez vous vite le DVD
de Mondo Macabro en version intégrale
avec une image d'une qualité supérieure pour ce genre de produit.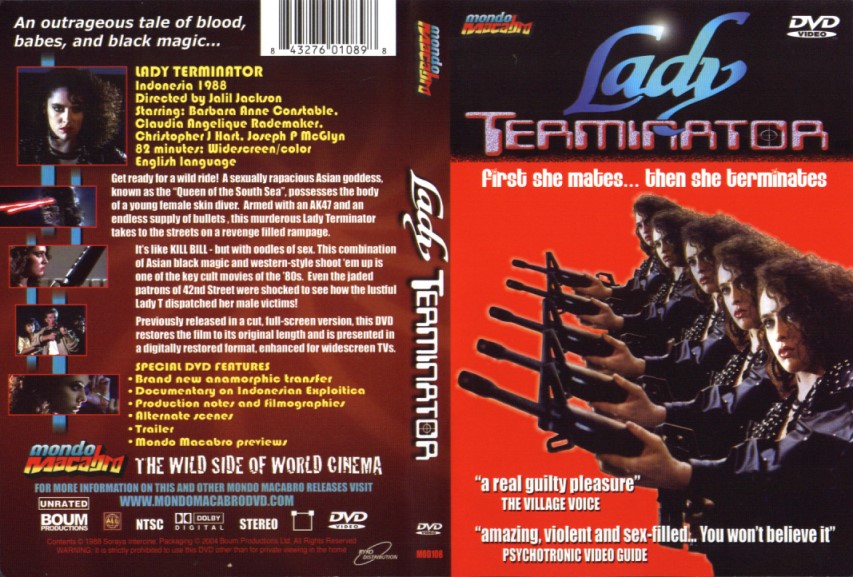 Pour les francophones uniquement,
il vous reste la VHS titrée
NASTY HUNTER
.
---------------------------------------
Dynamite Terminator Express
(1976)
Point de robots dans ce re-titrage abusif de
Dixie Dynamite
.
Il était déjà sortit au canada sous le titre "Dynamite Express",
il ne restait qu'à ajouter la petite touche française
avec ce "terminator" du plus bel effet, surtout sur les ventes.
LE MÊME FILM:
Et ça c'est cadeau.
ça me fait plaisir.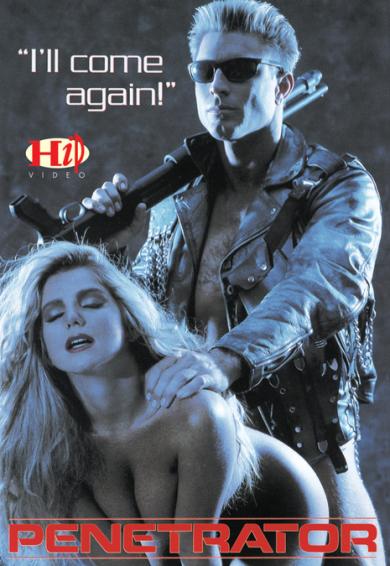 de
Sebastian
Cast:
Brigitte Aime
,
Anastasia Blew
,
Ron Jeremy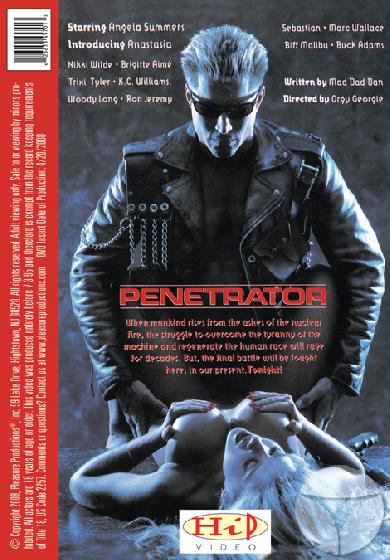 Bande Annonce soft
(Le film est XXX)
Pour ceux qui en veulent plus
en attendant la prochaine fois.
The MOVIE