On ne pourra pas dire que je n'ai rien fait pour la FRANCE,
(Non je ne parle pas de la fois ou ils m'ont jeté de l'armée)
voici juste à temps pour le 14 Juillet,
une belle compilation en VF s'il vous plait, remplie d'exceptions culturelles.
Du beau, du laid, du grand, du minuscule, du sérieux du très con,
enfin vous connaissez la chanson si vous êtes déjà passé par ici.
Une bonne façon de découvrir des métrages oubliés à tort ou a raison, vous en jugerez vous-même avec encore une fois beaucoup de diversité de genres.
Je me rends compte que le plus dur c'est d'en parler,
surtout après 32 autres numéros.
Que vous aimiez ou non les Bandes annonces de film, j'espère avoir fait un programme divertissant, idéal pour les soirées entre potes ou pour boucher un trou, vu qu'on arrête quand on veut et on reprend plus tard. Au fond je vous envie, j'aimerais tellement que quelqu'un fasse des compilations de Trailers que je m'y suis mis faute de volontaires.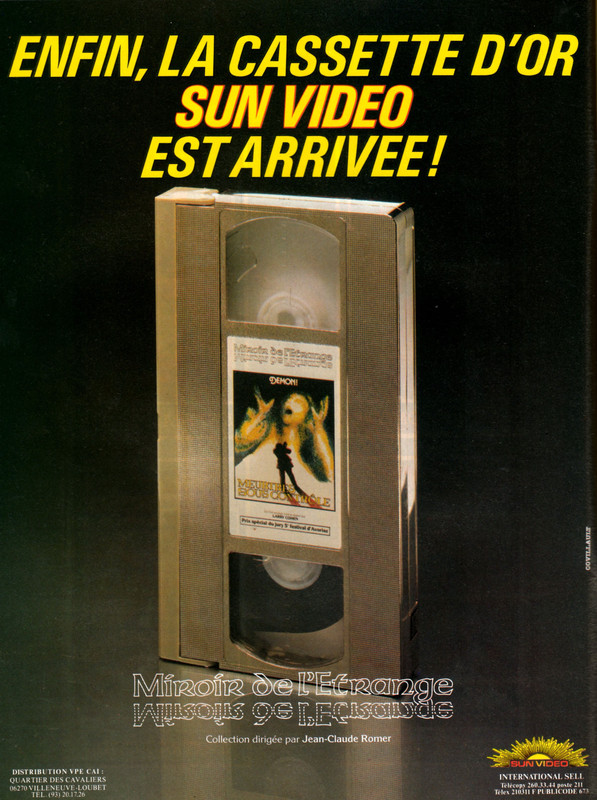 De belles raretés encore cette fois,
il y a bien un jour ou je n'en trouverais plus mais ça risque de ne pas être pour tout de suite puisque j'ai décidé d'investir dans les Bandes annonces 35mm, enfin si j'en trouve des valables.
On verra ça plus tard, pour l'instant voici une partie du programme
et le reste dans la liste en fin d'article.
K'ess K'ya à voir???
REPACKS & RECONSTRUCTIONS:
HD d'après Blu Ray
Le Retour des Morts Vivants 3 - Kinjite
-Le Flic de Beverlly Hills 2 -
Ténèbres
2072 Les Mercenaires du Futur - Indian Ninja
- Diamond Ninja Force - Osterman Weekend
- TRAXX - Dark Breed - Mandroïd
- Full Eclipse - Nom de code: Alexa - Plein Pot
Et bien sûr plein d'autres surprises
provenant de diverses sources HD DVD, VHS ou autres. Je vous laisse faire comme chez vous, servez vous selon la taille de votre choix et refermez bien derrière vous.
Je vous rappelle qu'à la fin du programme,
vous trouverez un Rayon XXX pour adultes.
Un signal vous préviendra si vous ne voulez pas assister à cette débauche,
mais ne laissez pas VIDEOTHON dans les mains d'enfants innocents.
Pour les autres c'est vous qui voyez...
Le géné Rick:
Ma bonne dame,
qu'est ce que vous prendrez aujourd'hui?
La Version DVD de 4 gig
pour les vrais pros!
CLIQUEZ SUR L'IMAGE:
LIENS MULTI
J'ajoute un lien uptobox pour la version DVD
CLIQUEZ ICI
La version LIGHT (légère en VF)
pour les p'tits joueurs qui ne boivent pas d'alcool.
B

O

N

S

F

I

L

M

S

!!
Les affiches alléchantes et pèle mêle
de la plupart des Bandes annonces qui vous attendent:
Merci à Stéphane J pour certaines jaquettes,c'est vraiment le roi du scan.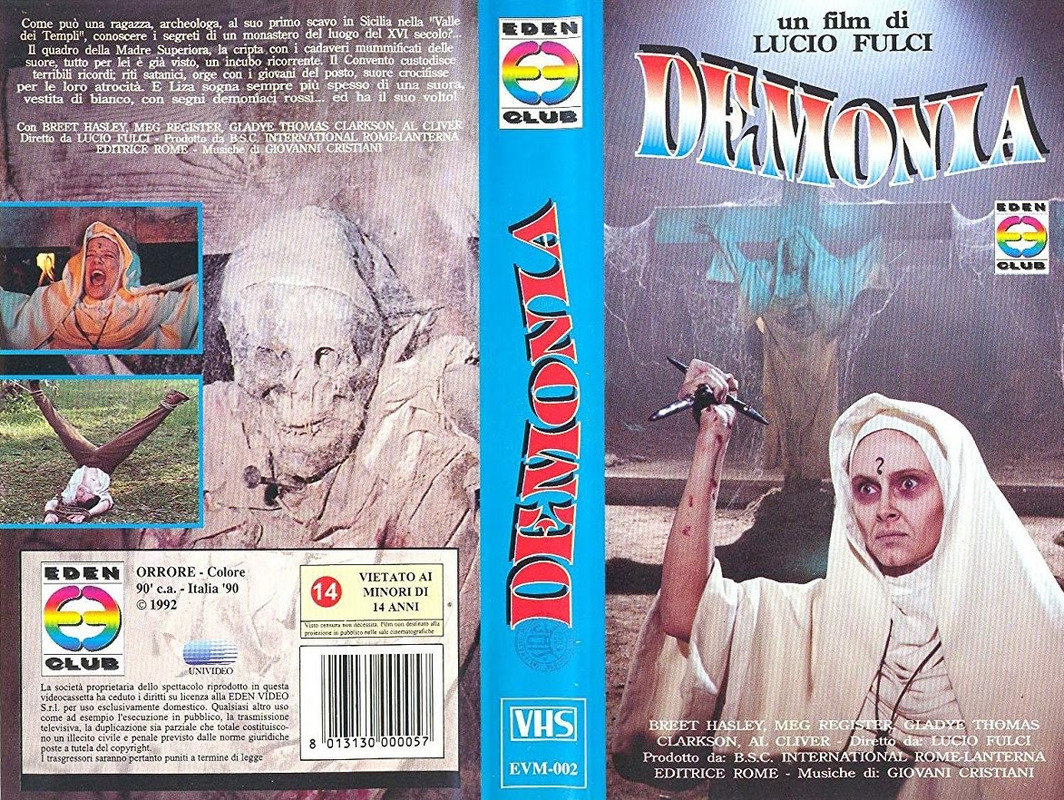 La Bande annonce est bien celle de ce film de Fulci,
à ne pas confondre avec la jaquette ci dessous,
qui bien qu'elle semble avoir été faite pour ce film a été attribuée en fait à celui de d'Amato
- DTS Audio Logo*
- 2072 Les Mercenaires du Futur / I guerrieri dell'anno 2072 (1984) Lucio Fulci
- Les Exterminateurs de l'An 3000/Il giustiziere della strada (1983) Giuliano Carnimeo
- Tokyo Gore Police (2008)
- Le Retour des Morts Vivants 3 (1993)
- Troméo et Juliet (1992) TROMA
- C&P 1
- Hurlements/The Howling (1981) Teaser vostfr
- Du Sang pour Dracula (1974) Warhols & Morrissey
- Eaters of the Dead – Pré -Trailer pour le 13ème Guerrier (199)
- Diamond Ninja Force (1985) IFD Films
- Narcotic Agent/Feel the Heat (1987) Tiana Alexandra
- Inferno: Indian Ninja/Operation Cobra (1997) Don «The Dragon» Wilson
- Kinjite: Sujet Tabou (1989) Charles Bronson
- Osterman Weekend (1983) Sam Peckinpah
- Le Flic de Beverlly Hills 2 (1987) Eddie Murphy
- TRAXX (1988)
- Le Professionnel Belmondo
- C&P 2
- Poulet Inde Pub*
- Miko Supergirl Pub*
- Knife of Ice (1972) Umberto Lenzi -Carroll Baker
- Ténèbres (1982) Argento
- Le diabolique Docteur Z/Miss Muerte (1966) Jesus Franco
- Demonia (1990) Lucio Fulci
- Au-delà des ténèbres /Beyond Darkness (1990) Claudio Fragasso
- Judgement (1990)
-C&P3
- Dark City (1998)
- Cube (1997)
- Dark Breed (1996) PM Ent
- Mandroïd (1993) Full Moon
- Full Eclipse (1993)
- Nom de code: Alexa (1992) Lorenzo Lamas
–
O.J
S
impson. PM Ent
- The Last Riders (1992) Erik Estrada. PM Ent
- Plein les poches pour pas un rond (1978)
- Colombus Vidéo logo*
- Plein Pot /License to Drive (1988) Corey Haim, Corey Feldman
- Peau d'Âne (1970)
- C&P4
- Le Charme discret de la Bourgeoisie (1972) Luis Bunuel
- Casino Royale (1967) vostfr
- Les Tueurs de l'Ouest/ Bounty Killer (1966) Eugenio Martin – Tomas Milian
- Black Dragon (1975) Kim Seon Kyeong - Corée
- Dragon d'or défie le Serpent d'argent/Golden dragon silver snake (1981) Dragon Lee
- Délice Oriental/Dreams of Desire (1981)
- C&;P5
- Les deux orphelines Vampires (1997) Jean Rollin
- Sucker the Vampire (1998) TROMA
- Les grands moments de la caméra cachée
- Lagueville Vidéo Pub*
- Nous irons à Deauville (1962)
- Le voyeur de la plage/Voyeur Beach (2002)
-XXXXXXXXXXXXXXXXXXXXXXXX
- EXXXplicite Vido Pub*
- Videorama Logo*
- Les Épilées (1980) Hubert Géral
-Club Privé Logo*
- Le Fruit Défendu (1983) Jean-Luc Brunet
- Seventeen 12- Ados mouillées.